As a student, there's probably going to be a time in your life where you need the help of a professional custom essay writing service. The workloads in the modern-day are so challenging, and in most cases, simply impossible if you're trying to live a healthy and balanced life.
Pro Writing Service claims to be one of those safe, legit and reliable writing services that you can trust. However, when it's your hard-earned money at stake, and your grades, you'll want to make sure. So you make the right decision, today we're going to explore the ins and outs of the service to see if it's right for you.


Top Rated Essay Writing Services
Table of contents
Services – 4/10
ProWritingService.com claims to offer a range of complete custom essay writing services, but in fact, what they do actually offer is rather hard to find. There's no dedicated services page, nor a list of services so you can see what's available.
The only way to really find out is to make your way through the order process, in which you'll find a list of around 30+ services. Many of these services are basic essays and term paper-related, meaning there's no real access to niche or complex assignment types.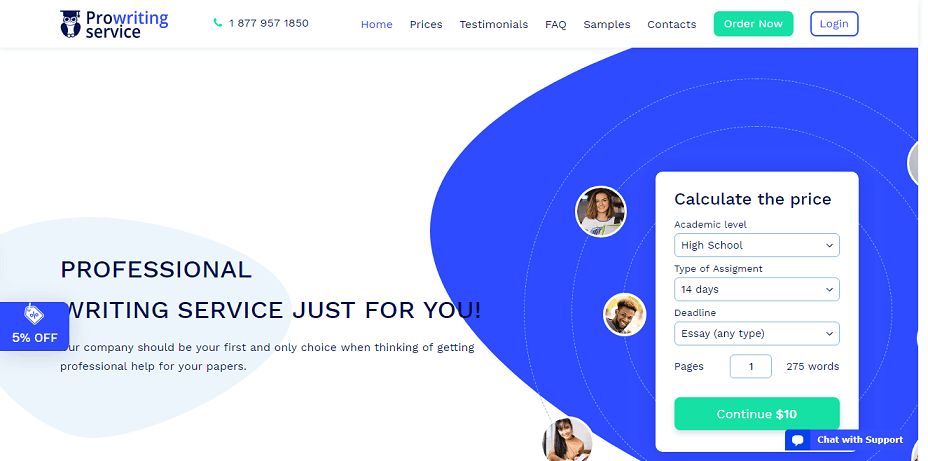 Pricing – 5/10
Where there is no services page, there is also no pricing page, which makes it incredibly difficult to find how much your assignment is going to cost easily. As a student on a tight budget, this seems to be an important element of their service they're missing.
The only way to find out is to make your way through the order form, yet again. To give you an idea on what prices are like; a University level essay that's single-spaced and ten pages long with a 3-day deadline will set you back a staggering $190. This is far too much to be an affordable service.
Content Quality – 5/10
Surprisingly, there is a testimonials page on the website, but this doesn't give you any information whatsoever on what the service is like. The reviews are basic at best and contain no form of rating system. There is also a complete lack of dates, which means the reviews could be years old and no longer relevant.
There is also a samples page where you can judge the content quality yourself. However, these examples are basic at best, written with standard information found online and simple sentence structures.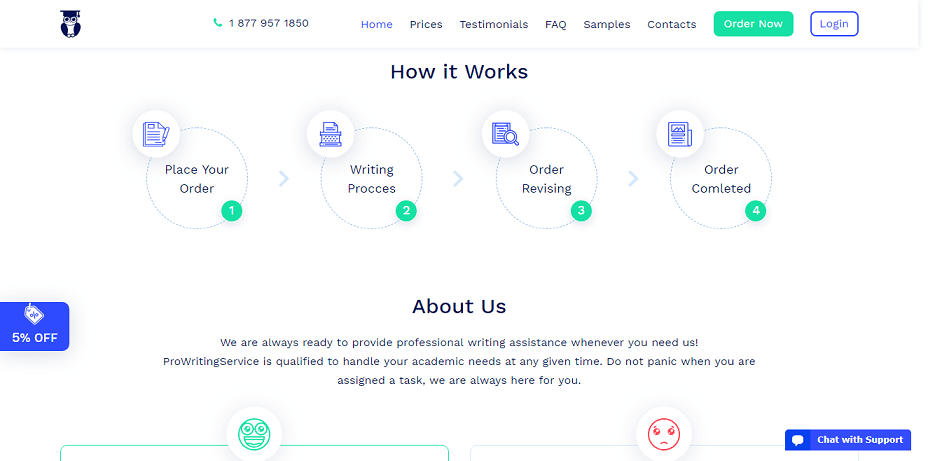 Customer Service – 5/10
Whether you're requesting a refund, asking a question, or happen to want to make a change to your order, you'll need to be able to get in touch with the company quickly. However, this might not be as easy as it sounds.
On the contact page, you'll find a physical address, a US-based phone number and a basic email address that handles all queries. There's no dedicated pre or post-sales support, no live chat, or social media links, which makes it impossible to gauge how effective the customer support team are.

Mary Walton's conclusion on ProWritingService.com
I was disappointed by the service that ProWritingService offers to their customers. Besides having a website that provides little to no information on what they do, the content quality is weak, and the customer service options are really poor. You should probably avoid this site where you can.
Rated: 2.5