Claiming to be able to complete your work faster than a bird flies, Study Birdies is a custom essay writing service that aims to help students complete their assignments on time while helping them to get the grades they deserve.
However, when you're a student in a situation where you want to use one of these services, you'll want to make sure you're choosing a legit, safe and reliable one, rather than a website that's more of a scam. To help you make the right decisions, we're going to see want makes StudyBirdies.com tick.


Top Rated Essay Writing Services
Table of contents
Services – 4/10
While this initially seems like a custom essay writing service, it turns out that this is just an editing service. Click the 'Our Services' tab, and you'll simply be taken to a section of the homepage that describes how fast they can process your order.
This does, of course, mean that you will have needed to have completed your assignment already, for it then to be edited by the service. If you're looking for a service that can complete your work for you from start to finish, this is not the service for to you.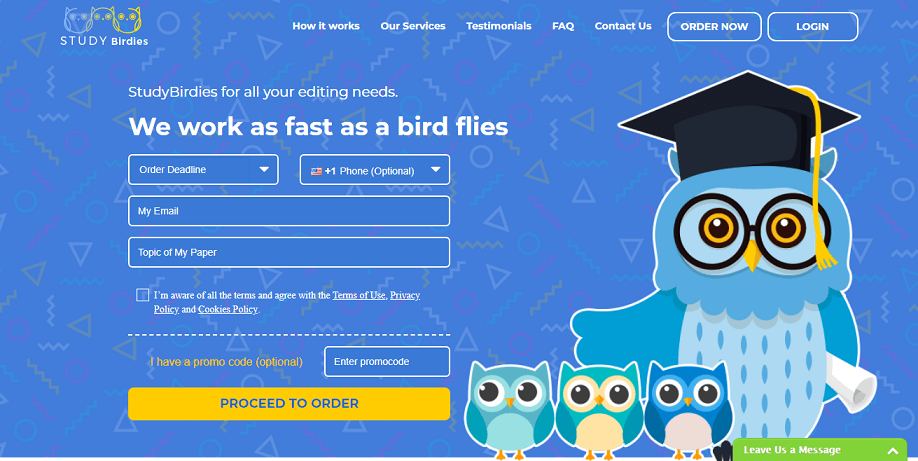 Pricing – 5/10
It's a shame that there's no pricing page to be found anywhere on the website, making it a complex process to figure out how much you're actually going to need to pay. The only way we could figure it out was by making our way through the order process; at least for the most accuracy.
However, even going through the order form doesn't give you a price, and you'll have to wait for a writer to get in touch with you and quote you. A four-page essay with a five-day deadline costs around $25 per page, which is simply far too much for a student on a budget.
Content Quality – 5/10
StudyBirdies has made it incredibly difficult to judge the quality of the content that the website produces. While there is a testimonial section to the homepage, none of these reviews contain any dates or a rating system. This means the testimonials could be years old and no longer represent the service accurately.
There's also no samples page so you can judge the quality of the content yourself. Searching online, there are little to no reviews on the website, leading me to believe that this service isn't used by anyone, or the reviews are completely negative.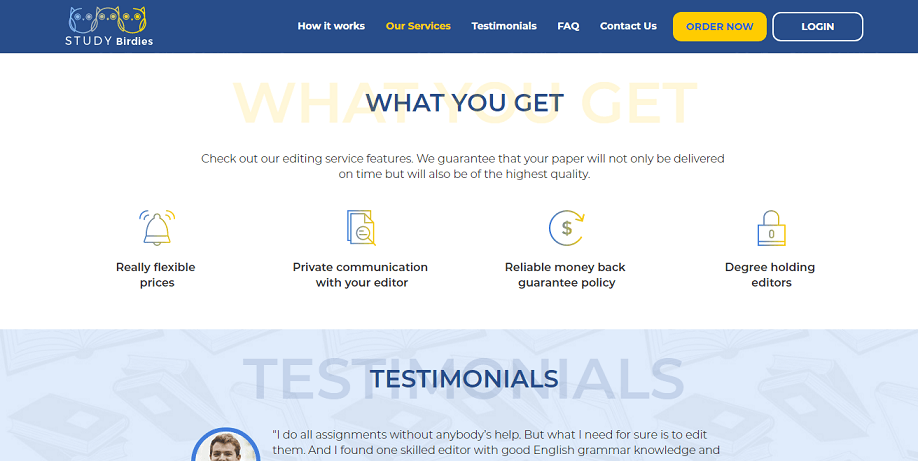 Customer Service – 5/10
If you have a problem with your order, if you want to request a refund, or simply have a question you want to ask, you'll need to be able to get in touch with the company. However, this is easier said than done.
On the contact page, there's only an email form to fill out with no indication on how long the company is going to take to reply. There's not even a phone number or social media links. There is a live chat feature, but this operates during limited hours, and you need to hand over your personal details.

Mary Walton's conclusion on StudyBirdies.com
While Study Birdies at first glance seems like a really professional website, there's so much room for improvement, and I'm left seriously doubting the quality of the service they provide. The content is expensive, the customer service options are poor, and there are simply better sites out there you can use.
Rated: 2.4