If you've been looking for a custom essay writing service to help fulfill your assignment needs, you may have come across Buy Assignment, a service that claims to be able to help you complete your written academic assignments on time and for an affordable price.
Of course, if you've been on the website, you'll already be aware of its dated and complex interface, but if the quality is good, why not use it? Today, we're going to find out whether it's worth the risk.


Top Rated Essay Writing Services
Table of contents
Services – 4/10
Judging by the homepage, there are a really limited number of services available; around 12 in total. This selection ranges from standard essays and PowerPoint presentations to resumes and research papers, but this is all that seems to be on offer.
When you consider the fact that the leading custom essay writing services can offer in excess of 50+ services, this range can feel rather restrictive, especially if you're forced to take your business elsewhere.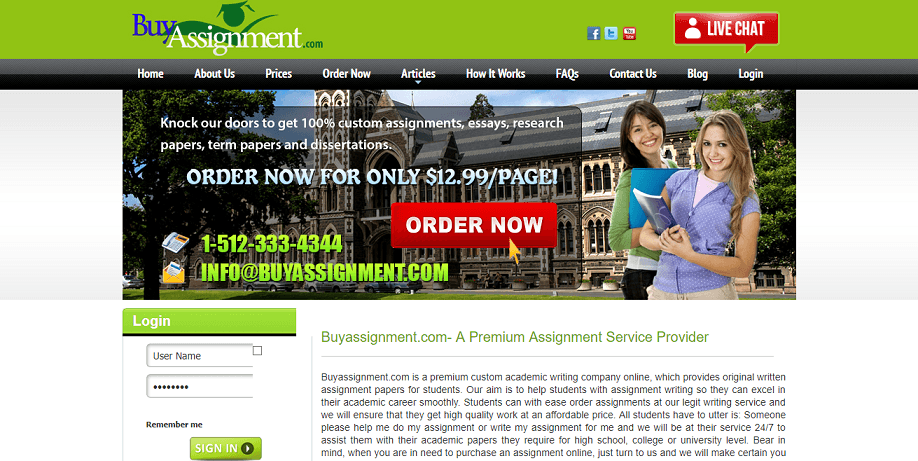 Pricing – 4/10
Of course, the next most important aspect you'll want to consider is the price that the service is going to cost you. You can work this out based on the information given to you in the pricing list which can be found on the pricing page.
To give you an idea on what pricing is like, a Premium Quality 5-page essay (single-spaced) with a 5-day deadline will set you back $189.90. This is super expensive, more than the majority of other custom essay writing services, and it may be far too much for a student on a budget.
Content Quality – 4/10
If you're paying for such an expensive service, the chances are that you're going to expect an extremely high-quality when it comes to content, but this might not be the case with BuyAssignment.com.
You can easily judge the quality of the content yourself since there's a list of articles you can read under the article page. However, this content is basic at best, and there are plenty of grammatical mistakes and poor sentence structure that's typical with non-English writers.
While the information is decent and well-researched, it's let down by this lack of attention to detail.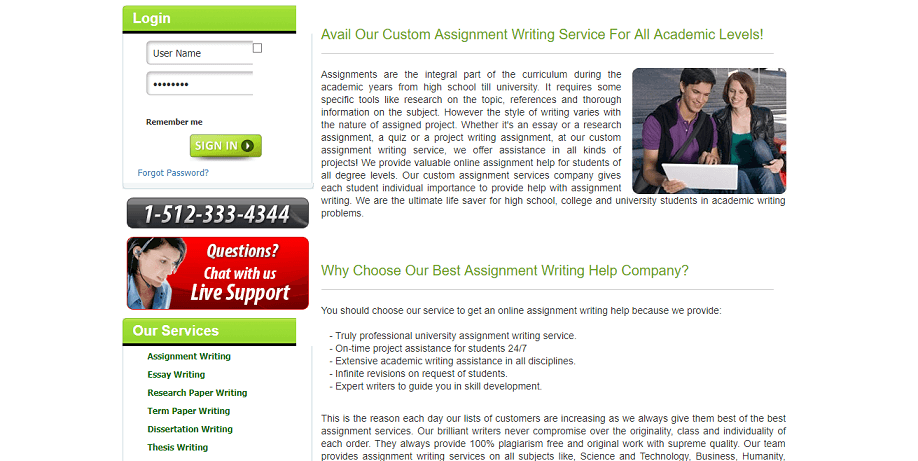 Customer Service – 5/10
Whether you're making an edit to your order, simply want to ask a question or requesting a refund, you're going to need to get in contact with the customer support team. However, there is only a limited number of methods to do this.
On the contact page, you'll find a US-based phone number, a single department email address and an email form (which leads to the same address). There is also a live chat feature, but this seems only to be operating at certain hours of the week.
Unfortunately, the site doesn't say how quickly they're going to be able to help you, or how long it takes for them to reply; which is not ideal if you require urgent assistance as soon as possible.

Mary Walton's conclusion on BuyAssignment.com
All in all, I'm left rather disappointed when it comes to BuyAssignment. With a limited number of services, high prices and a really restrictive range of customer service contact options, there are definitely better options out there.
Rated: 2.3