One of the hardest parts of being a student is essay writing. Sitting down, staring at a blank sheet of paper, trying to remember what was learnt in class all those weeks ago, it's just not for me and I know it's the same story for many others out there.
InstantWritings is a poor example of a service that takes away that struggle. The site attempts to provide a platform where users can pay to have their essays written and completed by a supposedly professional writer with the aim to provide great service and a low cost solution to high quality, essay writing issues.
Unfortunately, Instant Writings did not provide to expectation.


Top Rated Essay Writing Services
Table of contents
Products & Services
Instant Writings allows students of high school age and above to sign up and submit work for a limited amount of services including, but not limited to;
Essay Writing (inc. admission essays)
Article Review
Case Studies
Coursework
Editing
Formatting
Presentation
Proofreading
Research Papers
Term Papers
The site covers a small range of subjects compared to other similar sites and gives the user the ability to choose from the number of sources used, what format the document should be submitted in and to what academic level you require.
Compared to other websites of a similar description, this is a poor range of services and topics cover. There is no proof of the quality of the writers on the site, a very basic review and testimonial system and no guarantees.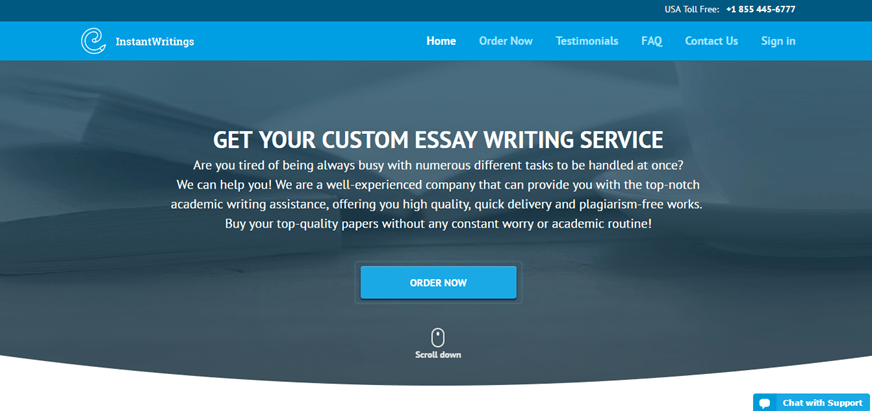 Prices and Discounts
For my review test, I wanted a standard term paper, written to a college graduate level for my 'accounting' class. I specified that I wanted five sources and I wanted the paper written to an MLA format.
On the next page, I stated that I require the paper to be six pages (1650 words), single spaced with a five day deadline, written by the 'best writer available'. The total price came to staggering $192.00. As it was my first time, I could get a measly 5% off the total price using the discount promotional code on the homepage.
It's worth noting that in this promotional banner, the word coupon is spelt 'Coupone'. Not a great sign for a website that prides itself on professional writing services.
You can also add Plagiarism reports ($10), Abstract pages ($15) and VIP Support options to your order. ($15). There are much more affordable writing solutions out there on the market.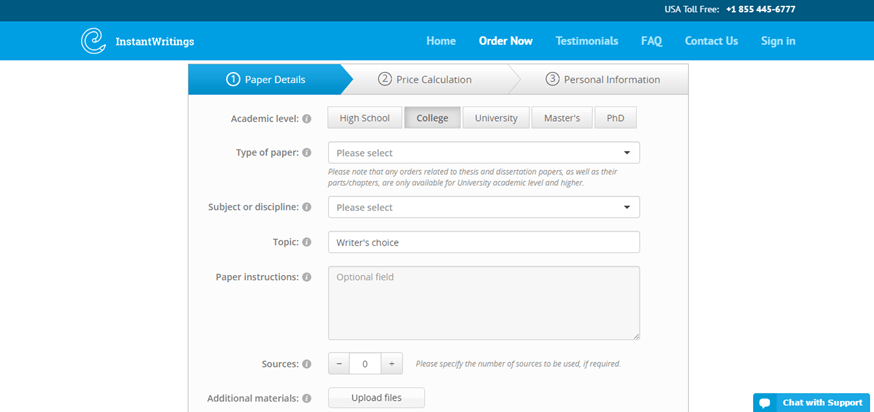 Website Navigation
In all fairness, InstantWritings.com is relatively easy to navigate. Every page can be accessed via the fixed navigational bar at the top and pages are fast to load.
Upon reading the testimonials page, pretty much all of the review are 4.5/5 stars out of five but these reviews do strike me as legitimate reviews. There is no mention of what service each member used or what writing solution they paid for, meaning these reviews are relatively broad. This leads me to believe these reviews are false and that the website could be a scam or operating illegally.
There is a brief contact page where you can call, email and for some reason, the location of the head office. Many similar sites now offer in-site contact forms or live chat options so if you're looking for a service with better customer service options, it's best to look elsewhere.
Upon visiting the frequently asked questions page, you'll notice there is only 19 very broad questions that are not very helpful and more times that not, ask you to contact the site for more details.
This, alongside poor customer service options, means that using the site and the task of proving its credibility is very difficult. There is also no clear option or statement saying how, or if it's even possible to receive a refund for poorly written content.
Many of the frequently asked questions state that there is a 30 day money back guarantee and that payments to the site are completely safe and secure. This would be great but there is no form of security badge present on the site and no suggestion of a leading payment platform operating with the site.

Mary Walton's conclusion on InstantWritings.com
Although Instant Writings initially comes across as quite a professional site, looking to the details and pricing, there is a lot to be explained. Typos throughout the website, expensive services and little to no trust reviews on websites such TrustPilot, there are much better websites available to take your essay writing tasks.<
Rated: 2.1