EssayQuake is a writing service that promises high quality essays on very short deadlines. But when we are looking for a great essay writing service, can such quality really be delivered in so little time? In this review we will explore their promises and see if they can be met.


Top Rated Essay Writing Services
Table of contents
Services – 4/10
Established in 2009, this website has to be doing something right to keep getting people to sign up and create an account. Or they could just make you create an account to even get an estimate.
The website tries to be attractive and modern, but it's hard to navigate. When you long in /sign in, you need to make an account to see what they will charge for your essay. The website is pretty convoluted to navigate to boot, and all in all you might be put off just by the amount of information needed for the sign up process.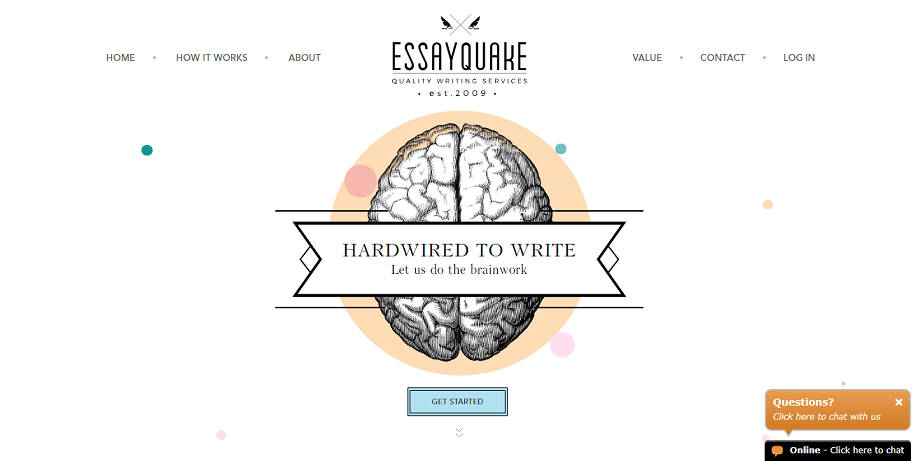 Pricing – 4/10
The prices at EssayQuake.com are pretty high, starting at $17.55 per page and only increasing from there! What is more, unlike some websites that offer an estimate via a calculator, this site requires a full sign up to get a detailed estimate. So they'll have your details either way. Though at least not your bank details: all payments are securely made through PayPal.
If you are looking for a discount, promotion, or any sort of deal code when you order, then you're out of luck. Although, on the plus side, for huge orders or orders with a long date they let you pay by instalment. If you need a refund, then be careful. Nothing is guaranteed, and they aren't about to give anything away for free, regardless of quality.
Content Quality – 4/10
The writers here hold advanced degrees, but the website doesn't claim they all hold degrees, which is a bit of a red flag. And the fact that this website encourages writers to compete for work, and advertises writing a page to perfection in a single hour, is not great. I am not sure I would trust this site to produce that sort of quality from such an environment.
On the plus side, they make sure to fully encrypt your data and offer a plagiarism report, so at least you know you're getting original work. If you order from them you will likely need to carefully proofread it and ensure it's accurate, though, because there is no grade guarantee. And considering they misspell the word "institutions" as "instituttions" on the page promising great international writing standards… Well, let's just say that's not promising.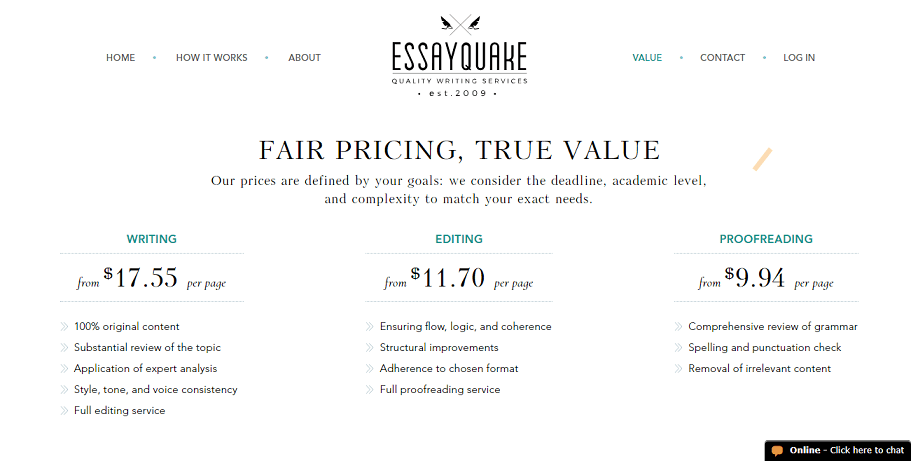 Customer Service – 5/10
If you need support, most of it will be going through the writer directly. This has its upsides, as you can talk to your writer about the work they are doing, but it also means the website is not as easy to get a hold of or hold accountable.
Their contact number is available 24/7, which is nice, but the hold can be long.
Mary Walton's conclusion on EssayQuake.com
Essay Quake doesn't look like a scam, which is good to know. But legal doesn't mean safe, or worthwhile. Other than being a genuine website, it really doesn't meet expectations. The quality of customer support, the essays written, and the general service is not worth the money or effort.
Rated: 2.3