Help in Essays claims that it can provide you with a fully complete and ready-to-hand-in essay in just four easy steps. However, there is countless other custom essay writing services that can provide this kind of service, so what makes this one stand out?
Just like any situation where you're about to spend your hard-earned money, you need to make sure that you're spending your money in the right places. So, let's find out whether this is the service for you.


Top Rated Essay Writing Services
Table of contents
Services – 3/10
To start with, I was very disappointed that the site doesn't have a dedicated services page, so you can easily find the service that you're looking for. I found the only way you can actually find out is by making your way through the order form.
Here, I found a drop-down list of about 30+ services which covers all the basics, such as essays, presentations and speeches etc. but with some of the leading websites offering in excess of 50+ services, this can feel rather restricted.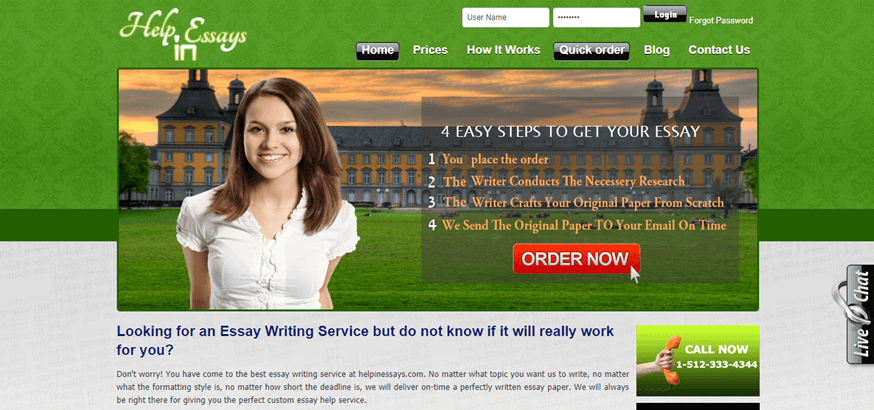 Pricing – 3/10
Using the dedicated pricing page, you can figure out the cost of your assignment if you can find the service that you're looking for. Simply insert the work you're looking for and refer to the table the pops up below.
To give you a guideline on what the prices will be, a single-spaced ten-page essay with a 3-day deadline, written to a premium quality, will set you back around $209. This is a ludicrous amount of money, and it will be difficult for some students to justify this kind of spending.
Content Quality – 3/10
There is no testimonials page to be found anywhere on the website, making it extremely difficult to judge the quality of the work. This forced me to go online to search trust websites and forums to get an overall view of the website standards.
However, when searching online, I discovered that the website had mainly negative reviews, stating that the content wasn't written in native English, was poorly formatted, had high levels of plagiarism and there was a tonne of examples where the work obviously hadn't been proofread and was delivered late.
Customer Service – 3/10
Heading over to the contact page, you'll find a small selection of contact channels you can use to get in touch with the company. There are a single email address, a US phone number and a basic email phone. For some reason, there's also the website that you're already on.
However, there's no dedicated phone lines or pre and post-sale email addresses, physical address or social media links. This may leave a lot of students feeling as though they are left in the dark.

Mary Walton's conclusion on HelpInEssays.com
As you can see, there are many improvements that could be made to Helpinessays. In addition to having an unsecured website, the content quality, the contact methods and price simply isn't what a student would be looking for. With this in mind, I highly advise ordering your paper elsewhere.
Rated: 1.7