It's so easy for a busy schedule to get on top of students and their busy lifestyles. Cheap Writing Service is a custom writing service that aims to lighten the workloads and give students more time to live their lives. The website currently provides a decent service but unfortunately, still has a long way to go.


Top Rated Essay Writing Services
Table of contents
Website Interface – 6/10
The initial impression of the website is rather good. With a simple colour scheme and easy to read text boxes, CheapWritingService is one site that doesn't overwhelm. The has many of the pages you should see on a website such as this however, the home page does drone on and is full of filler content, especially the further you scroll down.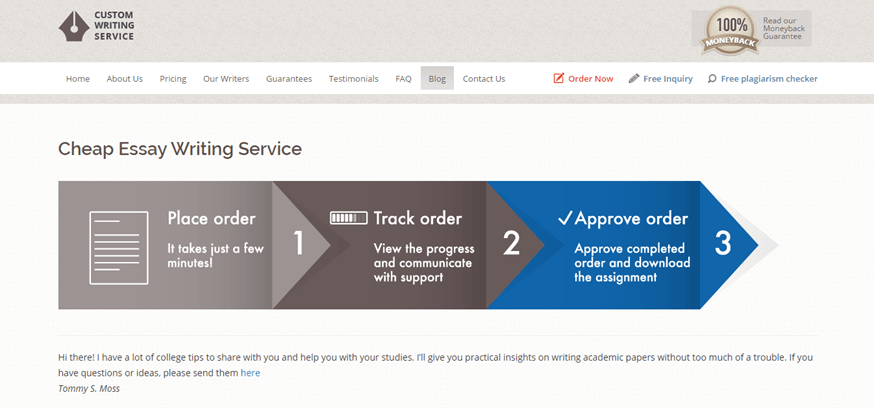 Services – 5/10
The services list of CheapWritingService.org is average. Although there are many of the writing services you would expect, there is a distinct lack of some of the core paper types. This may be fine for some students but individuals looking for an all-rounded solution are better off sticking to the more market leading websites as they may not be able to use Cheap Writing Service to cover all their needs.
Pricing – 3/10
Using the dedicated price list, it's easy to add up and receive at estimated quote for your work. A ten-page essay with a two-day deadline, written to a Master's degree, will set the average student back $400. This is crazy money and is not affordable for a student living on a tight budget, especially not as a long-term or regular service that can be used throughout the academic year.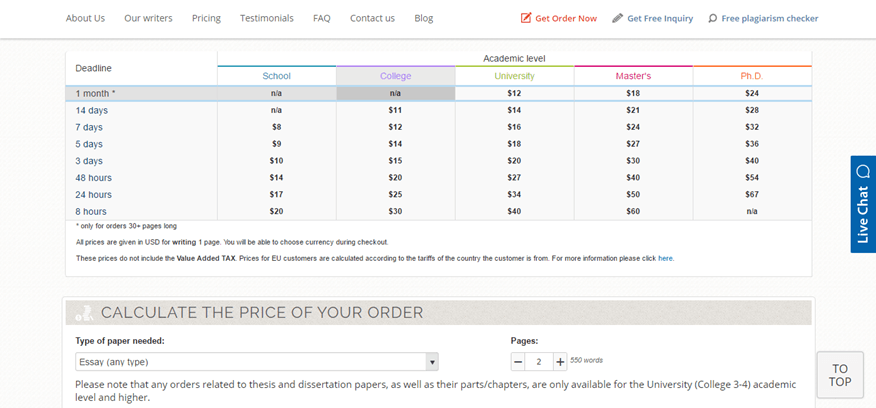 Content Quality – 4/10
Having sourced the website for reviews and testimonials, it seems that the quality of the content can vary from one extreme to the other. On one hand, the content was perfect for some customers and they would be happy to use the site again. On the other hand, some members have reported signs of plagiarism and poorly written content. Some articles had extremely mixed up sentences that lead me to believe that the website used non-native English speakers, despite this being one of their guarantees. The website states that 8.5 out of 10 of their customers are happy with the content.
Customer Service – 5/10
If you wish to air a complaint or any issues with your purchased content, CheapWritingService has several contact methods to suit you. There is a live chat feature that connects you to a member of staff instantly but these are only available during set times of the week. There is also an email address and a phone number which can be used depending on where you live.
It's also worth noting that the site has no payment protection badges or website safety connections. There a DMCA badge that states that the site is protected but even just by clicking on it, the DMCA website will state that the website has never been protected by the company. This leads me to believe the website doesn't put your online safety first.

Mary Walton's conclusion on CheapWritingService.org
To summarize, Cheap Writing Service has the possibility to be something great. With a well-designed website that's easy to order, navigate and use, students would enjoy using the website if they didn't have to pay the Earth for their content which only came back at a satisfactory level. Once the site decides to better the quality of the content and lowers the prices, this website could then be a hot contender as one of the best writing sites.
Rated: 2.2