It doesn't matter whether you're in high school, college or university, you're going to be assigned work that you need to complete. This could in any form, from essays to term papers, and it's not uncommon to get lots of it.
This why students flock to custom essay writing services like Assignment Geek. However, there are many of these services out there, which is why you'll want to make sure that you're choosing the right one for you. Let's dive in and see whether this is it, and whether it's even legal!


Top Rated Essay Writing Services
Table of contents
Services – 4/10
While there is a Services tab at the top of the page, this only brings down a list of subjects that can be completed. This in itself is a positive thing, it doesn't say what formats can be completed, which leads me to believe it's just Assignments (essays).
Compare this with other leading essay writing services that offer more than 50+ services, as well as editing and proofreading services, and this selection can feel completely limiting.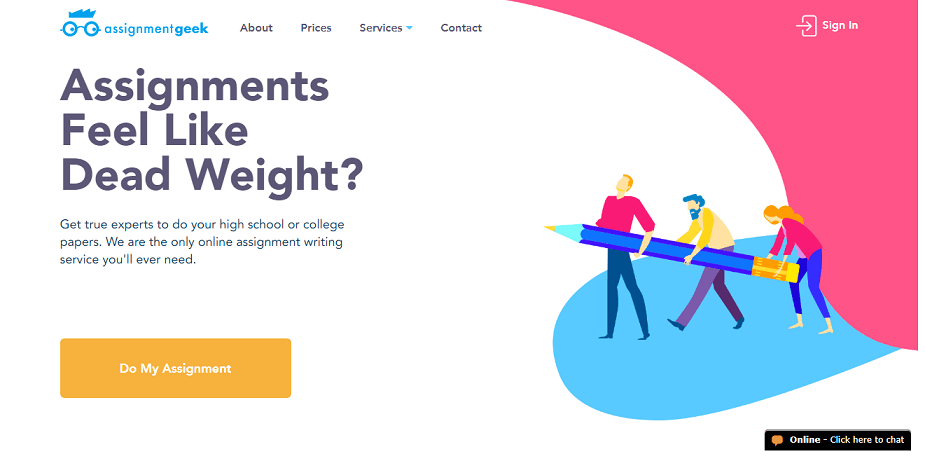 Pricing – 5/10
Making your way over the pricing page, you'll see that you can start placing your order at the solid, and rather above-average price of $15.79, however, this is a discount promotional price down from the original $17.55.
There's also a 10% off promotion discount code for first-time buyers, but for an accurate quote, you'll need to input your personal details first. I really dislike these ways of working because there's no guarantee their price isn't going to be extortionate, but then they already have your personal details.
Content Quality – 5/10
There doesn't seem to be any reviews or testimonial pages on the website, although there is a couple of really basic reviews on the homepage. However, these reviews don't seem legit in the slightest since they contain no real information and no dates on them.
This means they could be years old and no longer relevant to the way the site performs. Searching online, there seemed to be mixed results from past customers or writers, which leaves me to say that the content is inconsistent at best, which is not ideal for a paid deal.
Customer Service – 6/10
If you need to get in touch with the service, perhaps asking a question or requesting a refund, you'll need to be able to get in touch. However, checking out the contact page only awards you with a US phone number, a live chat service, three email addresses and an email form.
While this is an ideal number of methods, possibly ensuring that you should be able to get in touch, there's no indication as to how long they usually take, which means it could, in theory, be weeks.

Mary Walton's conclusion on AssignmentGeek.com
To summarize, AssignmentGeek definitely has some room for improvements. With a change to the paying system, more detail on their website about the services and support they offer, more consistently high-quality work and maybe even some samples, only then could this service be recommendable.
Rated: 2.5