Looking for a custom writing service that will relieve some of your current workloads? If so, you may have stumbled upon Writing Help. This writing service sets out to handle your assignment and essay tasks, allowing you time to focus on what's important. However, the site still has a long way to before it can call itself a complete writing service site.


Top Rated Essay Writing Services
Table of contents
Website Interface – 3/10
At a first glance, you'll notice the rather strange website design. This is one of the only sites I've been able to call minimal and cluttered at the same time. This can make it rather difficult to navigate and find your way around. Most of the pages have a selection of texts but this can be difficult to read and it seems to blur into one. However, there is an order form on the homepage and all the dedicated pages you would expect, minus a services page.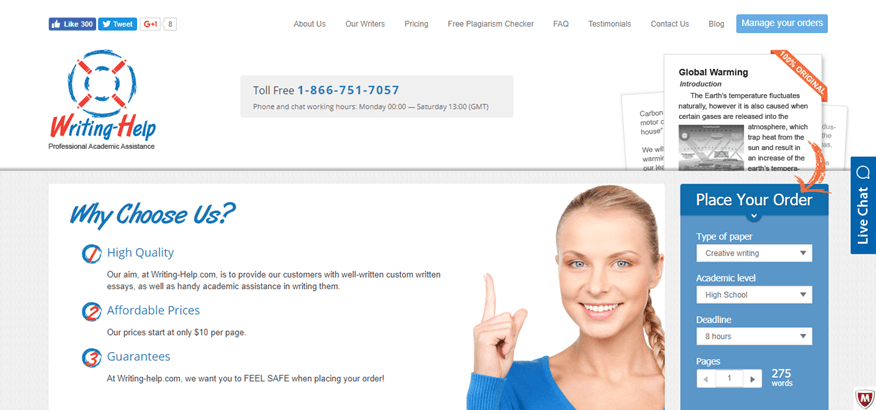 Services – 4/10
Using the order form or pricing page, you can quickly see whether the site will be able to take on your assignment. Referring to the list, there is a wide collection of document types to choose from, however, there are several key services that are missing, such as presentations, meaning students will have to go to other sites to have a full writing experience they can use regularly.
Pricing – 3/10
On the pricing page, you can find an accurate quote for your assignment. A ten-page essay written to a Master's level with a 48-hour deadline will set you back around $320. This is a rather average price if not slightly expensive. There are more affordable sites available.
Content Quality – 3/10
On the testimonials page, you'll discover a collection of glimmering reviews. Despite having comments and dates, there's no star or out-of-ten system, meaning there's no easy way to check the quality of the content. Searching online, I quickly discovered that a large volume of people had some issues with the site. The most common problem with the content was proofreading. People have received content riddled with mistakes, typos and punctuation errors. There were even a few reports claiming the site was using re-sales.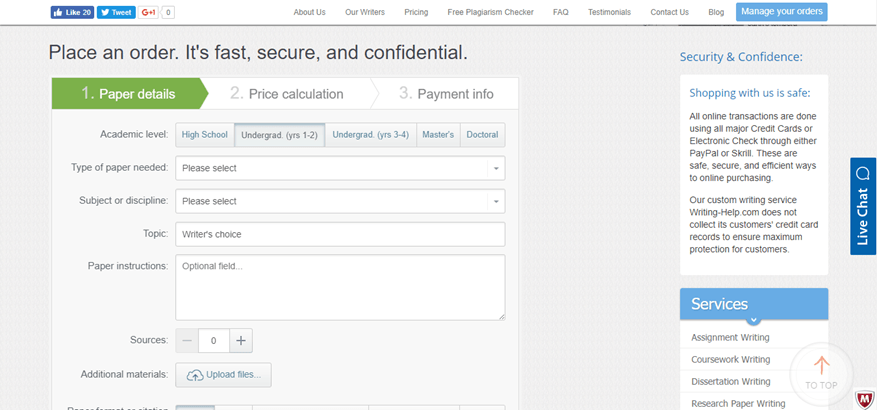 Customer Service – 3/10
If you do choose to use Writing-Help, there are several ways to you can contact the customer service team. Based in the United Kingdom, there is an address and several phone numbers that allow you to call toll-free from various places around the world. There's also one email address to handle all queries and a simple live chat feature. There are no social media page links.

Mary Walton's conclusion on Writing-Help.com
Despite having a good foundation to start with, Writing-Help.com still has a long way to go before it can be considered a decent custom writing service. With an improvement to quality and an upgrade to a more modern website, this could easily be one of the best. However, until this happens, students like you are much better off taking your assignments to one of the more leading writing sites.
Rated: 1.8