Bid4Papers appears to be an essay writing service with a bit of a difference, which is that you order the paper you want, and writers bid on how much they would like to be paid to write it. I wanted to check out this service and see how useful it might be for students who need essays.


Top Rated Essay Writing Services
Table of contents
Services – 5/10
At Bid 4 Papers, you can choose from over a dozen different services, including research papers, speeches, and business plans. Because of the nature of the site, you will have a chance to have a full discussion with your writer before they start work, and can explain your requirements in detail at that time.
Pricing – 3/10
Because of the unique way the service is structured, it's impossible to get a quote without giving the site your email address. The price is ultimately going to depend on what you work out with your chosen writer. For this reason, the site doesn't offer any deals, discount codes, or promotions. If you want any money off, you have to negotiate it directly.
Content Quality – 4/10
I had a look at the Latest Orders page on Bid4Papers' site to see what kind of ratings the writers were getting. Most of the reviews were positive, but I did see several negative comments about papers containing errors and being received late. Unfortunately, the writers who replied to those weren't focused on trying to sort the problem out or giving friendly customer service, which didn't impress me.
The site promises that all writers have at least a Bachelor's degree in the field of study they are bidding in, and claims that writers will write to the level of proficiency and language required by the customer.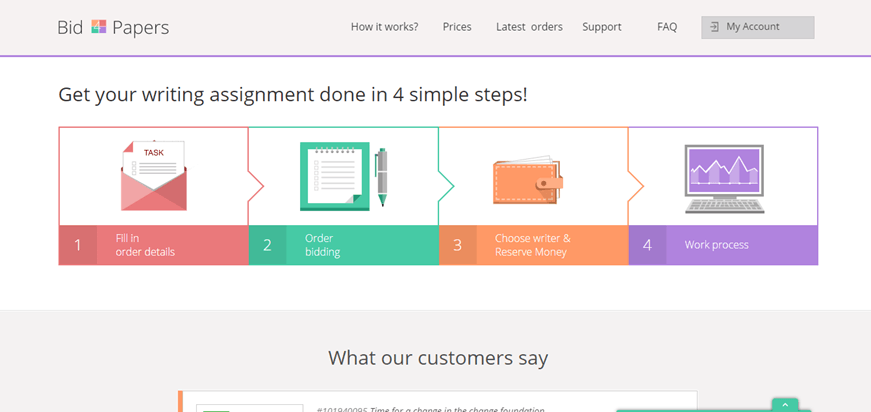 Customer Service – 6/10
The site is effectively a meeting ground between writers and customers. However, they do offer a number of ways to get in touch with them, including social media sites and email, and they provide 24/7 support. Their head office is based in Cyprus.
They have a comprehensive confidentiality policy and their website is structured to avoid customers having to share personal details with writers. They accept Paypal to load funds into a personal account, which is then how you pay your writer. They have a money-back guarantee, but this only means that you can get your money back from the site before you pay your writer. Once you have paid them, you can't get a refund.
Mary Walton's conclusion on Bid4Papers.com
While this certainly is an innovative way to structure an essay-writing service, I feel that I would find the prospect of negotiating with multiple writers intimidating. In addition, I'd be worried about the price. I would rather know what I had to pay upfront, so I wouldn't choose this site.
Rated: 2.6