Essays.ScholarAdvisor looks like your average custom essay writing service. It has a nicely laid out and rather colorful environment, it's easy to navigate, and it makes promises to its customers which include access to professional writers, fast delivery times and much, all for an affordable price.
However, how true are these claims and could ScholarAdvisor be the writing service you've been looking for?


Top Rated Essay Writing Services
Table of contents
Services – 4/10
You can easily find out whether Essays Scholar Advisor can complete your service by using the drop-down menu on the top-bar. As you can see, there are around ten common services listed. Although this is what most students are after, the website is obviously lacking in some of the more niche assignment types, meaning you might have to take your business elsewhere.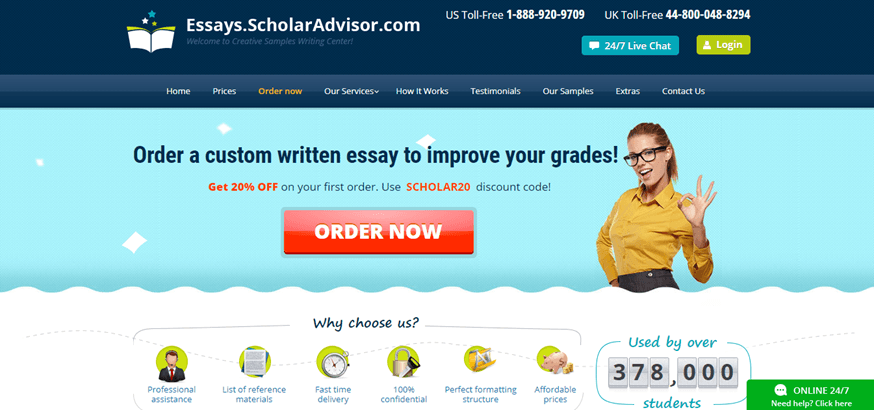 Quality – 4/10
Despite the seemingly overwhelmingly positive reviews on the website's homepage, there is also a tonne of negative reviews online from past customers. These reviews state that the content was delivered after the preferred delivery date and some even found plagiarism results, linking their content to sample pages from other writing services.
Pricing – 4/10
Using the pricing calculator, you can input your assignment type, the subject, the number of pages and your preferred deadline and quality to get the price of your assignment. As a rough guideline to give you an idea of prices, an 8-page essay, written to a premium quality with a 3-day deadline will set you back $279.
This is extremely expensive, especially when compared to other websites of the same calibre. It's also worth noting that you can't specifically pick the academic level that your essay is written to, but rather have to guess with between standard and platinum quality. However, it is worth noting that you can receive up to 20% discount if it's your first order with the website.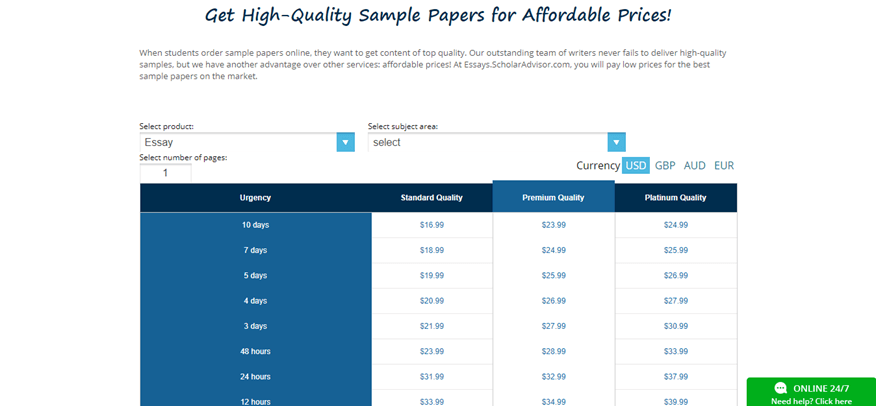 Customer Service – 4/10
Unfortunately, things don't get much better when it comes to contacting the support teams. Make your way over to the contact page, and you'll find a single email address that's used for finding out information before you make an order.
There's also a UK and a US toll-free phone number and a live chat feature on every page. However, there are no dedicated email addresses for each support department, no social media links to chat with the company directly and no international phone numbers of international students. There's not even a Skype contact or an email form for the users to fill out.
This may leave some students feeling very much in the dark.

Mary Walton's conclusion on Essays.ScholarAdvisor.com
With all of these points in mind, including the negative reviews, the poor customer service options and the lack of quality content, it's safe to say that Essays.ScholarAdvisor.com could do a lot better than they are already doing, and it's probably wise to take your business to a more reputable website.
Rated: 2.2