Students around the world are becoming more and more overwhelmed every single year. With increasing pressures from parents, social groups and their academic institute, students are feeling more stressed than ever before. These pressures are both unproductive and unhealthy, which can easily cause a slip in grades and accomplishments. Essay Box is a custom writing service site that aims to alleviate these worries.


Top Rated Essay Writing Services
Table of contents
Website Interface – 2/10
Upon signing onto the website, you'll instantly notice and poor, cluttered layout. There's a lot going on, and it can be hard to find your ground to know where and how to navigate the site. You'll notice at the very top of the page there's a navigation menu, but it lacks essential pages including 'Services' and 'Reviews/Testimonials'. The trust marks on the site have no links to guarantee their authenticity.
Services – 7/10
Using the order form that can be found on the front page, it's easy to see that the site does offer a comprehensive and complete range of custom writing services. There are lots to choose from, and most students should be able to find their desired assignment type.
Pricing – 3/10
Using the same order form as a rough guideline, a ten-page (2,750 words) essay written to a Master's level with a 48-hour deadline will set you back $360. It's also worth noting that this is without added extras including proofreading, a list of sources and single or double-spaced content. These essential extras will boost the price up to nearer $400/$450, which simply isn't feasible in an average student's budget. However, there is a 15% discount on new users who have never used the site before.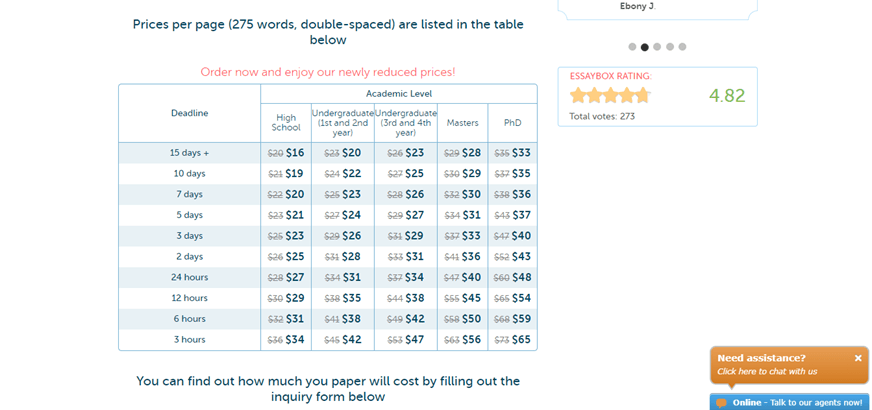 Content Quality – 3/10
According to the built-in rating feature on the homepage, the site boasts an average review score of around 4.8/5. However, a more detailed analysis online shows reports of poor quality content including high levels of plagiarism, some articles full of spelling mistakes and typos and there were even reports of resales.
Customer Service – 3/10
If you do decide to use the site, there are multiple ways to contact the customer service team should you need assistance. Using the contact page, there are a handful of email addresses and phone numbers you can use. However, the phone numbers are only suitable for students living in the US and would be expensive for students outside this area. The email response rate is also debatable. However, there is a live chat system available on every page of the site.

Mary Walton's conclusion on EssayBox.org
Although EssayBox has a few good qualities, it's not quite up to scratch when it comes to custom writing services. If you live outside the US, the site is unusable, and if you do live in the US, then the prices are simply too high for most, especially those on a budget. Those looking for the best writing service today are much better off taking their business elsewhere.
Rated: 2.2