So, if you need a paper written for you, it can't just be any paper. It should be well-written by a native English speaker, about the topic you've chosen, using the references and the style you need, and above all else, it shouldn't be too expensive. Does SuperbPaper.com fit your requirements? I went to have a look and find out on your behalf.


Top Rated Essay Writing Services
Table of contents
Services – 4/10
They offer a number of different types of papers for students from high school through PhD studies, but no offers for businesses. In addition, they will write admissions essays and speeches, and solve problems.
SuperbPaper guarantee free unlimited revisions for ten days if you are not happy with the work you receive. They also have a money-back guarantee and provide both partial and full refunds if you don't receive what you ordered.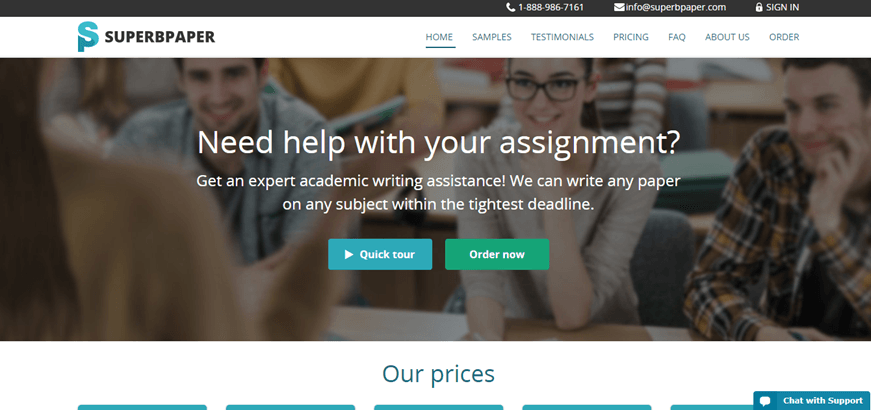 Pricing – 3/10
Placing an order on any essay-writing site should be straightforward and you should know what you have to pay, more or less, before you order. It was easy to find Superb Paper's ordering form, and I requested a quote for a 6-page paper, with the final deadline 3 days away, using their service to request an Advanced writer, and also including the additional services of a plagiarism report, an abstract page, and VIP support. Before any discounts, the final cost for this was $212.47, which I felt was quite high. Switching from requesting an Advanced writer to the Best Available resulted in a drop down to $177.97.
Content Quality – 3/10
When testing a company on its quality of output, I always check any samples and testimonials on the site, then go for an external look at how the site is perceived. So I had a look through the samples, and noticed that although they were by and large fairly well-written, some of them contained unusual language to have been written by a native English speaker, and that they also contained a fair number of missed words, typos, and grammar errors.
The testimonials were full of praise of course, but with no pictures, just a first name and last initial, and undated, they could have been from any point in the past. Looking at external reviews via a Google search provided a more complete view. There were several complaints about the site, including concerns that customers were being spammed with emails, poor quality, and delays.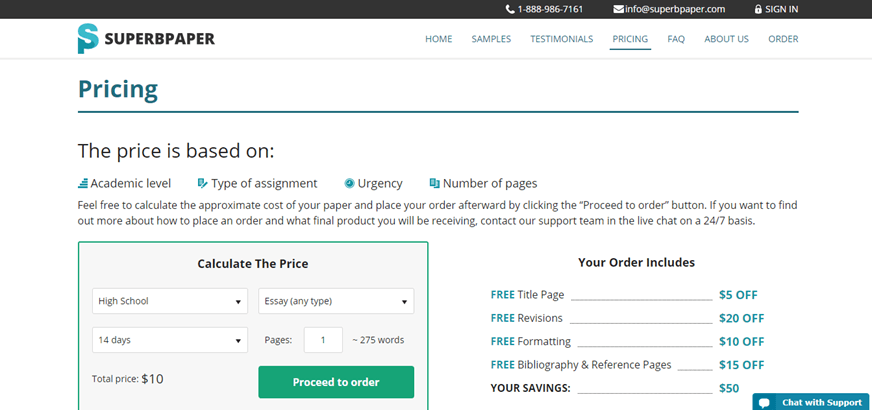 Customer Service – 5/10
SuperbPaper have a prominently displayed support phone number and email address, but no other contact information. They have Live Chat service like most other sites, but no links to social media, and no physical address listed on their site.
Mary Walton's conclusion on SuperbPaper.com
Overall, Superb Paper is quite a mixed bag. What they do offer is nothing truly out of the ordinary or beyond the average, whereas their attitude toward customer service and their negative reviews let them down. There are better deals out there when it comes to essay writing; my advice is to sign up elsewhere.
Rated: 2.4