Students everywhere commonly encountering the same problem time and time again. There's just simply not enough hours in the day. Trying to balance all aspects of life can quickly become overwhelming and assignment and essay deadline can soon creep up on you. To relieve some of this stress, My Paper Geek has set out to handle your custom writing assignments, giving you time to focus on what's important.


Top Rated Essay Writing Services
Table of contents
Website Interface – 3/10
Signing on to the website, you'll be met with a very basic website. The theme is outdated and relatively unresponsive and all trust marks are low-quality and have no proven links. This leads me to doubt the credibility and authenticity of the website. Most of the pages have a basic level of content but nothing really stands out or looks attractive.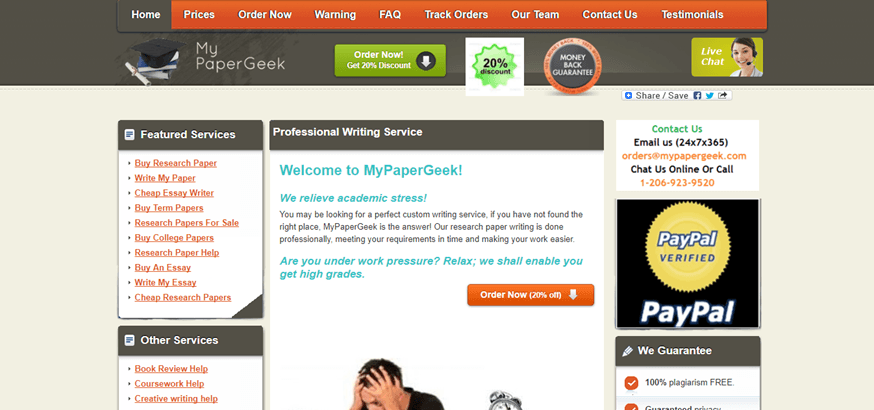 Services – 2/10
Unfortunately, there is no dedicated services page on the site. This means you will have to hunt around for to see if the website will handle your request. Referring to the pricing page, you'll discover there are 12 services to choose from. This is extremely limited, especially when compared to leading sites that boast 50+ custom writing services.
Pricing – 2/10
Using the pricing page for a quote, a ten-page essay, single-spaced with a 48-hour deadline will set you back a staggering $640. This is in no way acceptable for a student budget, especially those on a tight enough budget as it is. However, it's worth noting that your first order will come with a 20% discount although you will still have to pay a couple of hundred dollars per document.
Content Quality – 4/10
As expected, the testimonials page boasts glowing 5* reviews, but unfortunately, none of these reviews are dated or explains which kind of assignment was completed, making them completely irrelevant. Searching online, I quickly discovered mixed reviews on the site. Some people had an average experience but had to recheck their work before handing it in. Others complained that their content was obviously not written by a native English speaker as promised and was riddled with mistakes. In some cases, there were even reports of high levels of plagiarism, sometimes as high as 45%.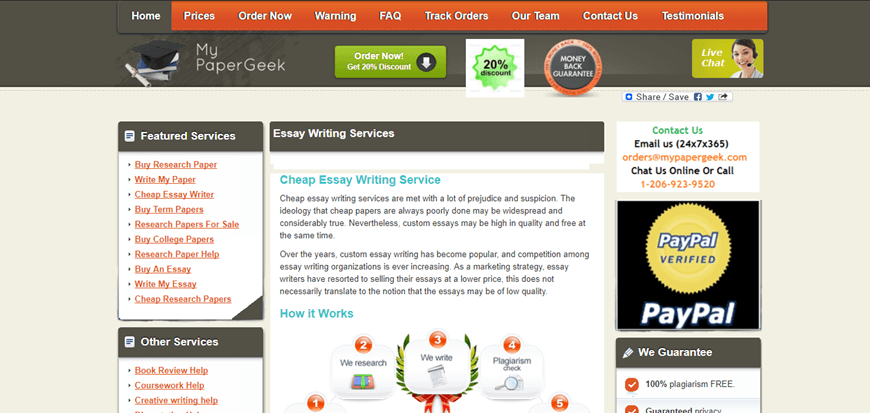 Customer Service – 3/10
If you do decide to use this custom writing service, there are multiple ways to contact the company should you need to. There is limited access to the live chat feature found on every page of the site or you can fill in the email form found on the contact page. There is also an email address and a US phone number. Please note that if you're calling from outside the US, you may be subject to international calling fees.

Mary Walton's conclusion on MyPaperGeek.net
With a relatively basic setup, MyPaperGeek has a long way to go before it can be considered a decent custom writing service. For the price you're paying, you would expect the highest quality work, however, the site simply doesn't deliver. With improvements to the quality of the content and an upgrade to the site and services, this could be a fantastic site. In the meantime, you'll be better off taking your assignments elsewhere.
Rated: 1.8