It's not always easy to find the best essay writing services out there. With so many places to choose from, you want to be sure you're picking somewhere you can get a good deal, perhaps even a discount, somewhere that isn't a scam but a safe place to go, somewhere that is truly legit. I'm going to have a close look at CustomEssayOrder and see if it's somewhere you will get the very best service or not.


Top Rated Essay Writing Services
Table of contents
Services – 4/10
Custom Essay Order provide about twenty different kinds of services, from your typical essay to solving your math problems. They serve customers from high school through PhD students, but have no business services.
One of their features is a 1-hour service. This was interesting to see, as most papers take longer than one hour to be written, unless they were very short indeed.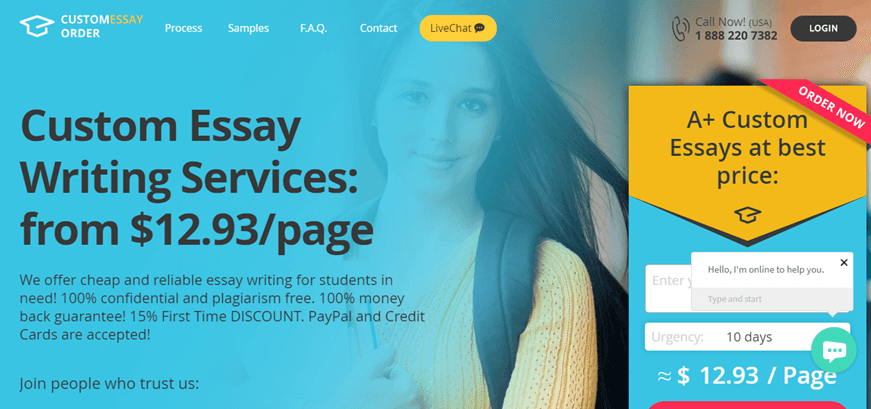 Pricing – 4/10
Just out of interest, I ran one quote for a 3-page paper due in an hour at undergraduate level. This would cost me $150.77. I guess if you're desperate, you're desperate and willing to pay whatever you need to.
More realistically, I ran another quote for an 8-page paper due in 3 days. This came out at $228.11, which is a little steep for this kind of service, but not outrageously so. I also added in a Top 10 Writer for $2.95 per page, VIP support for $9.95, and a proofreading by an inhouse editor at another $2.95 per page. Those little extras do add up!
Content Quality – 3/10
To fully understand what an essay writing service can provide for you, it's vital to look into the samples, any testimonials, and also any external reviews of the site. I had a look at some of the sample essays provided and can confirm that I wasn't very impressed. They weren't terrible, but certainly not worthy of an 'A' grade either, as some of them contained typos, some wandered off topic, and some didn't sound like they were written by native English speakers. The text on the site itself wasn't very good either.
The site doesn't have any testimonials, so I consulted Google, where I found some worrying news. There were concerns about missed deadlines as well as plagiarism in content from this site.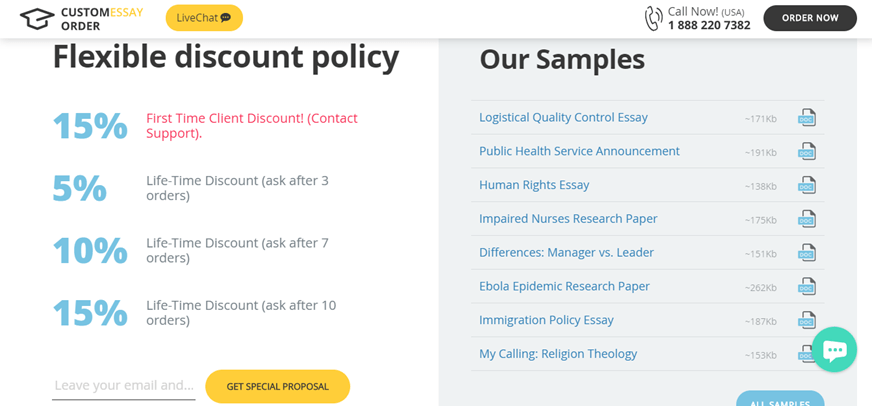 Customer Service – 5/10
CustomEssayOrder.com support their customers with a US-based phone number, an email address, a Live Chat service, and a link to a Facebook page with 350 likes in their name. They also have Twitter and Google+ logos displayed on their site but these don't seem to be linked to either website. Their headquarters is located in Seattle, Washington.
Mary Walton's conclusion on CustomEssayOrder.com
Ultimately, I wasn't swept away by CustomEssayOrder's offers, and I'm concerned about reports of delays and unhappy customers. I don't want to settle for anything less than the best, most reliable, most value-for-money service, and I'm sure there are better alternatives out there.
Rated: 2.4