As a student, you'll already be aware of the hardships that come from trying to keep up to date with your academic work. Every lesson and professor is setting you more and more work, and when you have a job, a social life and a million other things to concentrate on, it can all get very stressful.
Fortunately, this is why services like IDoAssignment.com exist. With custom essay services like this, you can order an assignment, or two, or three, to be written by a professional writer to help you meet your deadline and get the grades you're after.
However, with so many of these services existing online, today we're going to find out whether this is the service you've been looking for, or whether you should look elsewhere.


Top Rated Essay Writing Services
Table of contents
Services – 5/10
While there's no services page, you'll be able to find whether the services you're looking for are available by making your way through the order form. Here, you'll see that there are five main services that including writing from scratch, all the way through to proofreading and editing services.
There are also five academic levels to choose from ranging from high school to a doctorate. There are also around 30 types of assignment type to choose from, and while you should be able to find the basic service you're looking for, there are a few key ones missing.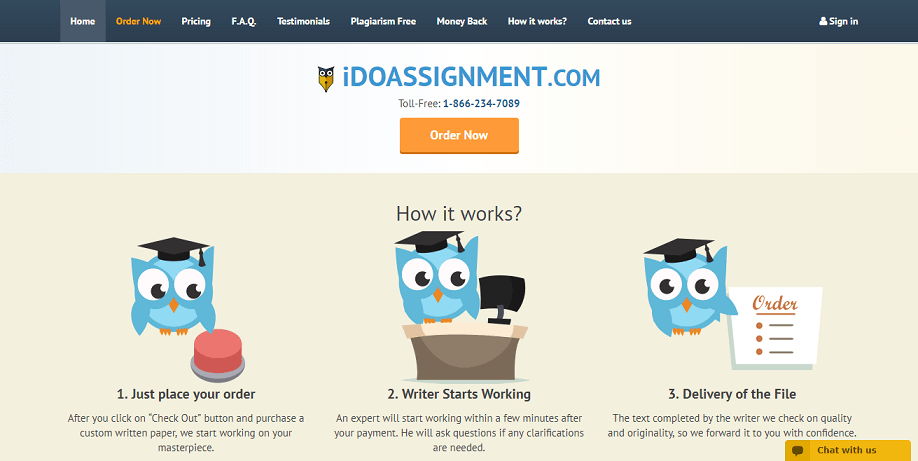 Pricing – 4/10
You can use the pricing page to figure out how much your academic content is going to cost you, and this depends on a number of different features and options. To give you an idea of what the prices are like; a ten-page essay with a 3-day deadline will set you back around $289 at a Master's level.
While this isn't the most expensive service out there, it definitely isn't the most affordable, and if you're looking for an affordable and regular service, you'll probably want to look elsewhere.
Content Quality – 6/10
There are a few testimonials on the website, which of course boast the website at being a five-star service. However, the problem is that none of these reviews really provide any detail onto what their website experience was, nor do they have dates, meaning the reviews could be years out of date and now no longer relevant.
There are few reviews from past customers online, many saying the website content of IDoAssignment was average at best, but you're probably going to need to read through it to make sure it makes sense, and there are no errors.
Customer Service – 5/10
The level of customer service you get from the company is so important because if you need assistance quickly, you're going to need it. However, on I Do Assignment, there are only a limited number of ways to get in touch.
These include a single email address, a 24-hour live chat, a few social media links and a toll-free phone number for US and Canada. While this seems like a broad selection, it doesn't seem like many of these channels are active or have fast response times, meaning your urgent assistance may not be very quick.

Mary Walton's conclusion on IDoAssignment.com
As you can see, although IDoAssignment is not a bad custom essay writing service, there are definitely some areas where it could improve and be more honest its customer. With this in mind, if you've got time to edit and don't mind spending a bit extra, you can use this site. Otherwise, it might pay off to see what other solutions are out there.
Rated: 2.4