The First Writing Service is one of those sites that you have high hopes for. The website claims to be able to help you with all kinds of tasks that students commonly find themselves labored with so it's easy to see why students would choose to go here.
However, let's dig a little deeper to find out whether this really is the site you want to spend your hard-earned money on.


Top Rated Essay Writing Services
Table of contents
Services – 3/10
Using either the services page or the drop-down menu on the homepage, you can see an exact list of all the services that 1WS has to offer.
As you can see, all the most common types of assignment are provided, such as standard essays and presentations to dissertations and reports. There are about 30 services in total. However, there are only three academic levels to choose from, which are undergraduate, bachelor and professional.
It's also worth remembering that other sites can offer in excess of 30+ services, meaning some students may be forced to go here if they can't find the service they are after.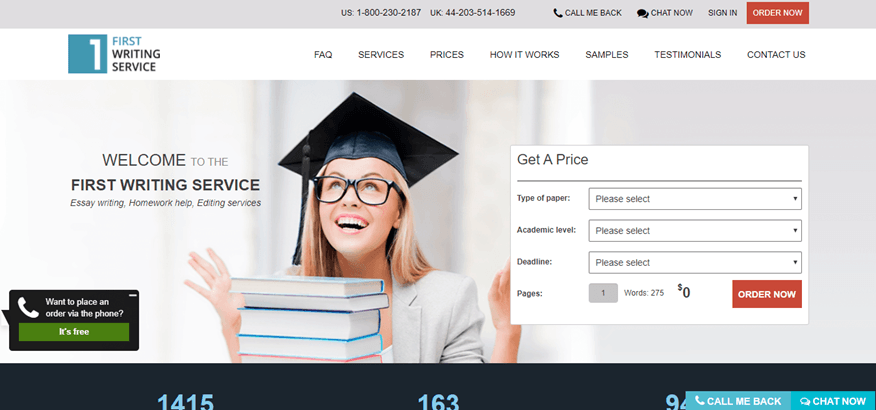 Content Quality – 3/10
Although there is a testimonials page on the website, the reviews found on this page are incredibly brief and don't provide much information about the service that the site provides. The reviews are also undated which means that they could, in theory, be years out of date.
Searching online for more information, I found a tonne of forums where customers complained about the poor service they had received. These reports included content delivered late, content that wasn't proofread and content that had high levels of plagiarism.
Pricing – 4/10
Although there is a dedicated pricing page, it's much easier to work out the quote for your assignment using the price calculator on the homepage.
To give you a guideline to what the prices are like, a standard ten-page essay written to a Bachelors level with a 3-day deadline will set you back around $230. This is a lot of money and a sum that not many students, especially those living on a tight budget, will be able to afford.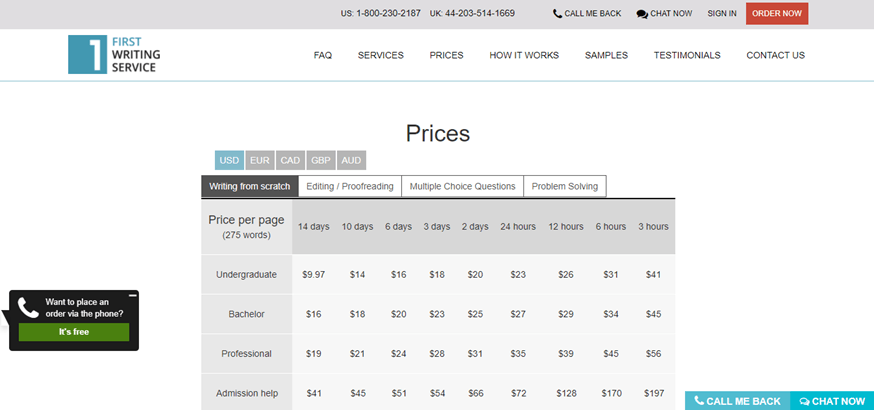 Customer Service – 5/10
There's quite a comprehensive selection of ways you can contact the company. There's both a UK and a US phone number, two email addresses, although none of them is for pre-sales questions.
It's worth mentioning that there is also a 'call me back' feature and a live chat feature, but there is a notable absence of dedicated email addresses per support department, no email form and no social media page links.

Mary Walton's conclusion on 1ws.com
All in all, the experience I had with 1WS.com was fairly average but with a few notable letdowns such as high prices and inconsistency with the content that's provided. With this in mind, don't risk your money and take your business to a more reputable service.
Rated: 2.2