This is the website of PhDify, a service that promises to deliver extensive dissertations to order, with expert writers and proofreaders. But however neat the service is, nobody wants to be trapped by an illegal scam. In this review we explore how safe and legit it is to hold an account with this company.


Top Rated Dissertation Writing Services
Table of contents
Services – 5/10
When you sign up for their service, the site looks pretty clean and neat, and easy to navigate. It's actually really easy to place an order. Which makes it so confusing that when you have an account it gets harder to navigate. Maybe we're just used to the ease of social media sites, but this seems a bit backwards.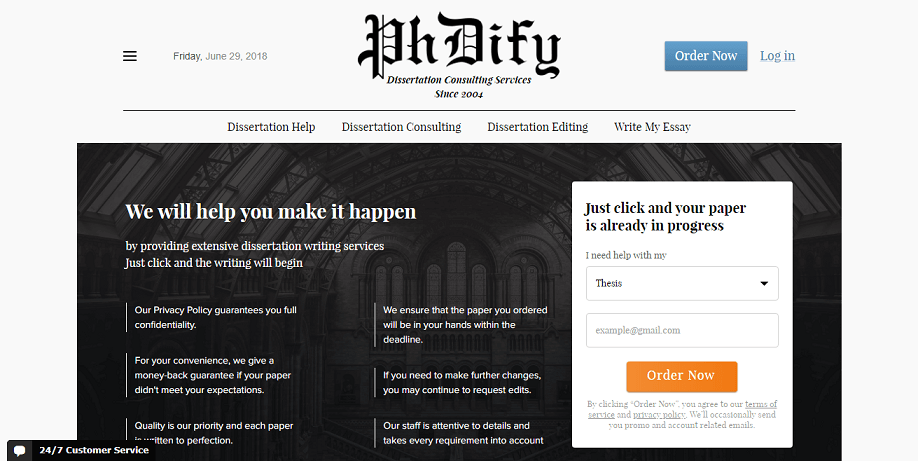 Pricing – 4/10
When shopping for a dissertation, a discount or promotion code, plus an unclear refund policy, is a pretty bad sign. This quality of work is apparently ensured by free revisions, but the fact they are skirting around their writers' quality is not a great start. It seems more designed to get you to pay for an essay, and then give up on getting your money back rather than fighting for it.
Content Quality – 3/10
It is hard to find any actual evidence as to the quality of their writers. Especially when their website includes so many mistakes. I'm not sure we can trust a site to provide us with a PhD level dissertation. A great rule of thumb is that if a company cannot proofread its own website, you should not trust them with your academic work.
A quick reverse image search also finds that their supposed writers are just stock images, which really reduces credibility further.
This again supports the notion that this company is offering cheap dissertations to basically trick you into giving them money, and then you give up because it's not enough money to be worth a fight.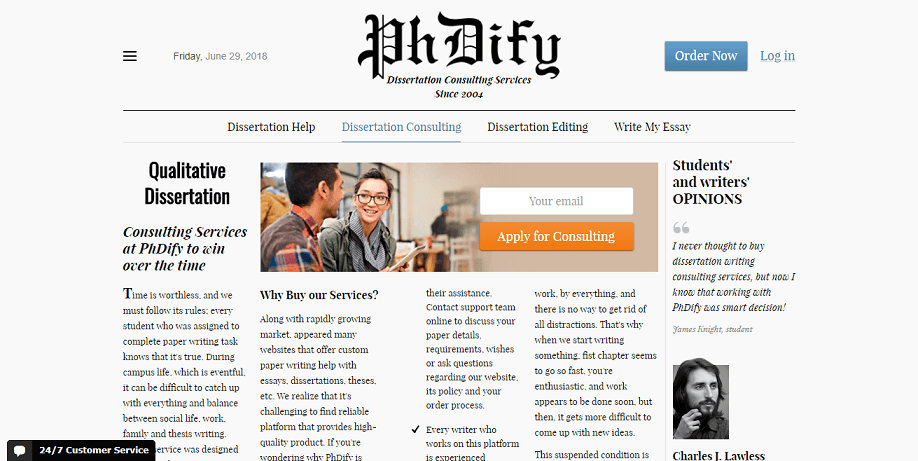 Customer Service – 3/10
If you need to contact support, their number is not easy to find, but they do offer an email, a contact form, and a physical address, which is in Cyprus. There is no way of contacting the writers.
Nobody likes having to login or sign in to talk to customer service, but nobody likes not being able to call them either.
Mary Walton's conclusion on PhDify.com
Although PhDify might seem legal, that isn't all it takes to make it worthwhile to create an account. The site can be a bit awkward to navigate, and, when we're talking about PhD level work, we really need to know that the writers are able to deliver the deal we need. Low prices can be a bad sign, and this site doesn't exactly inspire confidence when it comes to quality anyway.
Rated: 2.3