While on your search for the best custom essay writing service to meet your needs, you may have come across Pen Camp. Marketing itself as being able to provide "Academic papers at their finest", for students, Pen.Camp may seem to be exactly what they're looking for.
However, your deadlines approaching quickly, you'll want to make sure you're choosing the best service you can, which is why I'm here to find out. Today, we're going to take a look at what makes Pen.Camp the writing service for you.


Top Rated Essay Writing Services
Table of contents
Services – 4/10
My first observation is the fact that Pen Camp has no dedicated services page, and you must, in fact, start heading through the order form to find out whether your required assignment type is covered by the service.
However, it seems as though all assignment types are covered since you simply upload the details of what you want which is then posted to a group of freelancers who bid for your work. While this may seem like a great idea for students, it does mean you may find a freelancer who doesn't specialize in your assignment type or subject, potentially meaning your essay won't be as good as it could be when delivered by a specialist.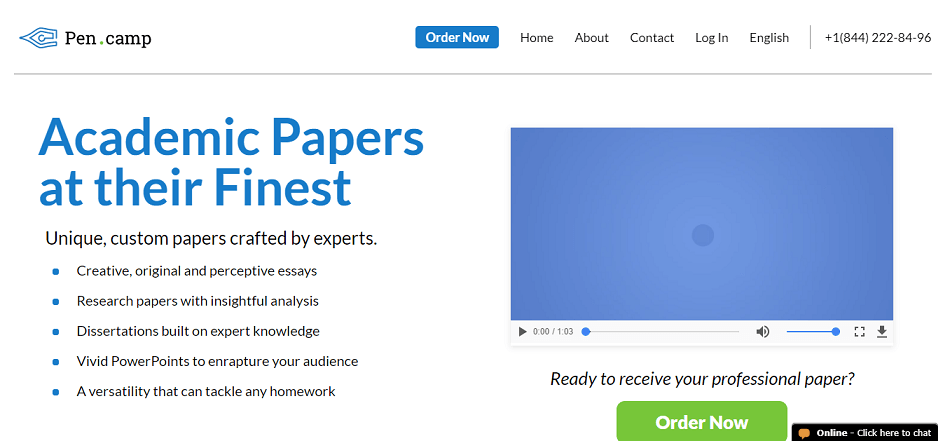 Pricing – 5/10
Same as the above, there's no pricing page since the freelancers will bid their best price after you have uploaded your assignment details. In my personal experience, this is a bad way to run things as all the freelancers tend to keep their prices high, making them more expensive than typical writing services.
Since the freelancer's bid for your work, there's no way of knowing that you could be paying hundreds of dollars one day and far less the next, it simply depends on who bids for your work.
Content Quality – 4/10
While there are a handful of testimonials on the writers found on the homepage of the website, none of these reviews has any dates, meaning they could be fake or years out of date. So, I searched online to see what past customers thought of the service.
To my surprise, I found a rather mixed bunch of reviews. While some students claim the website was average, others complained that their freelancer had let them down with non-native English writing, examples of plagiarised content and just overall poorly written content that contained typos and spelling mistakes, making the work unsuitable for a hand-in without editing.
Customer Service – 4/10
Things don't get much better when it comes to the level of support offered. While you contact your own freelancer through your account, if your freelancer goes quiet, you can only get hold of the service using the US toll-free number, the basic, limited hours, live chat service and a handful of dedicated email addresses.
There's no Skype contact, no social media links and only three email address lines, meaning you may be waiting a long time for a reply, especially during busy times or if you live outside the US.

Mary Walton's conclusion on Pen.camp
As you can see, while Pen.Camp has a lot of potential; there are still many quality improvements to be made to the service. With fixed pricing and more comprehensive support options, I would recommend this site. In the meantime, you may want to take your business to a more reputable website.
Rated: 2.2