Although it has a Canadian domain, this website is for Write My Essay, a global essay writing service that promises to deliver your order quickly, keep your information safe, and offer reasonable prices. But is this website legal and legit? Or is it a scam?


Top Rated Canadian Essay Writing Services
Table of contents
Services – 4/10
When you sign up, the process is simple, but maybe a bit too much information is shared. Always be wary of giving out too much information when you create an account anywhere, especially in this day and age. The best option is to create an account using as little information as possible and to pay through a secure means, such as a credit card or PayPal.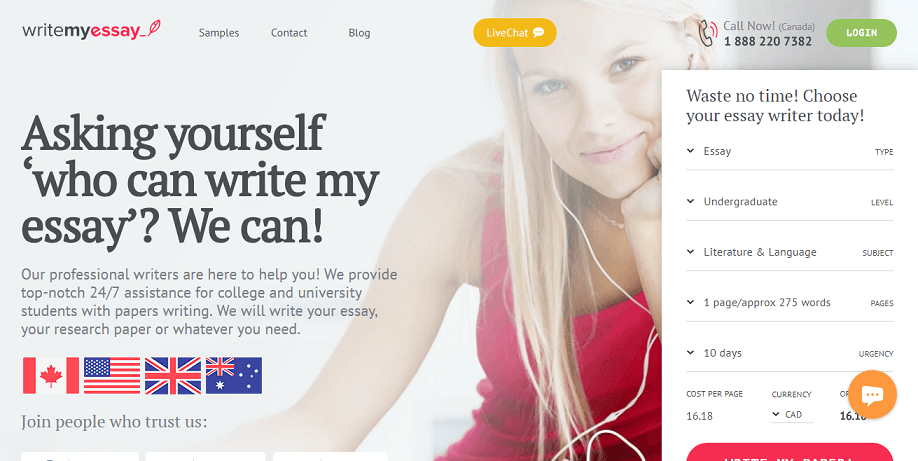 Pricing – 4/10
If you're looking for great prices, this, like many similar services, gives the illusion of a better discount than it offers. They don't give detailed information, but basically the price will get you less than 300 words per page, which is a bit of a rip-off with some services offering 300-600 words per page.
They do offer a 5-15% off discount, which is a pretty sweet deal. But they also start at 13.73 Canadian dollars. And the reason for the odd price? They actually calculate them in US dollars first, which can get confusing and frustrating if the exchange rate bounces around a bit. Besides that first promotion code, don't expect any free services, but the bad part is trying to get a refund. Remember that it is entirely at their discretion!
Content Quality – 5/10
They assure us that their writers have previous experience writing professional and at least a bachelors degree, but there isn't much guarantee of this other than their word. It would be nice if, like some companies do, they let us see what their writers' credentials are. On the plus side, they guarantee that they pick specific writers for each job, to ensure the quality is what it needs to be.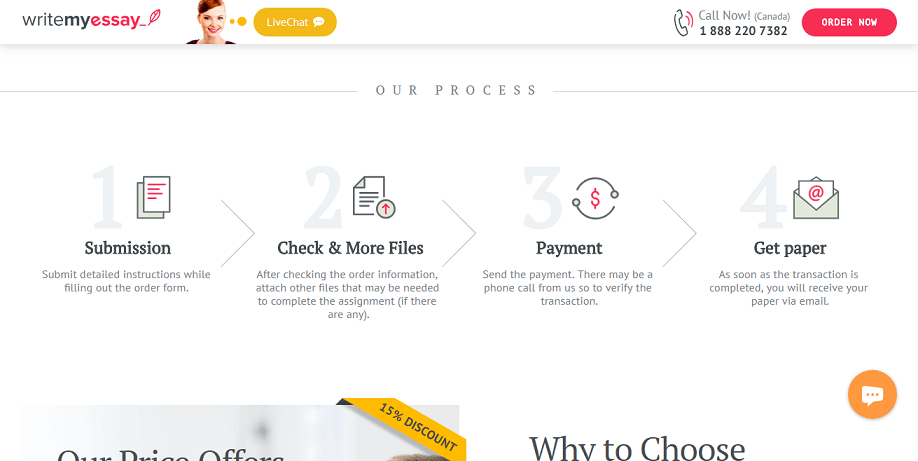 Customer Service – 6/10
If you need to contact support, their number is prominently displayed on the site and when you login / sign in you can also access other options such as chat, email, etc, more easily. It also has a physical address, which reassures us that the company is legit. They guarantee 24/7 assistance, which is very useful when you're on a deadline and need to know how everything is going.
Mary Walton's conclusion on WriteMyEssay.ca
As you've seen in this review, WriteMyEssay isn't the best service out there. It may not be illegal, but it's still not the most secure place to have an account, or the cheapest way to get your essay written. And for what you're paying, it would have to be a masterpiece to be considered a deal.
Rated: 2.4