With a tonne of guarantees and service promises which include timely delivery, secure transactions and impeccable grammar and standards, it's easy to see why so many students could be drawn to using My Essay Services as their custom essay writing service of choice.
However, as a student on a tight budget wanting the grades you deserve, you want to make sure that you're making the right decision. Today, I'm going to explore the ins and outs of MyEssayServices so you can see whether this is the service you have been looking for.


Top Rated Essay Writing Services
Table of contents
Services – 6/10
Although there's no dedicated services page to be found anywhere on the website, you can use the order form on the homepage to see whether or not the site can cater for your required service.
As you can see, there are around 30+ services on offer, ranging from standard essays and book reports to dissertations and even admission essays. Most students should be able to find what they are looking for, but students are looking for more niche service types will have to look elsewhere at leading sites that can offer more than 50+ services.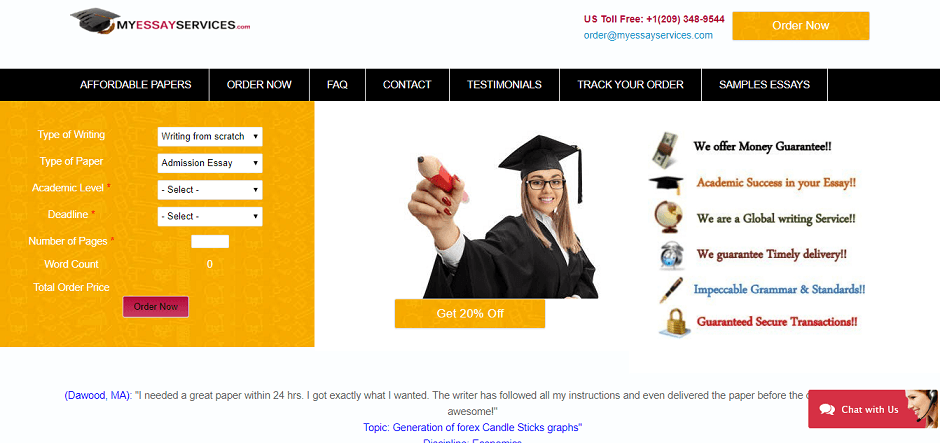 Pricing – 5/10
Again, while there is no dedicated pricing page, you can simply use the order form on the homepage to find out a rough quote for your assignment type, but it's worth noting that the price will need to add essential extra services such as plagiarism reports and proofreading that cost extra.
As a rough guideline, a standard ten-page essay, written to a Master's degree with a two-day deadline will set you back around $216, although that's $270 with a first-time buyer discount. This is a huge amount of money to pay for a single assignment, and many students won't be able to afford this.
Content Quality – 4/10
While there is a testimonials page, the dates of these shining reviews say "two days ago", but there's no way of knowing whether or not they always say this and are in fact years out of date. For more accurate reviews, I took to the internet to look at trust and review websites.
Once online, I found mixed reviews on the service that MyEssayServices.com provides. Whereas some customers were happy with the service they received, many complained that the content simply wasn't up to scratch and contained many errors that needed to be corrected. A repeating problem was content being delivered late.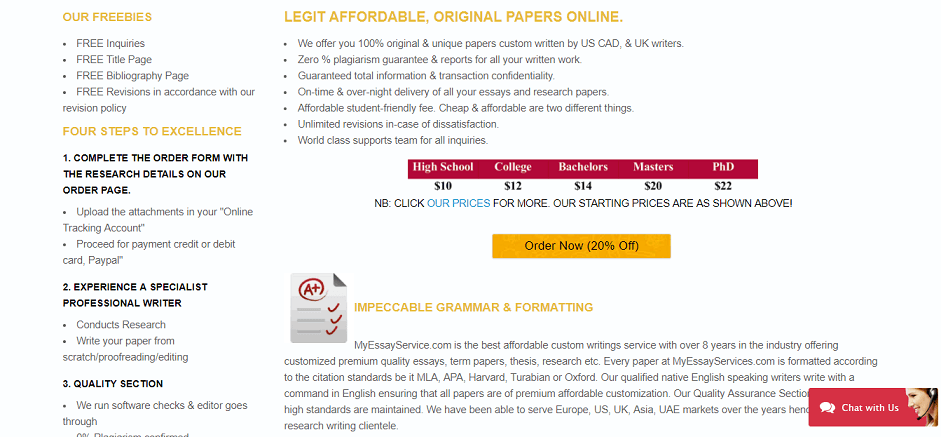 Customer Service – 5/10
Referring to the contact page, I discovered a rather limited collection of contact methods. Although there is a live chat service available on every page, a US toll-free phone number and an email form on the contact page, there are no other ways to get in contact with the website.
That means there is no Skype contact, no international phone numbers, no dedicated pre and post-sales email address or a physical address, meaning some students may struggle to get in contact when they need it, especially during busier times.

Mary Walton's conclusion on MyEssayServices.com
All in all, there is much that can be improved with MyEssayServices. With high prices and the risk of poor content, students looking for a comprehensive site may want to consider taking their business to a more reputable custom essay writing service.
Rated: 2.4