With over 12 years' experience in the essay writing industry, WriteMyPaper coins itself as an excellent service that's here to help college students lighten their workloads.
Based in Texas, the service claims to be both, secure, safe and completely confidential and boasts having served and supplied essays to 41,700 students. Today, we'll explore how true these claims are.


Top Rated Essay Writing Services
Table of contents
Services – 3/10
To start off with, WriteMyPaper.net only offers 16 services. Although all the basic are covered, such as essays, research proposals and presentations, there's a tonne of key services missing that some students may require. There are also only four academic levels you can choose from.
For a clearer perspective, some of the leading websites offer more than 50 services, meaning some students may have to take their business elsewhere. However, it's worth pointing out that the service does have a wide variety of deadlines to choose from.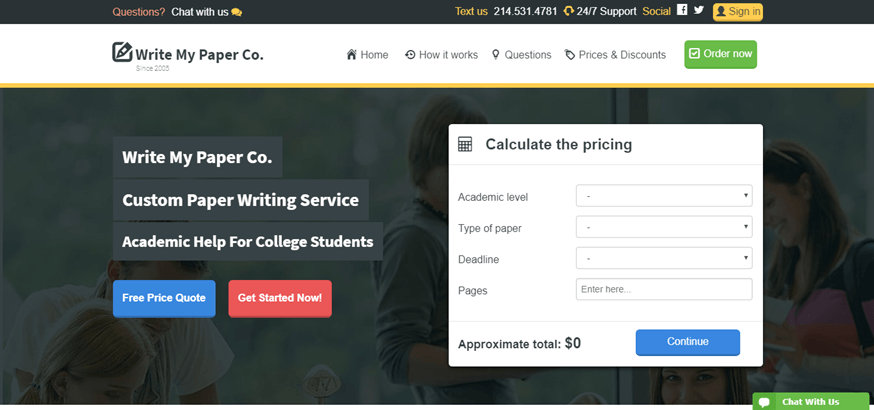 Pricing – 4/10
Using the order form on the home page, you can work out a rough price for your assignment. For example, a ten-page (2,500 words) Master's essay with a 48-hour deadline will set you back around $179.
Although not the most expensive, it's not the most affordable and when you consider you need to purchase the essential extras, such as plagiarism reports and professional proofreading, this price will only increase.
Content Quality – 3/10
The fact that there's no testimonials or review page leads me to doubt the credibility and the legitimacy instantly. Searching online, I quickly discovered the reason why. Many of the past customers who had left reviews claimed that the refund policy was far from fair.
They stated that they had received their assignments yet they were full of mistakes, typos and other problems that deemed them unusable and unsuitable for a hand-in. Due to the refund policy, these customers are still awaiting their money back.
Customer Support – 3/10
Instead of having a contact us page, the companies contact information is scattered throughout the website, making it very difficult to find. There's a live chat feature on every page as well as a couple of links to their social media pages.
Additionally, there's also a US phone number you can text. It's poor to see that the website lacks any form of dedicated email address or international, or even local, phone numbers which may make it difficult for you to get in touch quickly.

Mary Walton's conclusion on WriteMyPaper.net
Something about Write My Paper just doesn't add up. Everywhere you look on the site; you see signs of no credibility and illegitimacy. The prices are high and the content inconsistent, leading me to be unable to recommend this service as an essay writing service that you should use.
Rated: 2.0