Signing onto My Assignment Help for the first time, I was pleasantly surprised by the design of the site. It has a nice, professional feel to it that gave me high hopes that this was a good service. Unfortunately, this is one writing solution site that failed to deliver and left me feeling extremely disappointed, especially since the site prides itself on a '98% customer satisfaction rate'.


Top Rated Essay Writing Services
Table of contents
Website – Poor Design
After accessing the site, my first noticeable flaw was the constant bombardment of the live chat option that pops up consistently, even after closing it, right in front of the order box. When you finally get a chance to input your order, you'll be able to choose from a very large range of services but, unfortunately, you won't be able to simply choose from a drop down menu, you have to type it in yourself.
Prices – No Defined Prices
Having filled out the boxes for a five page college essay on social law, I received absolutely no indication of the price or could even find a price list on the website! I decided to take to the persistent live chat to ask about prices. To my surprise, I was greeted by an incredibly unhelpful assistant who quoted me a rough price of $300 and then decided to stop replying after two messages.
Content – High Levels of Plagiarism & Low Quality
I continued through and made my order. Astonishingly, I received my article the next day, on time, but that couldn't redeem the fact that the document was, simply put, terrible. The document tested positive to a staggering 72% on a plagiarism checker and the parts that weren't copied and pasted was just nonsensical rubbish. The writer may has well have just written random numbers and letters onto the page.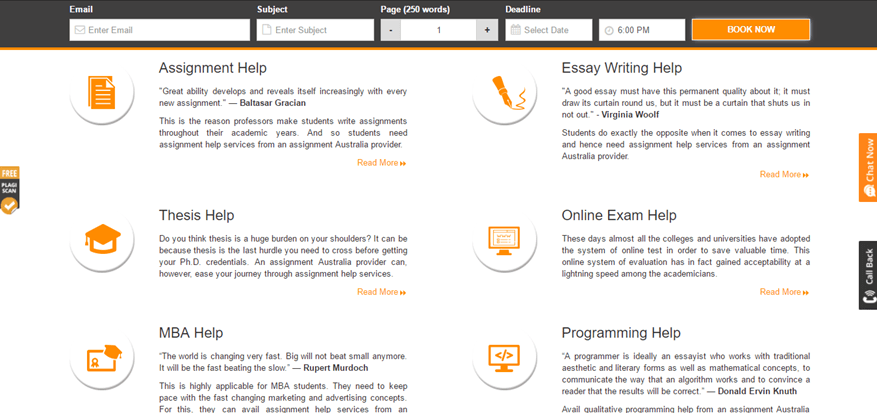 Customer Service – Terrible Refund Policy
I returned to the ever helpful live chat customer service to ask for my refund. The chat assistant actually replied this time, stating that they will redo the assignment until I was happy with it. I gave them this opportunity and received a new article two days later. The second article was exactly the same as the first.
I went back to the live chat (there are no other ways to contact the company) and aired my complaints. The assistant stated that the refund policy states that I am not entitled to a refund but can instead claim my next article through the site absolutely free. Great.
Mary Walton's conclusion on MyAssignmentHelp.com
It may not surprise you that I just left it there. My experience using MyAssignmentHelp was poor to say the least. With an terrible refund/revision policy, consistently poor quality content and increasingly unfriendly, unhelpful customer service representatives, I think it's safe to say that I will never be using this site ever again. If you're looking an online writing solution to fit your needs, you're much better off paying one of the more respected and well reviewed sites a visit and taking your business there.
Rated: 2.2