On a quest to find the best essay-writing service? Me too! Let's have a look into Term Paper Easy and see if it offers what we need as an all-around site, not only in amount of services but in prices, quality, and customer service too.


Top Rated Essay Writing Services
Table of contents
Services – 4/10
TermPaperEasy offers both academic writing and business writing services, but it is not easy to find out exactly what these consist of, since there is no dedicated page for services. From poking around the site trying to find out what they offer, it appears that you can get writing, editing, and proofreading services. Most other sites seem to be a lot clearer on what services you can actually buy.
The site also does not seem to offer any guarantees or warranties. They do, however, say that all papers are 100% plagiarism-free and not reused, and that all their writers have a Masters or PhD in their field of study. In addition, they offer free revisions, a title page, table of contents, and bibliography.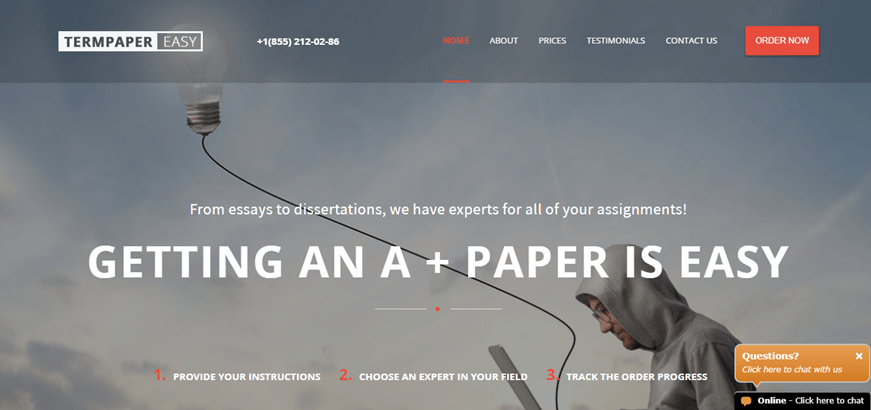 Pricing – 3/10
TermPaperEasy.com also don't make it very easy to find out what someone would actually need to pay for a paper. There is a page with prices on it, but no quick-quote calculator like on most other sites. I was able to estimate that a 5-page paper with a 48-hour deadline at college sophomore level would run me about $165.85, but I had to pull out my own calculator to do it.
This is also decidedly expensive when compared to other similar sites. Extending the deadline out to 14 days only reduces the price down to $116, as well. Though they mention discounts on the front page of the site, there is no way to know how to get a code or take advantage of any promotions.
Content Quality – 4/10
I had a look at the testimonials page on the site, which includes a number of mainly positive reviews from various customers. I also did a search on Google for any more information or reviews about the site but didn't find much, which suggests to me that the site is relatively unknown.
Unlike some other sites, TermPaperEasy does not offer any samples, which is disappointing as it's always good to check out the quality of work you might be receiving. The website copy itself is fairly well-written but has a few typos.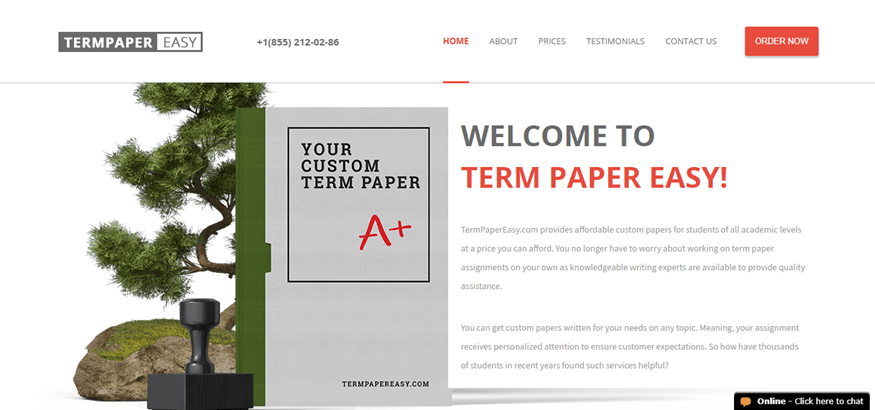 Customer Service – 5/10
The site does offer a Live Chat service plus email and 24/7 phone support, but no social media links.
Mary Walton's conclusion on TermPaperEasy.com
Term Paper Easy isn't for me. I would rather not have to sign up for an account to get a simple quote. Also, I would prefer a site that was more well-known and reviewed by more customers. And finally, I found the site itself confusing, and would like to patronize a place that was more straightforward.
Rated: 2.1