I had high hopes for Writeversity. With a high quality and seemingly easy to navigate website, this looks like a site that has the capability to be a decent writing solution service I would use frequently. To my surprise, I was completely let down by the quality of the articles and the customer service I received and highly advise anybody reading this to go elsewhere.


Top Rated Dissertation Writing Services
Table of contents
Services – Lack of Options
As above, when first visiting the site, you're greeted with a professional looking site. Begin using the site and you will soon realise that it's riddled with bugs and broken links. When you finally navigate your way to the services pages, you'll find an extensive list of services but all related to dissertations and thesis's. No article, blog or proofreading services to be found.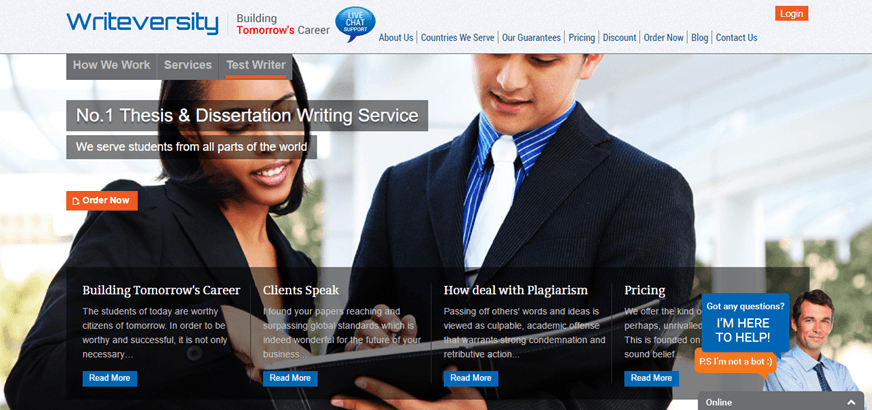 Prices – Unaffordable Services
Upon visiting the price page, you'll notice there is no easy to follow price table, just a small input box to receive a quote, with a different list of services than the services page?! Having filled out the box, I received a quote for a five page case study to a graduate level that would set me back just under $120! This is extortionate and must be a scam. There are much more affordable services out there on the market.
Writers – Not Native English
Having purchased my case study, I waited and waited and finally, two weeks after my proposed deadline, I received my document. I read through the document and was shocked at the poor English level, lack of sentence structure and the obvious lack of proofreading, despite me ordering it with that option! The writers on this site are obviously not native English writers, despite the site claiming all their writers are accredited writers from English speaking countries. It's also worth noting that the document had a 31% plagiarism match meaning that this document was in no way ready to be handed in for a college hand-in.
Customer Service – Unable to Contact
I went back to the website to air my complaints on the delivery times and quality of the content, first using the live chat in which I had no response for over two hours and then taking to the phone where I just received endless ringing. I have filled out the customer contact form but I am still waiting for a reply.
Mary Walton's conclusion on Writeversity.com
To summarize, the experience I had with Writeversity.com was absolutely terrible and potentially one of the worst services I have ever used. If you're a student or individual looking for a writing solution that fits your requirements, you can bet your bottom dollar that Writeversity is not the one for you. There are much more developed, experienced and highly rated sites on the market and I highly recommend using one of them.
Rated: 2.3