eWriters.pro is a custom essay writing service that aims to be your one-stop-shop for essays and assignments while you're in education. The service claims to be able to get your content written from scratch by the deadline you have, getting you the grades you want and all for a price you can afford.
However, with so many services out there to choose from, it can be hard to know whether you're choosing the service that's right for you. Today, we're going to explore the ins and outs of eWriters to see whether it's the service you've been looking for.


Top Rated Essay Writing Services
Table of contents
Services – 4/10
Of course, the first thing you're going to need to do is to figure out whether you can actually order the service you need through e Writers. However, there are no services pages available which make this easy.
The only way you can find out is by making your way through the order form where you can check the drop-down menu. Here, you'll find around 30 services in total ranging from your standard essays and term papers to speeches and even proofreading services are an option.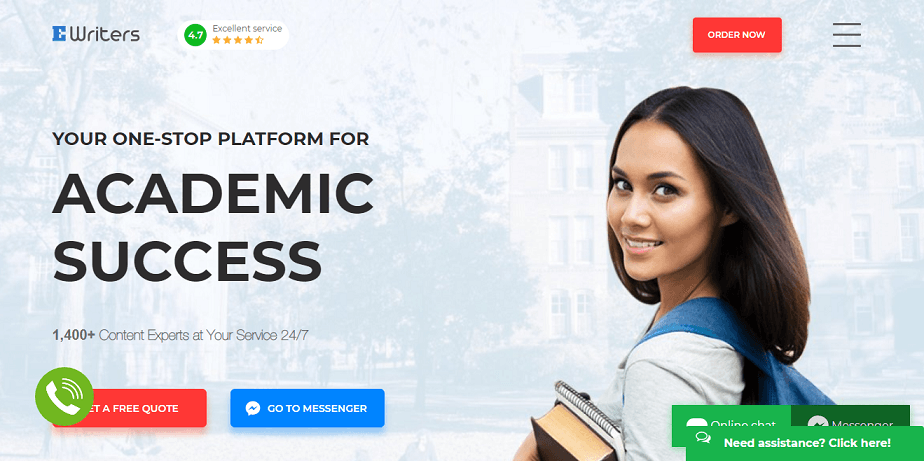 Pricing – 4/10
Again, there is no pricing page available on the website, so you'll need to make your way through the order form to get an accurate quote for your content, although you won't need to submit your information to see how much it's going to cost.
To give you an idea on what prices are like, a standard 10-page essay written to a Master's level with a 5-day deadline will set you back around $354.29. This is easily one of the most expensive services I've ever seen, and certainly won't be suitable for an average student looking for an affordable service.
Content Quality – 5/10
The best way to see what the quality is like is to simply ask the past customers of the service, in this case using the reviews page. However, while there are plenty of glowing reviews, none of them come with a date, meaning they could be years old and no longer representative of the service.
What's more, searching online shows little to no reviews on the service itself. This either means that nobody is reviewing the site, which suggests not many people are using it (therefore making the reviews on the website illegitimate) or the reviews are poor and have been removed. Either way, it doesn't say a lot of good things for eWriters.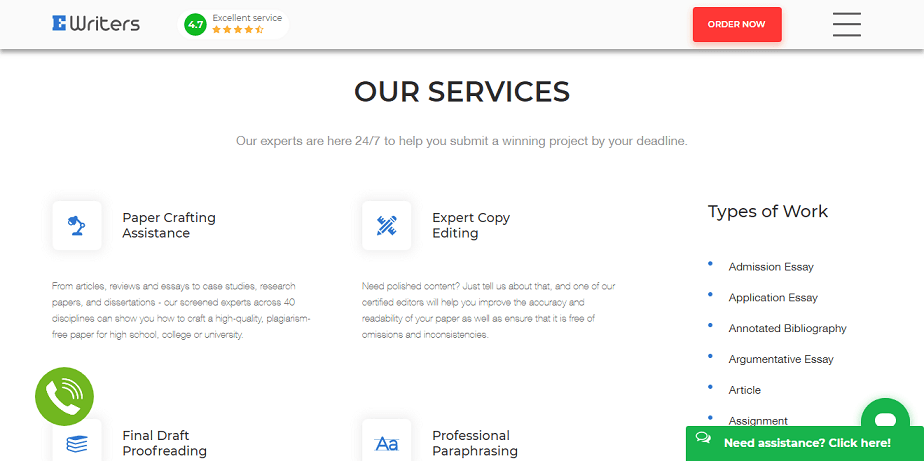 Customer Service – 4/10
Whether you want to place an order but want to ask a question, what to inquire about your order, or you want to request a refund, you'll need to get in contact with the company. However, there are only a few ways to do this.
There's no contact page, so you'll need to scroll all the way down to the footer where you'll find a US phone number, a link to a live chat and two social media profiles. There's no Skype, no international support, no email address, physical address or email form, potentially leaving a lot of customers in the dark.

Mary Walton's conclusion on eWriters.pro
All in all, eWriters.pro leaves a lot of room for improvement, and it's hit or miss whether you'd want to use it as your custom essay writing service of choice. With limited customer service options, high prices and inconsistent content quality, it's worth remembering there are other writing services out there.
Rated: 2.4