If you're looking for a professional writing service that can provide you with native English-written content that can get you the academic grades that you deserve, you may have stumbled upon Essay on Time.
Although this looks like a website straight out of the ninety's and definitely needs an update, that's not to say that the service itself is poor. But, as a customer of a business, you'll need to make sure, so let's dive in to see whether this is the service for you.


Top Rated Essay Writing Services
Table of contents
Services – 5/10
Head over to the services page, and you'll find a comprehensive list of all the services that the website has to offer. As you can see, there's a collection of various writing services such as essay writing, research paper writing and case study writing.
There's also admission services available, content editing services and even dissertation services. However, it's worth noting that some of the leading writing services have in excess of 50+ services, unlike this site which has around 30 in total.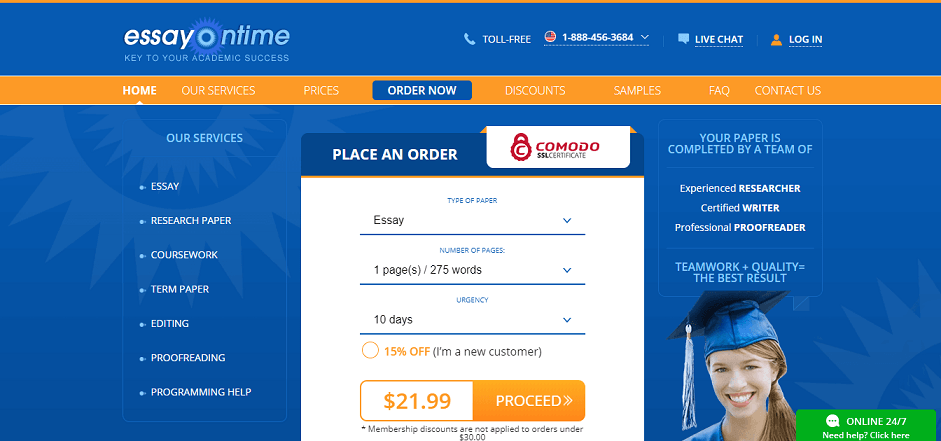 Pricing – 4/10
If you make your way over to the pricing page, you'll be able to figure out an accurate quote for your content using the live pricing calculator.
To give you a rough idea on what the prices are like, a ten-page essay, written to a premium quality (there are no academic levels to choose from), with a three-day deadline will set you back a grand total of $279.
Although this isn't the most expensive service I've ever witnessed, it's definitely not the most affordable, and there are certainly less expensive website services out there.
Content Quality – 3/10
I was disappointed to see that there wasn't any form of testimonials or review page on the website for judging the quality of the content that is created. This forced me to take my search onto the internet.
Checking through trust websites and forums, I found a collection of mixed reviews, some claiming the service was not the best, but okay, whereas others claimed they had a terrible experience where the work was delivered late, the content itself was poorly written and contained a number of errors from spelling mistakes and bad grammar to typos and poor formatting.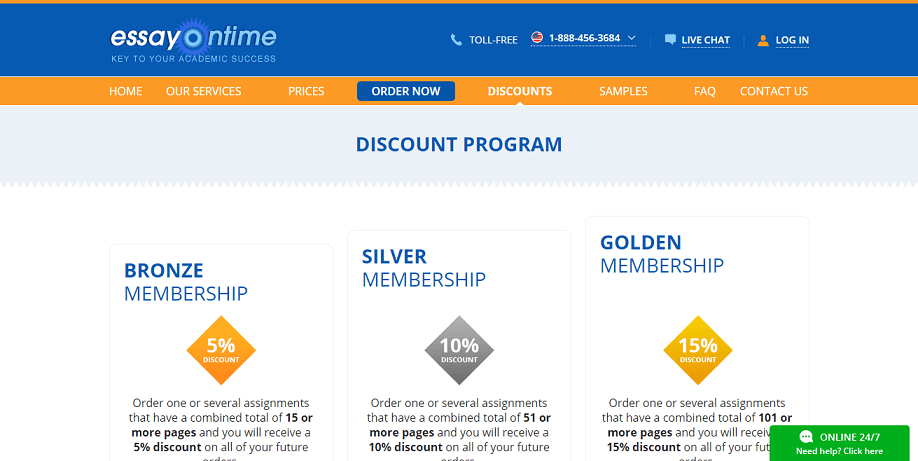 Customer Service – 4/10
There are a few ways you can get in contact with the company should you choose to use them or have any questions for them. There are dedicated phone lines for customers based in the US, the UK or Australia as well as a live chat feature on every page.
However, this is the only forms of contact that exist since there's no email addresses, no Skype contact, no social media links or anything else, potentially leaving some students in the dark.

Mary Walton's conclusion on EssayOnTime.com
As you can see, there is much work that needs to be done to EssayOnTime until it becomes a recommendable service. In the meantime, I advise that you take your hard-earned money to a more reputable website.
Rated: 2.3