Writing essays and assignments for all your classes while trying to balance a social life, family life, part-time job and all the other work you're receiving from your other classes is no easy feat. In fact, many students will tell you that they fall into this endless working pattern that results in them staying up at their desks till 3am, deadline due in a few hours.
However, thanks to custom essay writing services like Writer 4 Sale, you can order your assignments to be finished online, allowing you the time to complete everything when it needs to be done. Nevertheless, is this the service you've been looking for?


Top Rated Essay Writing Services
Table of contents
Services – 5/10
While there is no dedicated services page to be found anywhere on the website, there is the order form on the homepage which seems to list all the services that are available. From the list, you can see that there are around 30 services available in total, covering all the basics from standard essays to PowerPoint presentations.
However, it's worth noting that some of the leading services in the industry offer more than 50+ services, so if you can't find what you're looking for here, you're sure to find it elsewhere.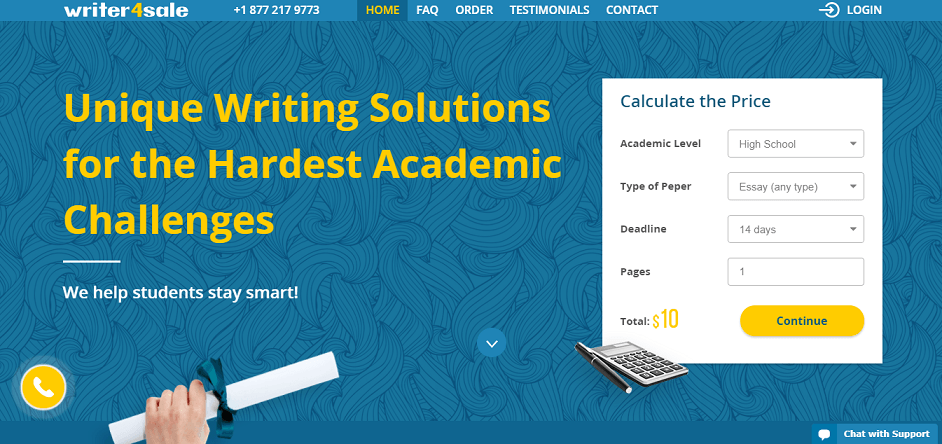 Pricing – 4/10
Again, there is no dedicated pricing page, but you can work out an accurate quote for your work using the homepage order form. The price is worked out based on the academic level of the content that you want, the deadline required and then multiplied by the number of pages you need.
To give you an idea of what the prices are like, a standard essay, written to a university level with a 7-day deadline will set you back $17 per page. While this isn't the most expensive service, it definitely isn't the cheapest, and at $170 per ten pages, some students may find that this is out of their budget.
Content Quality – 4/10
While there is a testimonials section on the website, none of these reviews really provide any help. The service claims to have served over 24,000 orders, but none of the reviews is over two sentences long, none of them has a star rating or a rating out of ten, nor do any of them have a date.
This means the reviews could be years out of date and no longer represent the service they are reflected. Searching online for more details, I found a lot of complaints about the website that claimed that the overall quality of the content was poor, written in poor English and wasn't up to a submission standard.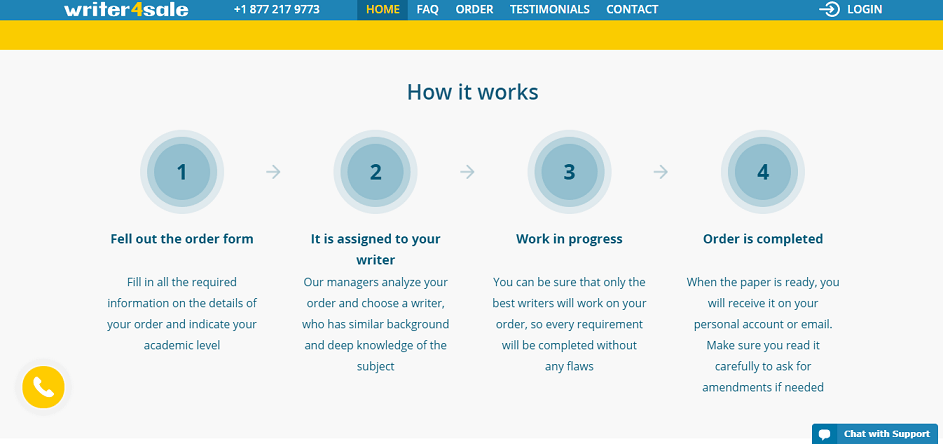 Customer Service – 5/10
When you're using an online service, it's so important that you consider the customer support options that are available to you. This is because you may need to contact the company in the case of an emergency regarding your content.
With Writer4Sale.com, you can contact the company using a US toll-free phone number, an email address and a physical address. However, there's no email form, no international phone numbers, dedicated support emails or social media links, meaning getting in contact with the company could be harder than you think.

Mary Walton's conclusion on Writer4Sale.com
As you can see, while Writer4Sale may seem like a professional and comprehensive custom essay writing service, the site leaves a lot to be desired, and you may feel ripped off with the pricing and the overall quality of the work.
Rated: 2.3