Essay Look attempts to bring a light-hearted angle to custom writing services, trying to provide a new and exciting appearance to drive up their sales. Unfortunately, this concept is unwelcomed as students are just looking to make their orders and move on to more important things in life which have resulted in the site becoming slightly redundant.


Top Rated Essay Writing Services
Table of contents
Website Interface – 2/10
Logging on the homepage, you'll instantly notice all the graphics and logos that cause quite a distracting appearance. There's no instant order form meaning student must hunt around to begin their order. There are most of the pages you'd expect from a complete writing service, however, more importantly, there is no services or pricing list pages.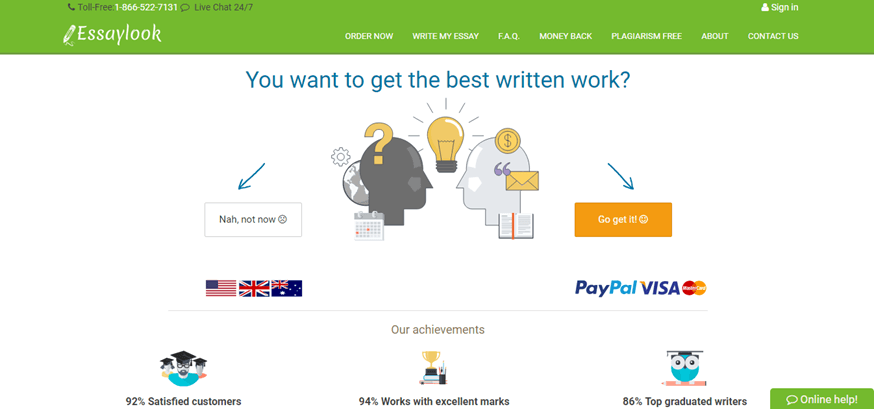 Services – 1/10
There are five services listed on the order form as well as five academic levels. This is a far cry from some of the market-leading websites who can offer in excess of 50+ services. All the basics are covered but if you're a student looking for a suitable site to handle all your writing tasks, you'll be much better off taking your business elsewhere.
Pricing – 3/10
If you were to order an essay, written from scratch and to a Masters level, that was ten pages long and delivered within 48 hours, you'll be looking at a pocket-crunching $329. This would make a dent in any student's budget and isn't unsuitable for even a one-off assignment, let alone as a regular service. It's worth noting that this is the quote before you even add the extras such as editorial proofreading and editing.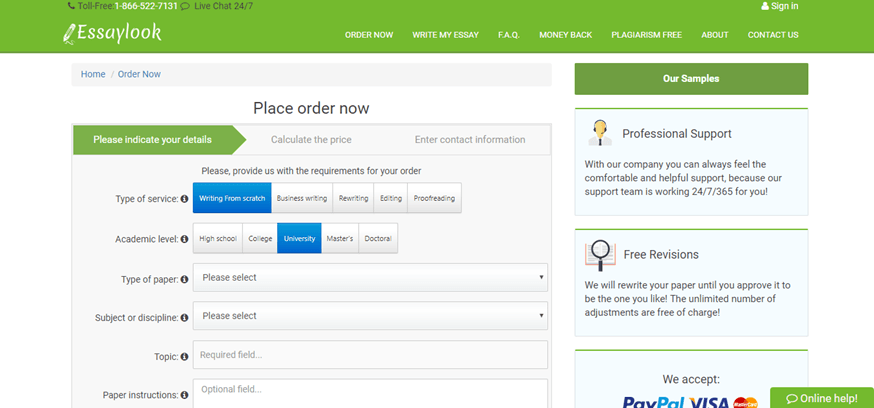 Content Quality – 3/10
There are a handful of testimonials located on the extremely hard to find reviews page. These reviews are extremely difficult to believe as they do not contain a date, meaning the reviews could technically be decades old and no longer relevant. The account pictures of these reviewers also use stock imagery, resulting in me highly doubting the credibility and trustworthiness of the website. Online forums show that most of the work from the site is okay, however, there are many reports of high levels of plagiarism and a vast number of users complaining about small errors such as typos and punctuation mistakes.
Customer Service – 4/10
If you decide to use the site or wanted to ask a question, there are several methods you can use to contact the site. If you live the in the US you can use the toll-free line to call EssayLook. If you live outside the US, you can email the company or use the email form located on the contact us page. Those looking for instant assistance can use the live chat feature.

Mary Walton's conclusion on EssayLook.com
Despite a well-organized and invested website, the site still has a lot of work to do before it's ready for the big time. By lowering prices and taking more care in the quality of the work, EssayLook.com could quite easily become on the leading custom writing services, however, if you're a student looking for a solution now, you're much better off taking your business elsewhere to a more respected company.
Rated: 2.1