LiveCustomWriting promises professional custom writing services on a student budget, along with academic success in your chosen field of study as a result. I want to see if they live up to their promises, so I went over to their site and took a look.


Top Rated Essay Writing Services
Table of contents
Services – 3/10
The site lists only three broad services within the services page: essays, research papers, and "your choice." This leads to confusion, as it isn't clear what they mean by "your choice." It could be business papers, it could be movie reviews, or any other type of material. Most sites list exactly what they offer for students and/or businesses, so that the situation is clear. Live Custom Writing does not.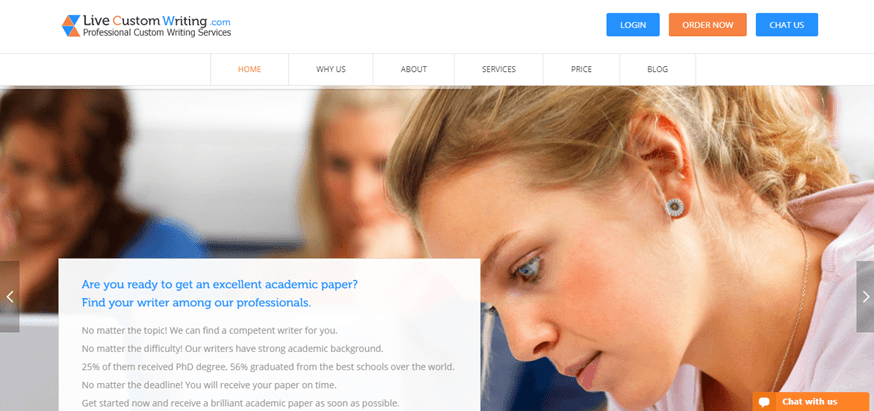 Pricing – 3/10
The pricing is also a bit confusing. The website's buttons to "order now" don't appear to work, so it's impossible to get a quote on the site without talking to someone. According to the prices page, papers start at $16.99 for high school students and increase with level of education, up to starting at $20.99 for PhD students, but there is no way to find out more.
Content Quality – 3/10
LiveCustomWriting.com has a number of testimonials on the first page with full names and pictures of students praising the site highly. However, when I searched for the site via Google, I did not find much, suggesting that the site isn't well-known.
I also had a look at the samples offered under the Blog section of the site. I noticed that a lot of the material wasn't phrased in the way a native English speaker would phrase it. In addition, there were quite a few typos on the website itself.
However, the site does offer some guarantees: a competent writer, on-time delivery, a plagiarism-free paper, a free draft on request, free revisions, and 24/7 customer support. This is standard for this kind of essay-writing service, but it does not go above and beyond.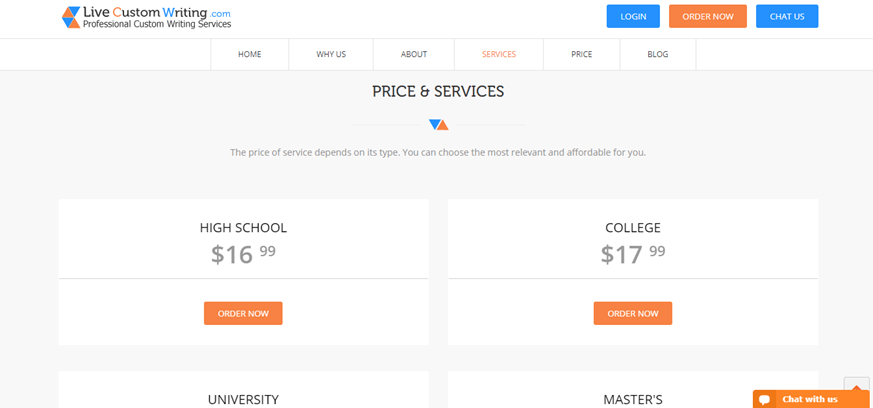 Customer Service – 4/10
LiveCustomWriting does offer a LiveChat service, but that seems to be about it. I was able to find the names and pictures of the support team, but no support email address, no postal address or even country in which the headquarters is based, and no support phone number. This is different from the vast majority of other sites who offer more comprehensive customer support.
Mary Walton's conclusion on LiveCustomWriting.com
Live Custom Writing seems to me to be run-of-the-mill, nothing out of the ordinary. There's no evidence that this service would go above and beyond to ensure that their customers were satisfied, and I feel that's crucial to good customer service, so I wouldn't purchase anything from this particular site.
Rated: 2.1