If you're in need of a custom essay writing service to help you meet your academic deadlines while still achieving the grades that you deserve, you may have already stumbled upon Essay Dragon, a seemingly popular writing service that aims to provide you with high-quality assignments, so you can spend your time on other things.
However, just like all businesses and services in the world, you'll want to make sure that you're spending your money in the right places. Today, we're going to explore the ins and outs of EssayDragon.com, so you can be sure it's right for you.


Top Rated Essay Writing Services
Table of contents
Services – 3/10
Although there's no dedicated services page, you can easily find out whether this service offers the assignment type you're looking for using the order form, which can be found by clicking Order Now. Here, you'll find there are three main services available, Writing from Scratch, Editing and PowerPoint Presentations.
Unfortunately, this is it, but writing from scratch should be able to cover a basic range of assignment types, but you'll never know until you try to order.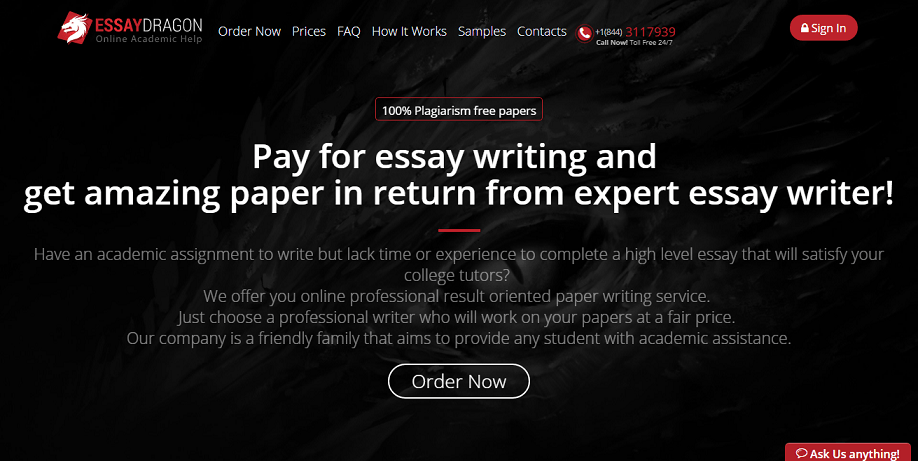 Pricing – 4/10
Using the same order form we used above, you can also figure out how much your assignment is going to cost. There's also no dedicated pricing page. The price is calculated based on a number of factors including the academic level, the required deadline and the number of pages you want.
To give you a rough idea of what prices are like, a 'Written from Scratch' Master's level essay that's 10-pages long and has a week-long deadline will set you back around $230. While this isn't the most expensive service out there, it's safe to say that it isn't the cheapest.
Content Quality – 5/10
While there are a handful of testimonials to be found on the website, you'll find that none of these come with a date on them, meaning they could be years old and no longer reflect the quality of the service that the website provides. However, you can find a Samples page, so you can see the quality of the work yourself, although these are rather limited.
On the other hand, searching through trust and review websites online, I discovered a range of mixed reviews from past students, some describing the service to be okay whereas others believed it to be terrible. Some of the most common comments included late delivery times, poorly implemented grammar and even examples of plagiarism.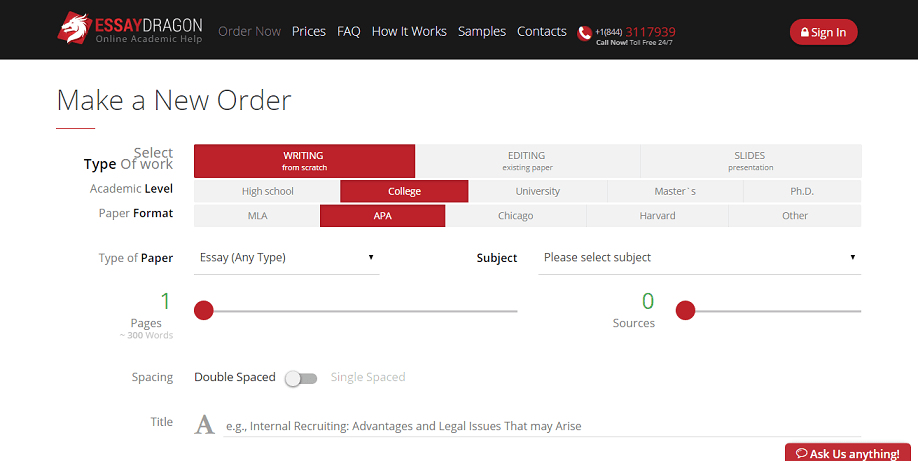 Customer Service – 4/10
One of the most important factors to consider is making sure that you're able to get in contact with the company, both before and after sales to make sure that everything is in order. With Essay Dragon, you'll find a ZenDesk 24/7 chat feature, a toll-free number, a single email address and a basic email form.
While this does provide a range of contact methods, there's no telling what the reply times are like and whether they'll get back to you instantly or whether it takes time. It will solely depend on how busy or proactive they are.

Mary Walton's conclusion on EssayDragon.com
As you can see, although EssayDragon is not the worst service in the world, there is definitely some room for improvement and students looking for a custom essay writing service to use now may want to think long and hard about whether this is the service they want to spend their money on.
Rated: 2.4