If you're a student looking for help with their dissertation, you may have come across Dissertation Writings. It doesn't matter what reason you need help for, whether you're struggling with the content, running out of time, or simply need to focus your attention elsewhere, sites like this are here to help.
However, before you go spending your money on a service, you'll want to make sure it's right for you. Today we're going to explore the ins and outs of the service, so you can see whether this is the legit service that will deliver the content you're looking for, or whether it's a scam.


Top Rated Dissertation Writing Services
Table of contents
Services – 6/10
Of course, as the title suggests, this is a custom essay writing service that specializes in dissertation writing, which happens to be the main service that it offers. However, this seems to be the only service that's on offer.
Other custom essay writing service is usually more versatile and will not only offer essay and all kinds of writing services, but also editing, proofreading, and sometimes even business writing tasks, meaning this service feels very limited.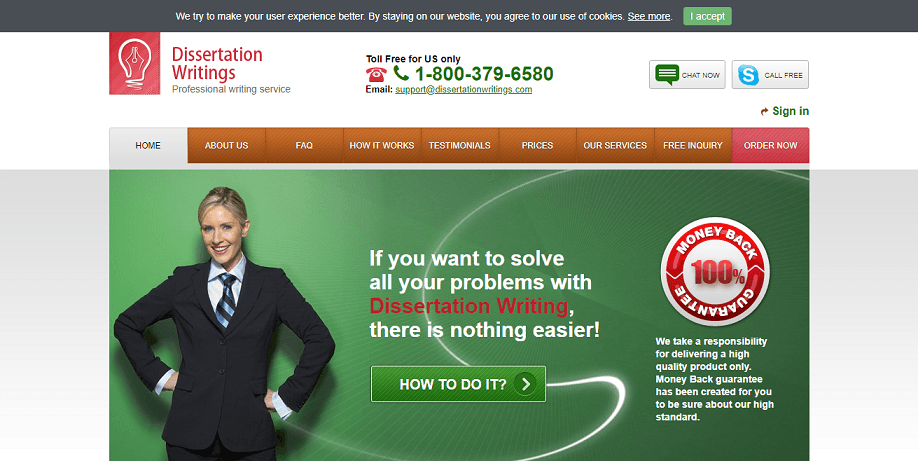 Pricing – 4/10
While there's a pricing page on the website, there's no pricing table or quote calculator to figure out how much your work is going to cost. In fact, the only way to find out is to make your way through the order process to see how you need to pay.
Bear in mind there are several deals and discount promotion codes up to a range of 10% off your order if you can find the codes. You will need to sign up and login into an account for this to work and be applied.
To give you a rough idea on pricing, a 4,000-word dissertation with a week-long deadline and written to a Professional level is going to set you back an extortionate $630, which is not suitable for a student on a tight budget.
Content Quality – 5/10
Heading over to the testimonials, you would expect shining reviews for such a pricey service; which is exactly what you'll find. However, none of these reviews have a rating system, nor do they have a date, meaning they could be years out of date and no longer reflect the service that's on offer.
This leads me to seriously doubt the quality of the content the website is producing. There is also no samples page to read through, which is another tell-tale sign of poor quality content.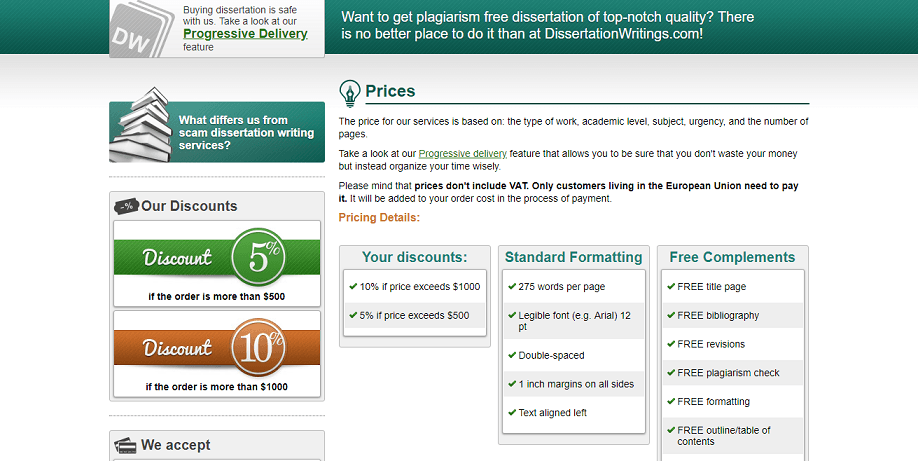 Customer Service – 4/10
When it comes to the customer service you can expect from the website, there are several options available to you if perhaps you want to request a refund, or ask a question. These include a live chat system which operates during set hours, a Skype call button, a toll-free US phone number and a single email address.
While this may seem like a broad collection of contact methods, if you consider how many customers could be using the site and there are no dedicated lines for each problem (pre/post sales), you're probably going to be waiting for some time.

Mary Walton's conclusion on DissertationWritings.com
All in all, DissertationWritings leaves a lot to be desired. While the basic service definitely exists and can probably cater for a basic level of content, it really doesn't seem like the site puts effort into showcasing that it's one of the best, despite the high price tag which will perhaps leave many students out of pocket.
Rated: 2.4