With an obvious Adventure Time reference and an easy to navigate website, Essay Vikings is a seemingly professional writing solution site that looks like a hot contender to be one of the best. Unfortunately, after a closer examination, this is simply a front to what I consider to be a illegitimate website that is out to take as much money from you as possible.


Top Rated Essay Writing Services
Table of contents
Services – Average Selection
When making your order on the site, you are greeted with an average amount of services to choose from. This is an average selection that is dwarfed when compared to other leading writing solution sites.
However, there is one interesting feature on the site where you can choose to select your own writer and view their names, success rate and how many works each writer has completed in the past. This is obviously a scam feature as the photos of these writers can be easily found on stock photography websites and their names are simply unbelievable.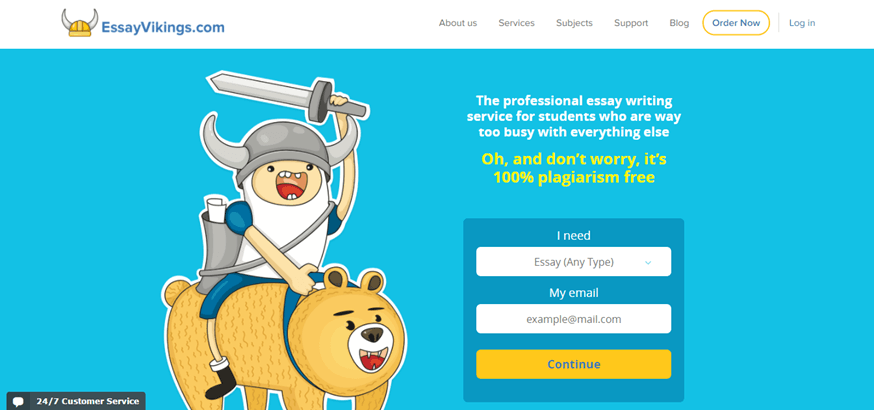 Pricing – Unnecessary Options To Get More Money
Making my way through the order process, I selected to have a ten page essay, written on law to be delivered to me in 3 days. I was then presented with the unnecessary option of choosing what kind of service I want and the quality of the writing, these options being 'standard', 'premium' or 'platinum'. I find these options unnecessary as the site prides itself on producing top quality work all the time. This is obviously a false statement if they can create various levels of quality just to get more money out of you.
I proceeded with my order and bidding the highest quality writer I could find and was returned with a staggering quote of over $400! This is unacceptable prices and definitely not suitable for a student budget.
Content Quality – High Levels of Plagiarism
Having received my ordered essay four days late, I was shocked to find that the article matched an astonishing 61% match for plagiarism, using a simply online copy checker. If I was a student about to hand this essay in, I would surely be removed for the course with a failing grade.
For a writing solution provider to send such a terrible article is just bad business and suggests the site operates illegitimately.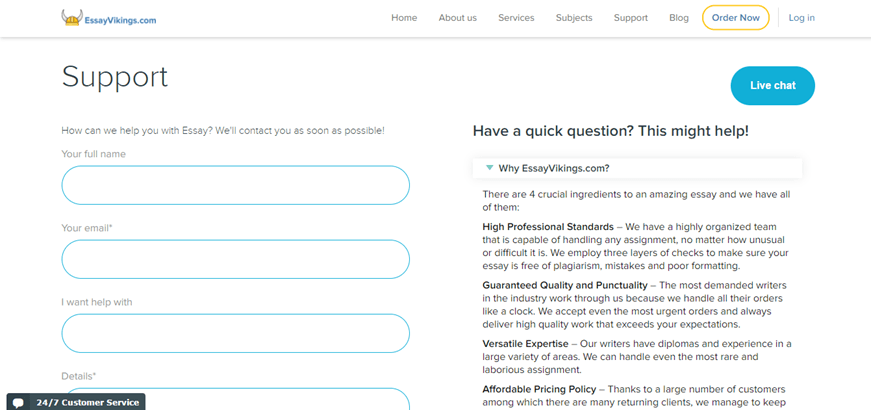 Customer Service – Lack of Response
Obviously shocked with the delivered essay, I took to EssayVikings to air my complaints and ask for a refund. I began by using the built in live chat feature that continuously disconnected me, forcing me to give up after several attempts. From there, I filled in the online contact form and explained my issue with the essay is immense detail.
I have yet to receive a response from the company.
Mary Walton's conclusion on EssayVikings.com
To summarize, my experience with EssayVikings.com was poor to say the very least. Non responsive customer service staff has made it impossible for me to refund or replace my terribly written essay meaning I am out of pocket and in no way prepared for my upcoming deadline. If you're a student or individual looking for a writing solution to fit your needs, my advice is to use one of the more trusted writing solution service providers.
Rated: 3.1