Writing assignments can be one of the most challenging aspects of a student's life. Trying to balance all other aspects that are going on and then trying to sit down and tackle an essay which is a couple of thousand words long, let's be honest, there's simply not enough hours in the day. Essays Chief is a custom writing service that aims to eliminate these worries. However, this website still has a long way to go.


Top Rated Essay Writing Services
Table of contents
Website Interface – 4/10
The first appearances of the website are rather good. The website boasts a sleek and professional feel with a very minimalist touch. Scrolling through the pages, everything is nicely laid out, but there are parts that have a little too much filler content, the website's attempt to fill space. Unfortunately, there is a complete lack of an order form on the homepage, and the site is missing an easily-accessible review/testimonials page.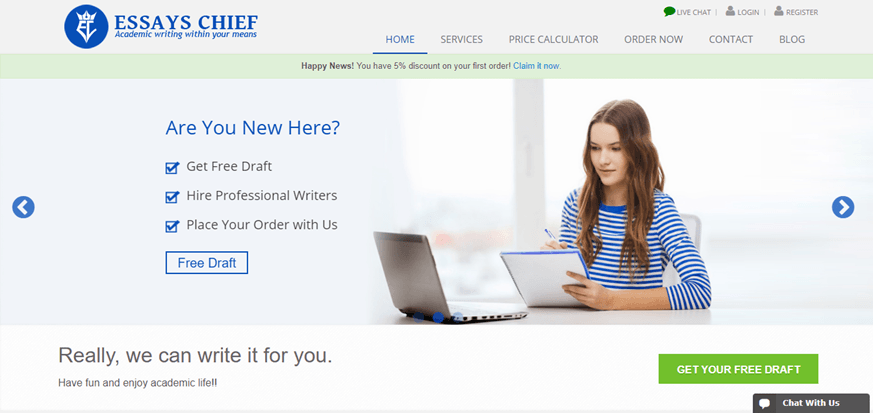 Services – 3/10
Referring to the services page, you'll notice the assignment types are split into four sections. These sections then contain a limited list of services that contain most of the common assignment types. However, some of the key niche assignment types are missing, meaning some students may have to look elsewhere to find a service that will cater to them.
Pricing – 1/10
Making your way through the order form is the most accurate way to get a quote. A ten-page essay written to a doctorate level with a 48-hour deadline will set you back around $500 (there are options to choose between USD and GBP). This is simply staggering and way too much for a student that is living week to week on a tight budget. There are also several extras that you may need which will make this price in the region of $650.
Content Quality – 3/10
Since there is no testimonials page, it's different to get a broad idea of the quality of the website's content. Searching online, I quickly discovered that many previous customers had complaints about the site. Some complained that their assignments were obviously not written by a native English speaker as promised and some user's articles were not even written about the correct subject, a complete disregard of the requirements.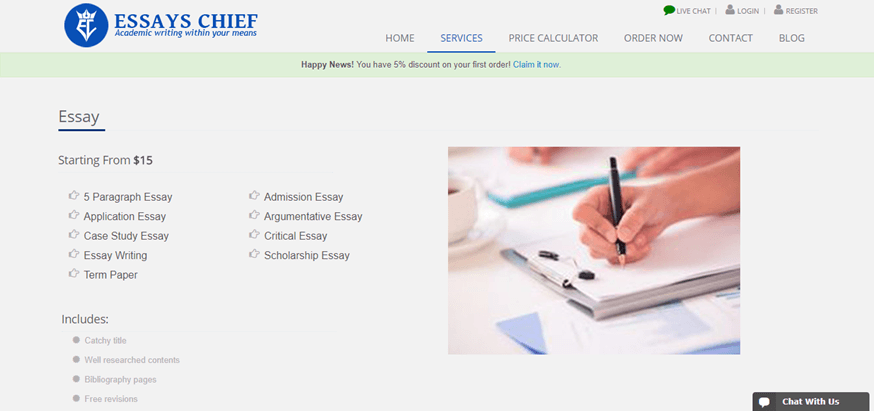 Customer Service – 2/10
There are only two ways to contact the website. On the contact page, you can fill out the email form, but there's no indication on how long the customer service team will take to reply, a disadvantage if you need urgent assistance. Alternatively, you can use the online Live Chat feature, but this isn't a 24-hour service.

Mary Walton's conclusion on EssaysChief.com
EssaysChief has a lot of work to do. I like the style and the niche they are going for, but their core service and the fundamental basics need a lot of work. With more affordable prices, an increased and more consistent quality of work and more international and dedicated customer support options, EssaysChief.com could be a leading custom writing service. However, in the meantime, the website is better off avoided.
Rated: 1.8