Claiming to be one of the easiest academic essay writing services where all that stands between you and a completed piece is three easy steps, it's understood why a student would be drawn to using DoMyHomework123 as their go-to writing service.
However, like any business, you want to be sure you're choosing the right service for you. To help you get started, here's everything you need to know so you can make the best decision.


Top Rated Essay Writing Services
Table of contents
Services – 4/10
Personally, I really dislike the fact that there's no services page on the website and you have to input all your personal information, such as email address and even your mobile number before you can even see what services are on offer.
Once through, you'll find a selection of services, around 30 in total. You'll find all the common assignment types, such as essays and research papers, but there are a few key niche types missing. There's also proofreading, editing and rewriting services available.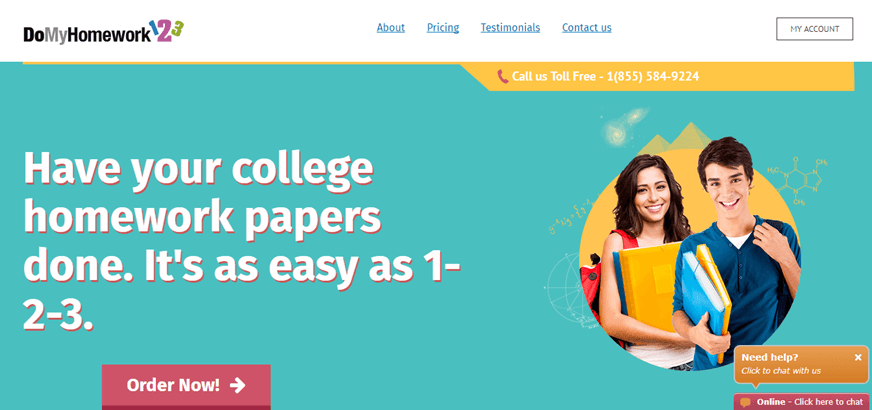 Pricing – 3/10
Likewise, there is also no dedicated pricing page available, and you'll only be able to secure an accurate quote for your work by filling out the order form. This is a very illegitimate way of running a writing service as the service could simply charge what they want to whoever they want.
As a rough guideline, a standard essay, written to a Master's degree with a 48-hour deadline will set you back an incredible $822! This is an extortionate price and easily one of the most expensive services I have ever seen!
Content Quality – 2/10
As you would expect from the testimonials page, the reviews state how amazing the service is. However, none of these reviews show what kind of service was used; there's no rating system or even dates on the reviews. This means the statements could be years out of date or even made up.
Searching online only confirmed my fears. Many of the past customers have complained how poor the quality of the content they received was. There are reports of badly written English, poor sentence structure and a complete disregard for plagiarism rules.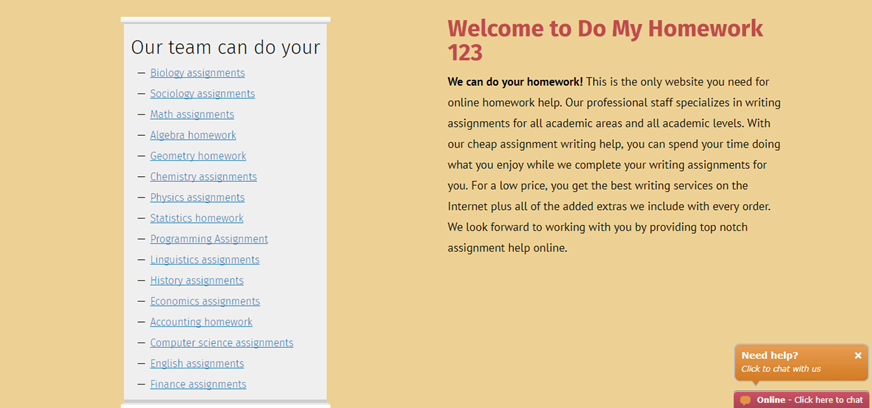 Customer Support – 4/10
However, if you do decide to use the service, at least there are several ways you can contact the website. On the contact us page, you'll find a collection of dedicated email addresses for various services and well as a phone number. There's also a live chat feature on every page.
However, there's no physical address which leads me to seriously doubt the credibility of the service.

Mary Walton's conclusion on DoMyHomework123.com
With all these in mind, it's simply impossible for me to recommend Do My Homework 123 as a legitimate writing service. With insane prices and poor-quality content, the service simply seems like a scam to get your money in the easiest way possible. Instead, I advise taking your business to a leading site that respects their customers.
Rated: 1.8