With a cluttered and poorly color-schemed website, Essay24 makes a terrible impression to its potential customers from the start. With a scam-like, illegitimate feel about it, Essay24.com did not fail to follow through with my original expectations. With poorly written content for sky prices and rude and obnoxious customer support staff, this is one writing solution website you're better off avoiding.


Top Rated Essay Writing Services
Table of contents
Services – Complete Lack of Comprehensive Services
Whether you're referring to the services page or the order now page, Essay 24 does not have the list of services you would expect a professional writing solution website to have. The services page contains a brief list of unexplained and poorly described services that is helpful to no one and the order page contains under 20 options to choose. This is a far cry from the leading service providers who sometimes offer 50+ dedicated writing services.
As a slight redemption, users of the site are able to choose from a complete list of academic levels and topics.
Pricing – Completely Unrealistic Pricing
Heading over to the pricing page for some rough estimates, I was shocked to see that a 24 hour return rate was over $20 per page! This means that my order of a ten page essay with proofreading and sources came to a breathtaking $270! This is simply unacceptable for a students budget and would not be feasible as a regular site to have essays and other documents written.
Content Quality – Dire From Start to Finish
Having received my ordered article nearly two weeks late, another completely unacceptable quality to the site and one that received no explanation or apology, the content itself was not much better. Poorly structured sentences, terrible grammar and tons of excess filler content meant that the article I received had such a low amount of valuable content that it simply was not suitable for an essay hand in.
This leads me to believe that the essay was in no way written by a qualified native English speaker as the site promises, resulting in my conclusion that the site is illegitimate and potentially even a scam.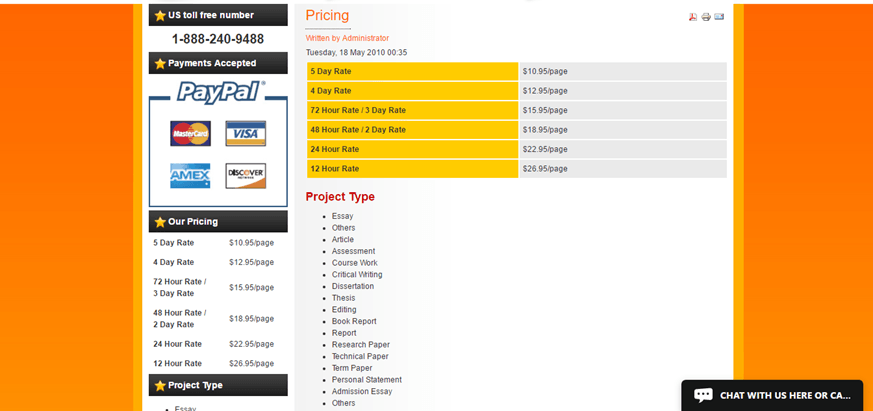 Customer Service – What Customer Service?
I took to Essay24 to air my complaints on the whole experience of using the site. I originally accessed the on screen live chat by after being constantly disconnected and tried my hand at the email address provided. Surprisingly, I received a reply a couple of hours later stating that it is Essay24's mission to provide the best writing service on the market and that they were sorry to hear about my experience.
From there I replied asking for a refund or replacement essay in which I was told that is simply not possible. Communication with the company has since ceased.

Mary Walton's conclusion on Essay24.com
In conclusion, based on my experience with Essay24, I would highly advised any students or individuals with writing opportunities to stay well away from this site. With an absolutely terrible experience behind me, there are far better sites out there that are both more cost effective and produce my higher quality results.
Rated: 2.7