It can sometimes be hard to find a decent essay writing service out there in the wilderness of the internet. Are the sites you've found legit, safe, and reliable or are they scams? I'm having a look at EnglishEssays today to see if this site is worth your time and money.


Top Rated Essay Writing Services
Table of contents
Services – 5/10
EnglishEssays.net offer all kinds of student writing on order, from term papers to capstone projects, and in a variety of subjects, from Biology to Social Sciences. They work with students from high school to PhD level, but do not seem to offer any business services. If you sign up for an account, you will have access to send messages with your writer but are specifically forbidden from calling them on the phone.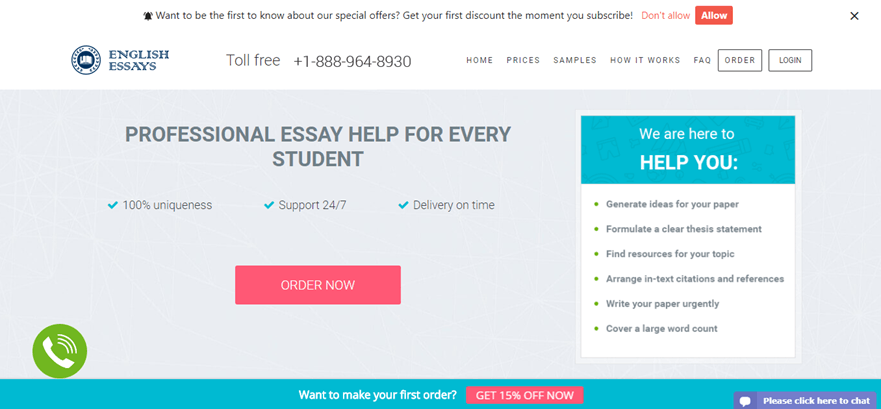 Pricing – 3/10
I ran a quick quote under their Order Now button to see what I could come up with. A promotional discount for new customers flashed up for me as well, offering a code with 15% off. I requested an English essay, 7 pages long, at college level, due in 48 hours. I always want the best, so I added a Professional Quality Check, a 1-page summary, and assigned a top writer to do the job. A plagiarism report seemed to be free, so I added that too.
The total came to a staggering $389.33. Once I picked myself up off the floor, I carefully unticked every quality button and re-ran the quote, which brought it down to a more manageable $167.65. Newsflash: that plagiarism report doesn't have a price beside it, but it's not free.
Content Quality – 4/10
When I'm checking out the quality of any given essay writing service, it's crucial to look at the text of the site itself, first of all. In this case, there is obviously text that wasn't written by a native English speaker on the site. In addition, I looked into some of the samples provided, which I would assume to be some of the best work available from the site's writers, and found multiple typos, odd usage of language, and felt that generally the work wasn't up to my own standards. If I'd received one of these papers, I would have been disappointed.
I also searched Google for any external reviews and found quite a few that were quite unhappy with the level of service provided. Some customers complained that there were typos in their papers, or that their deadlines were ignored.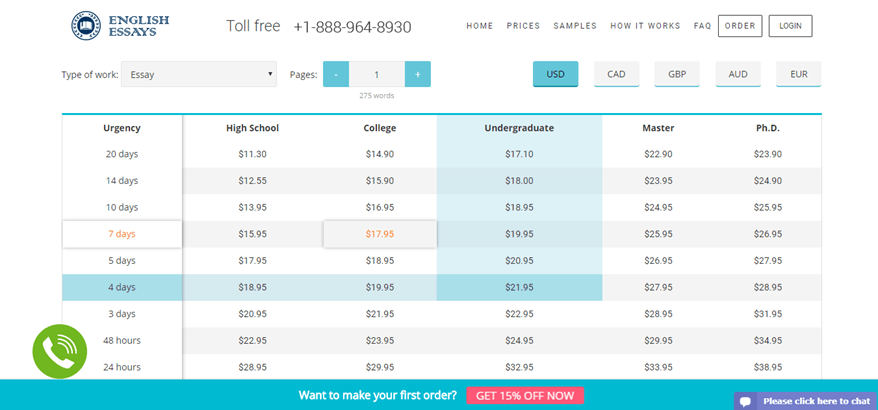 Customer Service – 4/10
EnglishEssays.net offers a Live Chat service and the ability to contact the toll-free phone number directly from the site (handy if you're browsing on your phone!). But there is no support email address that I could find, no physical address at all, and very little indication of where the writers or support team are actually working from.

Mary Walton's conclusion on EnglishEssays.net
Overall, I'm rather disappointed in EnglishEssays.net. I don't think it's some kind of illegal scam or anything, I just personally would look elsewhere. I wasn't impressed with the quality, and I know I can get professional-level work at better prices than this site offers.
Rated: 2.5