As a student, you don't need me to tell you just how hard it can be to stay on top of your workloads. Whether you're in high school, college, or university, the increasing pile of assignments and essays can soon become overwhelming, and it's hard to know what to do.
This is why services like College Homework Help exist. These services are designed to help you tackle your workloads, get the grades you deserve and meet your deadlines, all for an affordable price. However, with so many custom essay writing services to choose from, let's see whether it's legit and safe or if it's a scam waiting to get you.


Top Rated Essay Writing Services
Table of contents
Services – 4/10
While there is no services page on the website, there is an order form on the homepage which you can use to see whether the service you require is available. However, this list only displays three types of service; writing, editing, and presentations.
While this could represent a broad range of available tasks, many of the leading writing services will list the services they offer, so you can be clear with whether your particular task can be carried out. This selection is too limited, and the potential is too high that your service is unavailable.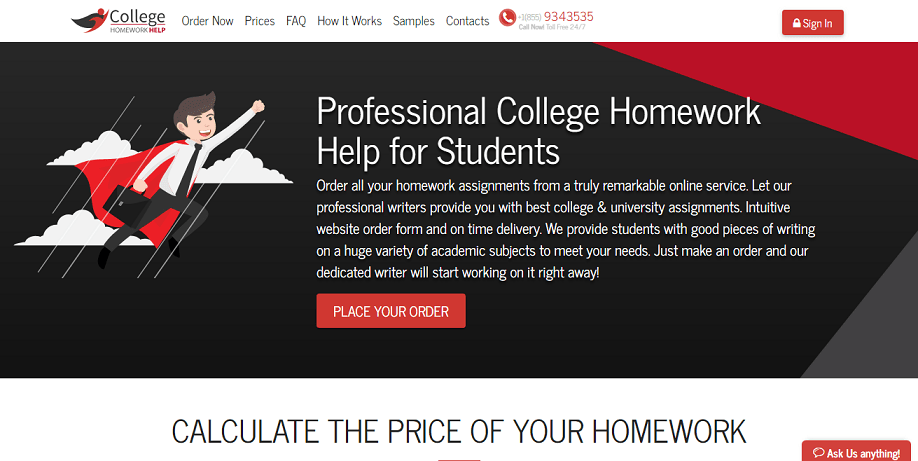 Pricing – 4/10
There is a dedicated pricing page that can be found on the menu of the website; you can use the same order form to figure out what kind of price your work is going to be. The price is worked out based on the type of work, the academic level of the world, how many pages you need, and the deadline required.
For a rough idea on prices, a ten-page writing task of a Master's level with a 5-day deadline will set you back an expensive $280. This is very expensive for a student on a tight budget, and there doesn't seem to be any discounts, promotions or codes available to reduce this price, even as a first-time buyer.
Content Quality – 5/10
Unfortunately, there is no testimonials or review page to be found anywhere on the website, which makes it hard to judge the quality of the work that's produced. However, there is a samples page which you can read through to judge the quality of the content yourself.
Nevertheless, upon reading some of these samples, I found the content to be basic and home to a lot of filler content and fluff. The English is basic at best, and possibly not written by a native English writer. While the content is not terrible, it's not what you'd expect from a paid service.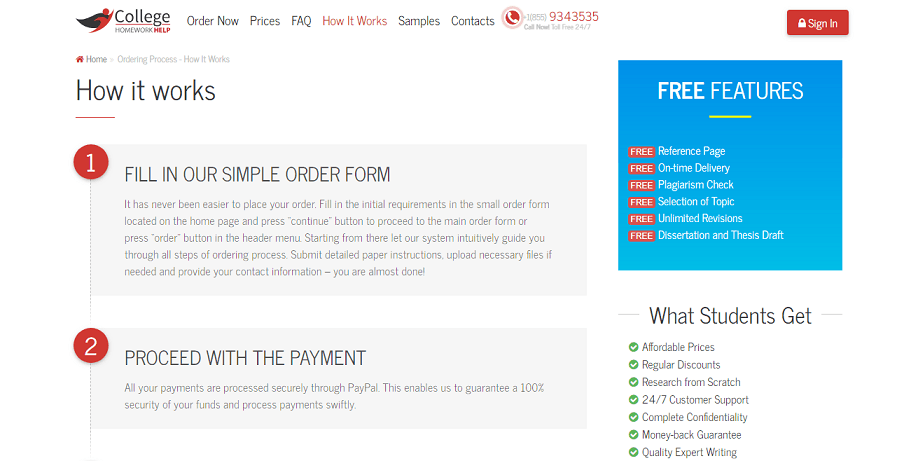 Customer Services – 5/10
There are a couple of ways you can get in contact with the support desk if you need help, want to ask a question, or require a refund. On the contact page, you'll find an email form you can fill out with your request, a live chat that operates during set hours of the day, a US phone number and an email address.
However, there's no social media links, no Skype details, and no dedicated pre and post-sales support. There's also no indication into how long it will take to get a reply, meaning you may be left in the dark during busy times.
In some cases, you may need to sign up for an account and log in before accessing some of the contact methods, especially if you want to get in contact with your writer directly.

Mary Walton's conclusion on College-Homework-Help.org
All in all, College-Homework-Help leaves a lot to be desired. With high prices, inconsistent and variable content quality and an only just-acceptable collection of contact methods, students may want to use this site at their own risk.
Rated: 2.3