When you're a student, life can sometimes get a little overwhelming. Students around the world are being set more and more coursework, assignments and homework than ever before, and in most cases, there's simply not enough hours in the day; especially if you want to be healthy and have a social life.
This is why thousands of you are turning to custom essay writing services; and if you've already started searching for one, you may have come across Buy Essays. While this looks like a professional site, you should never judge a book by its cover.
Today, we're going to explore BuyEssays in depth, helping you to decide whether it's the legit, safe writing service you've been looking for, or whether it's an online scam out to get you.


Top Rated Essay Writing Services
Table of contents
Services – 6/10
While there's no dedicated services page on the website, so you can easily see whether the service you're looking for is available, you can use the order form on the homepage. On the drop-down menu, you'll find around 30+ services, many of which cover your basic assignment types.
From standard essays and PowerPoint presentations to term papers and dissertations, BuyEssays.net seems to have it all. While most students will find what they're looking for, it's worth noting that many leading services will offer more than 50+.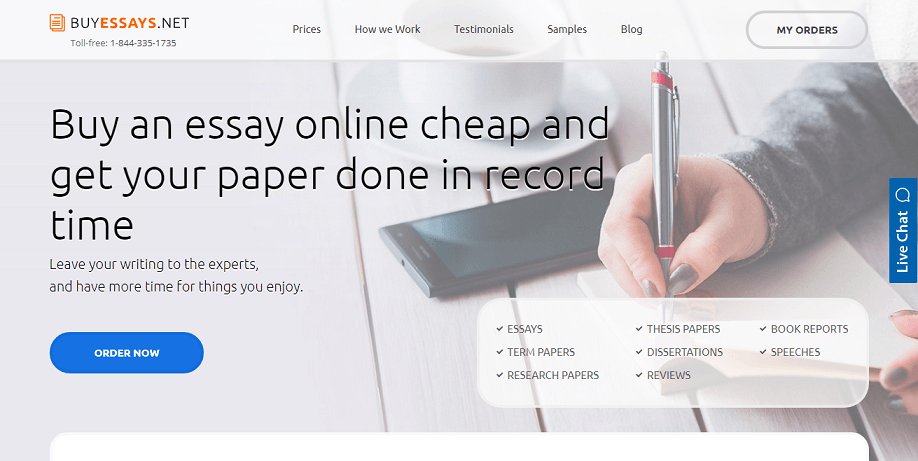 Pricing – 5/10
Using the pricing page, you can use the table to figure out an accurate quote for the work you need completing; as well as the price calculator found throughout the site. To give you a rough idea on prices, a 10-page essay written to a Master's level will cost you $240 with a seven-day deadline.
While this isn't the most expensive service I've seen, it isn't the most affordable, and there doesn't seem to be any promotional discounts or codes on the site to bring this price down, even for first-time buyers.
Content Quality – 4/10
There are two ways to judge the quality of the content that the service produces. The first, you can check out the testimonials page, but some of these reviews are a little old and don't really describe how the service was. The second way is using the Samples page for an example of what you can expect.
However, upon reading some of these samples, the content seems bland at best. There is a tonne of fluff and filler content throughout the content, the English aren't perfect, and the information is unsourced and poorly described.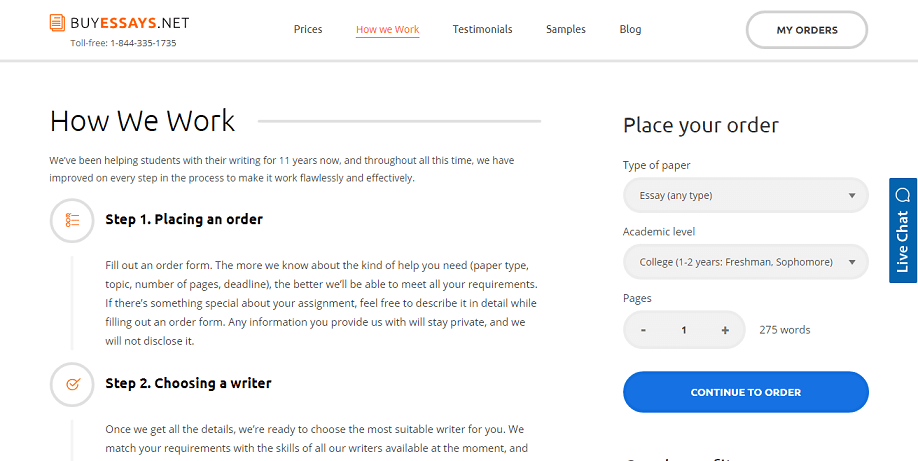 Customer Services – 5/10
Of course, the customer service options available to you are vital for having the best experience, especially if you want to ask a question, make an edit to your order, or request a refund. On the contact page, you'll find a single email address, a toll-free phone number of US and Canada and a live chat feature that operates during set hours of the day.
However, as far as customer service goes, this isn't ideal for a busy company. There's no pre or post-sales email address, no social media accounts or Skype links. This might make it difficult to get in contact, which might leave you in the dark if you need urgent assistance.

Mary Walton's conclusion on BuyEssays.net
All in all, there's definitely room for improvement. With lower prices, more consistent quality and a wider range of customer service options, this could be a good service. However, there are other options out there.
Rated: 2.4