It's a hard life being a student. There are so many things to think about every day and so much work that needs completing; it's easy to run out of time when it comes to completing assignments. What's even worse is when you're so busy that you completely forget about one assignment and the deadline is only a couple of days away! To address this issue, custom writing services such as Fresh Essays try to be on hand to help.


Top Rated Essay Writing Services
Table of contents
Website Interface – 5/10
When you first sign on to FreshEssays, you'll instantly notice the fresh, sleek website that is nicely laid out and easy to navigate. There are all the pages you would expect from a custom writing service and some nice graphics that show you the benefits of using the site. However, most of the pages are filled with unnecessary filler content, used to make the site look fuller, and there's a lack of an order form on the homepage to get your order started.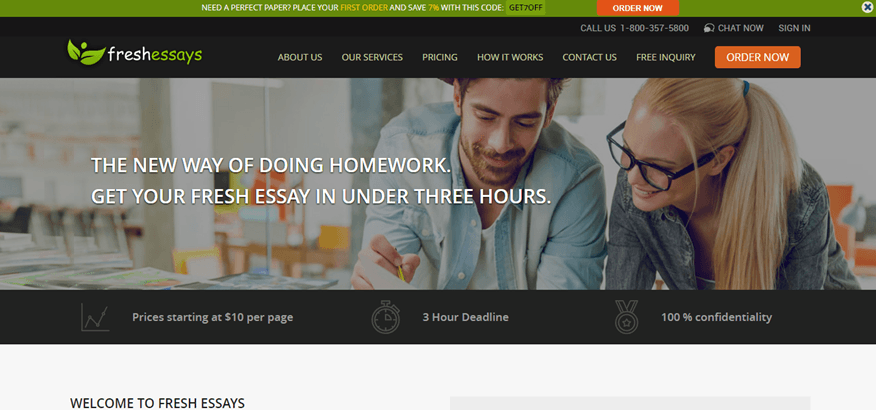 Services – 3/10
Referring to the services page, you'll notice the site offers several of the key assignment types you would expect a custom writing service to offer. There is around 20-30 in total. This covers all the main assignment types, but when you consider that some custom writing services offer more than 50+, this could be considered quite a limited selection.
Pricing – 3/10
Using the dedicated pricing page, you are presented a nice table to work out a quote for your assignment. If you head through the order form for a quote, you have to input all your personal details. Using the table as a guideline, a ten-page essay written to a Professional level with a 48-hour deadline will set you back around $330. This is completely unsuitable for a student on a tight budget, meaning you may only want to use the site if you're in a real emergency.
Content Quality – 2/10
The testimonials page is full of undated 5* reviews which leads me to doubt the credibility of the website. Searching online, I quickly found that some previous customers had issues using the site that included assignments with high levels of plagiarism and some articles that were obviously not written by a native English speaker, as the site promises.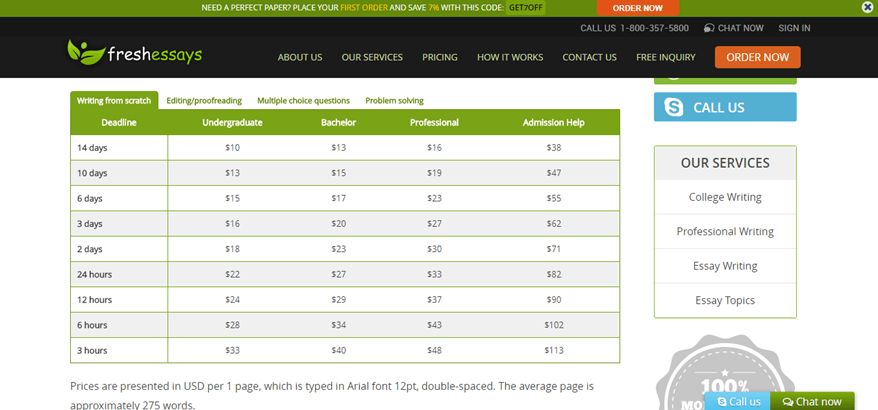 Customer Service – 4/10
There are a handful of ways to contact FreshEssays.com. Using the contact page, you can fill out the email form or use the built-in live chat service. There are also options to communicate on Skype and a United States phone number. There is no number of students living outside the US, so you may have to pay expensive international calling fees if you live outside this region of the world.

Mary Walton's conclusion on FreshEssays.com
Despite being initially impressive, Fresh Essays leaves a lot to be desired. With updates to their content quality and more dedicated international support features, this could be a thriving custom writing service. However, in the meantime, students looking for a custom writing service to suit them are much better off taking their tasks to a more reputable website.
Rated: 2.1