Claiming to be able to write any kind of academic paper you need, the aptly named Write Any Papers is a custom essay writing service that aims to help you get all your assignments done on time and to the highest quality.
However, there are plenty of custom essay writing services out there, so what makes this one so special? Today, we're going to find out by exploring what makes WriteAnyPapers.com, and whether it's the service, you should be using.


Top Rated Essay Writing Services
Table of contents
Services – 4/10
Unfortunately, there's no services page on the website so you can see a complete list of everything assignment type that's available. However, you can find out by heading over to the order form and start making your way through the process.
There are around 30+ different types of service available, and five different academic levels to choose ranging from High School to Ph.D. Also, note that there are no other services available on this site apart from the custom essay writing ones.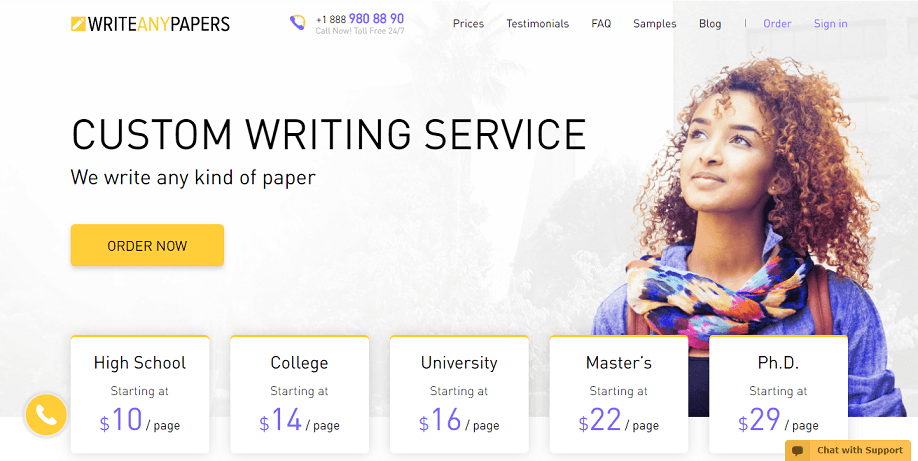 Pricing – 4/10
Using the pricing page of the website, or the order form, you can use the table to work out an accurate quote for how much your essay is going to cost. This form is simple to use and will tell you your final price without the optional extras; such as title pages, revisions, and formatting.
To give you a rough idea on what the prices are like; a ten-page essay written to a Master's degree with a 7-day deadline will set you back around $240. While this is not the highest price of this kind of assignment, it still may not be suitable for a student operating within a tight budget.
Content Quality – 5/10
Heading over to the reviews and testimonials page, you'll find a ton of five-star rated comments saying how amazing the service was for past customers. While this is promising, none of these reviews come with a date, nor much information about the quality of the work itself, which means they are far from legitimate.
However, you can judge the quality of the content yourself by using the samples provided. Taking a look through some of these, you'll soon find the content is fairly average and isn't outstanding in any way. If this is an example of the best work the site can produce, it's safe to say there's better out there; although it's not bad.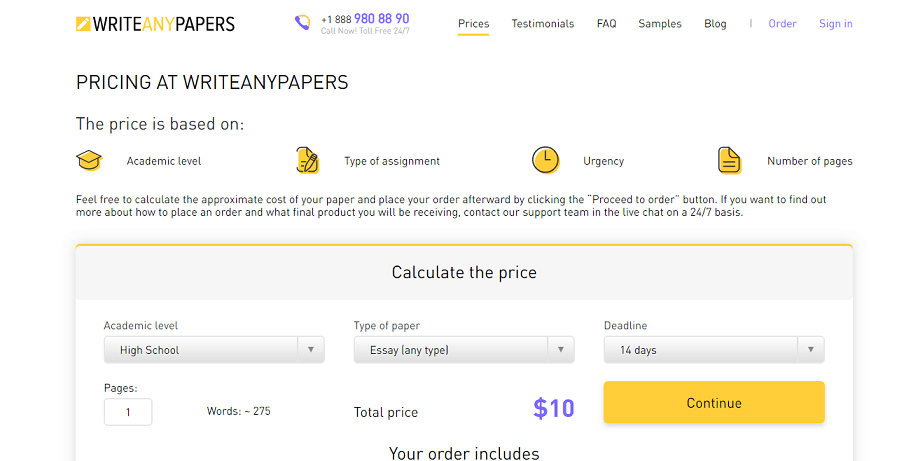 Customer Service – 5/10
Of course, customer service is an important consideration to remember since you may have questions you need to ask, orders you need to edit or refunds you need to request. However, this may all be easier said than done.
On the Contacts page, you'll find a toll-free US phone number, although no international support, a physical office address based in the UK and a single support email. There's no dedicated pre or post-sales support, no social media links, no Skype and not even a live chat feature available.

Mary Walton's conclusion on WriteAnyPapers.com
In short, while WriteAnyPapers is not a terrible custom essay writing service, there are several things that could be improved to make it a whole lot better. If you're a student looking for urgent and accurate assistance that will provide you with good grades, bear all this in mind and I would suggest using another writing service.
Rated: 2.4