Are you struggling to find time to fit everything into your life? Finding it hard to balance a social life, a part-time job, attending lectures and trying to complete your ever-increasing workload? Don't worry, you're not the only one. Dissertation House, despite the name, is an online writing service that enables students to lighten their workloads so they can concentrate on the more important aspects of life.


Top Rated Dissertation Writing Services
Table of contents
Website Interface – 3/10
Upon signing on to the website, I felt immediately overwhelmed with the cluttered appearance and unattractive colour scheme. This initially made website navigate a bit difficult, alongside the fact that many of the pages are filled with useless filler text that provides no value to the reader. However, the site has all the pages you would expect a good writing service provider to have.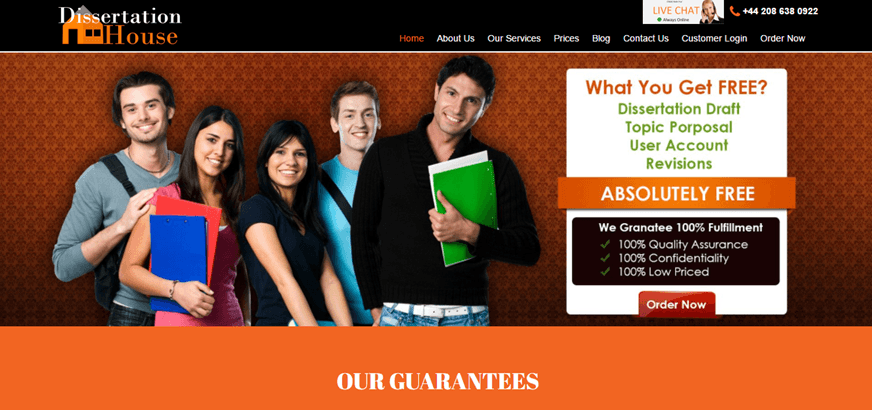 Services – 3/10
The services page would be much easier and much more helpful if they had simple tables in the which the services the website offered, instead of just more useless filler content. However, referring to the order page or the price page, you can find a list of the services the site provides. The list is relatively basic, covering all the basic assignment types but none of the more niche documents, meaning that students looking for an all-rounded solution they can use regularly are much better taking their business elsewhere.
Pricing – 3/10
Using the price page, you can choose your basic requirements as well as choosing the quality type of your assignment. A ten-page essay on a 48-hour deadline will set you back around £335, which is massively expensive, especially when you consider many of trusted, high-quality custom writing services are a lot more affordable. You'll need to add around £40 for a more premium-quality document.
Content Quality – 2/10
Referring to the extremely hidden Testimonials page, you'll notice a lack of rating system, an absence of which document type the customers are reviewing and a lack of date. This makes me really doubt the credibility of the website as you have no details that lead me to believe the reviews are real or are even still relevant. They could be years old. After some research, I discovered the quality of the content was relatively poor, with people complaining that their assignment was not fit for a hand-in and arrived late, many of which had simply requested refunds.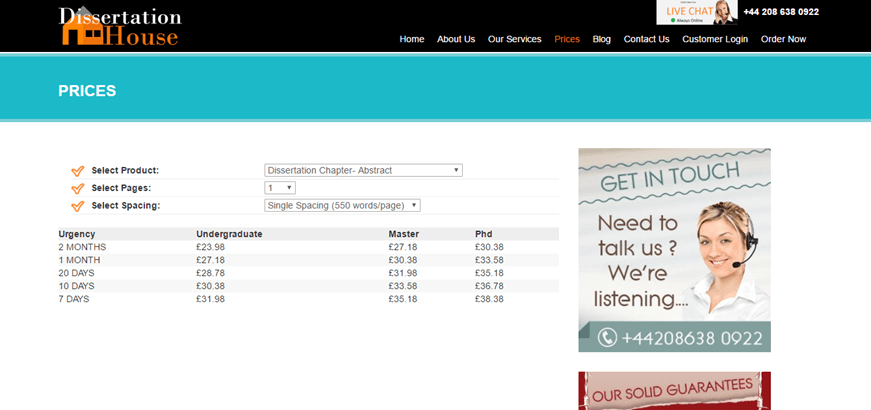 Customer Service – 4/10
There are several ways to contact the website. You can use the online live chat feature, email using the contact form on the contact us page or call the mobile number. It's worth noting that the mobile number is UK number meaning that international students outside the UK will have to pay high calling charges. There are no social media links for improving trust in the website.

Mary Walton

's conclusion on DissertationHouse.co.uk:

Overall, DissertationHouse as a long way to go before it can even consider becoming a decent writing service. The website needs a complete overhaul and many of the features including the services list and dedicated international customer helplines need to be implemented. In conclusion, students looking for a writing service now are much better off taking their business elsewhere.

Rated: 1.8