Buying a paper online can be risky business if you're looking in the wrong places. When looking for the perfect custom writing service, it will pay to do your research to make sure you've chosen a service that will look after you, providing you with the quality and support you're looking for.
And this is where I come in! I've extensively looked into eWriters to make sure you're making the best decision. So, let's find out whether the service is for you!


Top Rated Essay Writing Services
Table of contents
Services – 4/10
As a customer buying from a website for the first time, you'll want to make sure that the website provides the service that you're looking for. Since there's no table on the services page, you'll be able to find the full list by making your way through the order form.
As you can see, there are around 30+ services in total so you should be able to find what you're looking for. All the standard assignment types are covered such as essays and presentations. However, it's worth noting there are a handful of niche services missing.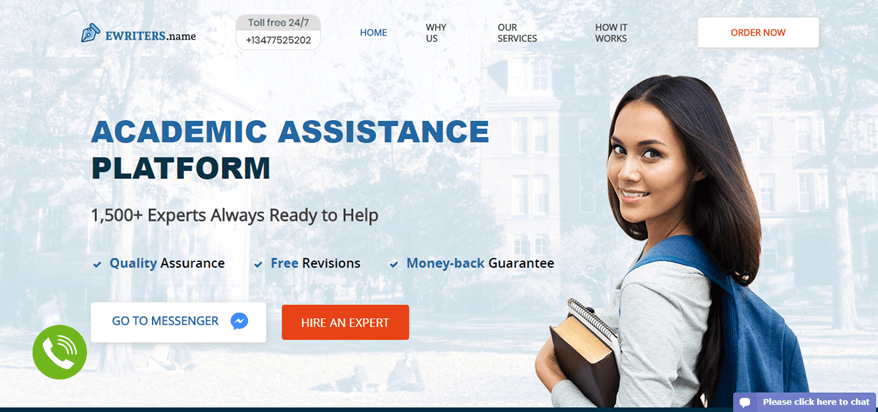 Pricing – 5/10
Once again, there is also no pricing page on the website which makes it very difficult to judge how much your assignment is going to cost. However, just like the above, you can simply follow the order process to get an accurate quote.
For example, an eight-page essay, written to a Master's degree with a 5-day deadline, will set you back roughly $215. And this is without the essential extras such as editor proofreading and a plagiarism report. Though it's not the most expensive service, it's definitely not the cheapest.
Content Quality – 6/10
As you'd expect, all the reviews on the website are five-star reviews. However, none of these is dated and could, therefore, be years out of date, or even faked. With this in mind, I took to the internet to see a more accurate summary.
Using trust websites and forums, I quickly discovered that many customers had mixed reviews on the service. On the one hand, the service was praised by some users for high-quality content that was delivered.
However, on the other hand, around 40% of customers complained that service was 'sloppy' and didn't match the student's expectations. There were also reports of late delivery of the content and some that were delivered without even a simple proofread.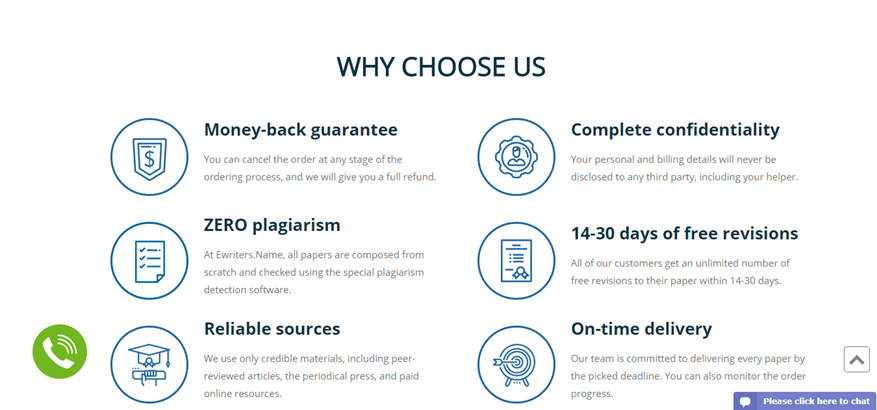 Customer Service – 6/10
When it comes to customer service and support, this is where eWriters.name excels. Although there's no dedicated contact page, you will find a collection of contact methods scattered over the homepage.
From a quick glance, I found the site had a toll-free US phone number, a call-back feature, a live-chat feature and even a Facebook Messenger profile and account. However, it's worth noting that I couldn't find any email addresses or email forms nor international phone lines.

Mary Walton's conclusion on Ewriters.name
Although eWriters.name has a lot of good features that make it an attractive custom writing service, there are still better services out there that have better prices, better consistency in the content quality and more comprehensive support channels, leading me to advise you to buy essay elsewhere.
Rated: 2.3