SpeedyPaper advertises itself as "the safest and fastest academic pain-relieving service." On the surface, it looks appealing, with lots of positive reviews.
Let's have a closer look. I went to check it out and see if the site truly fulfils its promises, and if it's the place you should trust to write a paper for you.


Top Rated Essay Writing Services
Table of contents
Services – 4/10
A quick click on Services in the menu bar shows that Speedy Paper only offer about 8 different kinds of services. Most companies offer many more. However, when I got a quote, it asked me to pick from 39 different options, which meant that I was a bit confused about what services SpeedyPaper.com truly does offer.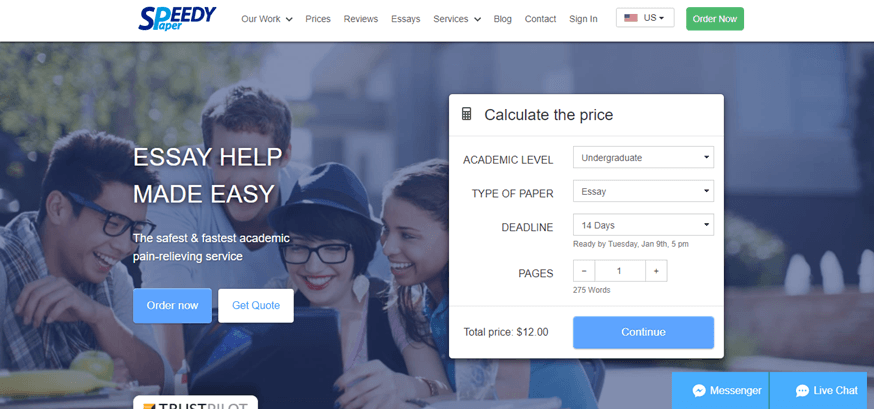 Pricing – 3/10
It was relatively easy to order a quote from the site. They also have a list of prices. The website doesn't seem to offer discount codes or promotions of any kind, and all the prices quoted are for one single page of work.
I got a quote for an essay, 5 pages long, at undergraduate level with a deadline in 2 days (that's when I started panicking about my essays in college). Apparently, it will cost me a cool $100, which compared to other sites seems cheap, and what's more, they offer free revisions. It's worth noting that you get what you pay for, though.
Content Quality – 3/10
As I look at the website itself, I'm concerned to find multiple grammar, spelling, and punctuation errors.
The reviews page of the website is full of satisfied 4 and 5 star customers. If you trusted the site itself, you'd think you were getting a great deal. However, when I did some research via Google, I found quite a few other reviews of the site.
Several dissatisfied customers have left reviews pointing out plagiarism, poor writing by non-native English speakers, and failures to receive the promised work by the deadline. Some of SpeedyPaper's positive reviews are short, generic, and have only one review to their account, which seems to me like they might not be real customers.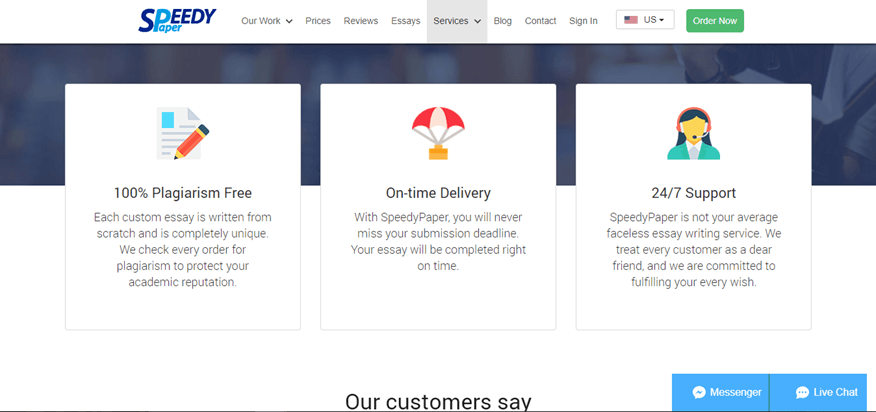 Customer Service – 5/10
The company offers a Live Chat service, plus support by email and a US-only phone number, as well as various social media accounts. Their head office is based in the US.
Mary Walton's conclusion on SpeedyPaper.com
If prices were the only factor involved in choosing a service to write your essay, then I'd be advising you to sign up for an account with Speedy Paper. However, their content quality is a major concern for me. Because of these concerns, as well as the confusing nature of their services, I'm not able to give the site an overall positive recommendation.
Rated: 2.5