Self-proclaiming itself to be the perfect writing service where students from all over the world can find academic experts to help them with their assignments, it's easy to see why students would feel tempted to use Papersmart as their preferred choice.
However, before you run over and start spending your hard-earned money, are you sure that this is the right service for you? Let's find out.


Top Rated Essay Writing Services
Table of contents
Services – 5/10
You can find out what services the website offers and whether yours is covered by hovering over the Services tab on the header. As you can see, there are around 30 services in total to choose, ranging from standard essays and presentation to dissertations and theses.
Although most students will find what they're looking for, there are some niche services missing that you might need.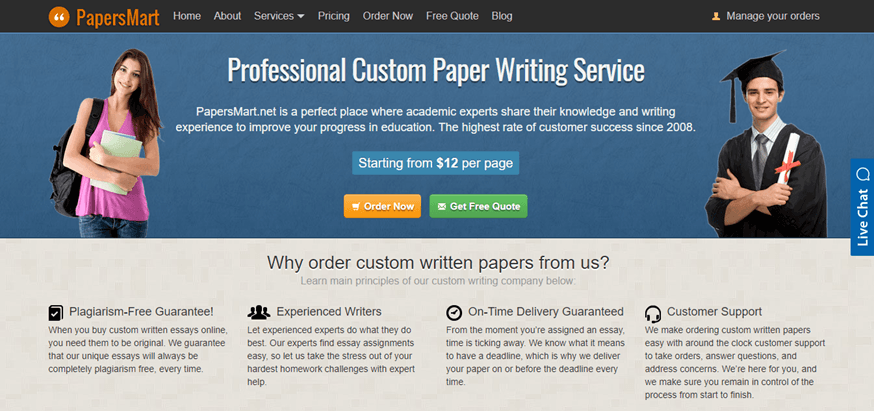 Content Quality – 5/10
The testimonials page of this website is very well hidden in the footer of the website and for a very good reason. The testimonials are slightly out of date, although they are only a few months old which makes me believe that service isn't very popular.
When searching online for more reviews, the website has a rather mixed reception. This is because some customers say that their experience was alright and fairly average while some claimed that it's an awful service that delivers poor quality content way after the deadline and has a poor support team to help.
Pricing – 4/10
At the bottom of the homepage, or on the pricing page, you'll find a live price calculator you can use to work out an accurate quote for your assignment.
To give you a rough idea of these prices, a standard essay that's ten pages long, written to a Master's degree with a 3-day deadline will set you back $320. This is by far one of the most expensive quotes I've seen for a long time and will leave a lot of students feeling out of pocket, especially if the quality delivered isn't great.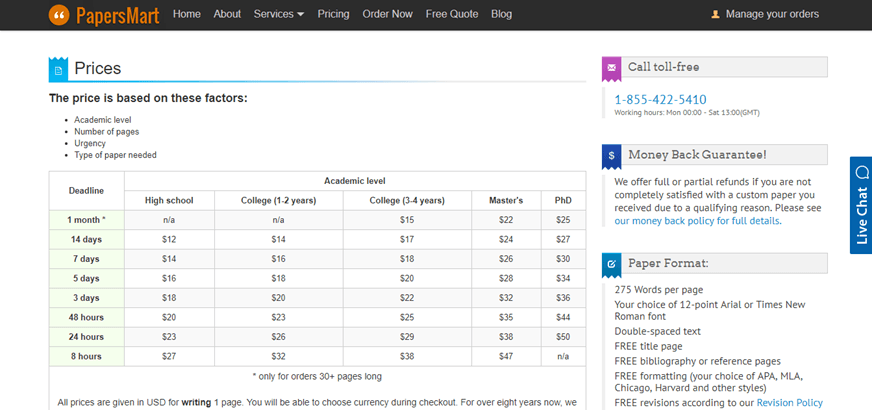 Customer Service – 3/10
The contact information for Papers Mart is scattered throughout the website, but there is a contact page hidden in the footer of the website. Here you'll discover that the company is a Hong Kong registered company and there are dedicated phone lines for the US, Canada and the UK, although these only operate during certain hours of the week.
Likewise, there is a live chat service, although this also operates during set hours of the week. There's also an email address for pre and post sales. However, there is no dedicated support emails, no social media links, no international support or Skype contact, meaning some students will find it expensive to get in touch.

Mary Walton's conclusion on PapersMart.net
There are definitely some improvements that could be made to PapersMart.net. The service is average, there's still a lot to be done, and it's not at a stage where you should be spending your money.
Rated: 2.2