WriteMyEssay4Me, at first glance, is nicely designed and gives a good impression. But is this essay writing service really value for money? I've had a look through it to find out so I could let you know.


Top Rated Essay Writing Services
Table of contents
Services – 3/10
Unusually, the site only offers three different types of work: writing, editing, and slides. There's no ability to choose a subject or specify exactly what kind of writing you need done. In addition, WriteMyEssay4Me.org is entirely geared toward students, with no business services.
After choosing the type of work I wanted, I then had to select the Academic Level: high school, college, university, Masters or Ph.D. And then the deadline, which rather than being in number of hours or days, was in date format. Finally, I chose the number of pages needed.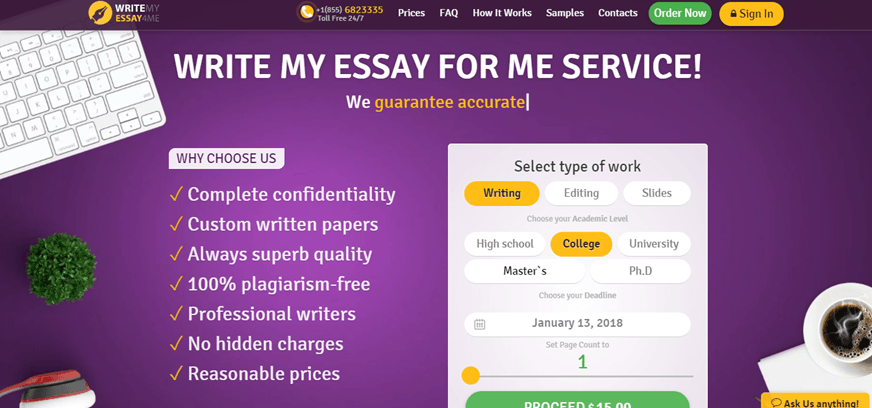 Pricing – 4/10
Once I went through the quote calculator, I picked Writing for the type of work, University for the Academic Level, a deadline approximately 48 hours away, and a page count of 5. This would cost me a substantial $135.00.
Write My Essay 4 Me also confirms that they offer free revisions, a free reference page and plagiarism check, and also that the on-time delivery and selection of topic are free (which they should be anyway). The FAQ suggests that discount codes or promotions may be available through the Live Chat or phone service, and are available for large orders.
Content Quality – 3/10
WriteMyEssay4Me states that all their writers are "seasoned veterans" who went to "prestigious universities." The site doesn't contain any reviews from customers, so I went to Google and had a look. I saw several reviews mentioning poor quality English in papers received, and when they made a complaint, they didn't get a timely reply.
I also had a look at the samples on the site, which turned out to be somewhat of a mixed bag. Some of the samples were very well-written, while others contained some unusual word usage, leading me to suspect they were not written by native English speakers. The website itself also has some strange phrasing, which is not too good for a site that needs to be trustworthy.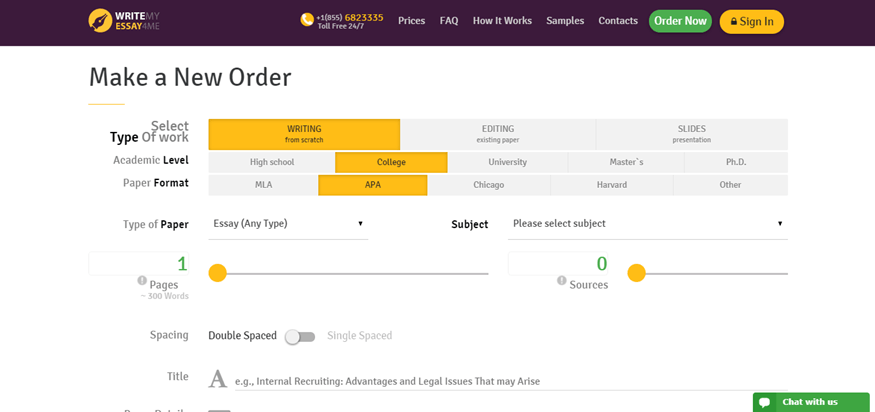 Customer Service – 5/10
The website has a Live Chat service, a support email address, and toll-free 24/7 US-based phone support. The company itself is based in Orlando, Florida. There are no social media links or support.
Mary Walton's conclusion on WriteMyEssay4Me.org
Despite the user-friendly, slick, design and the quality of some of the writing samples, I remain uncertain about Write My Essay 4 Me. I feel the prices are high compared with other similar sites, and I'm not sure the quality would be up to par, so I can't recommend this site.
Rated: 2.3