Have you found yourself overwhelmed with the number of writing assignments and coursework you've been set, and you don't think you'll have enough time to get everything done, or at least to the quality that you need to get the grades you deserve?
Don't worry; you're not alone. In fact, there are plenty of custom essay writing services just like Last Minute Essay which are designed to help. However, you'll want to make sure you're choosing the best service for you.
To help you make this decision, we're going to explore the ins and outs of the service.


Top Rated Essay Writing Services
Table of contents
Services – 6/10
Judging by the list of services displayed in the order form of the Last-Minute-Essay homepage, you'll see a broad selection of academic assignment types for you to choose from. These range from standard types like essays and term papers to more complicated services like dissertations and thesis.
There's also a range of academic services to choose from (although not all of them) and a variety of deadline options. However, this does seem like a rather basic service since no extra services are offered.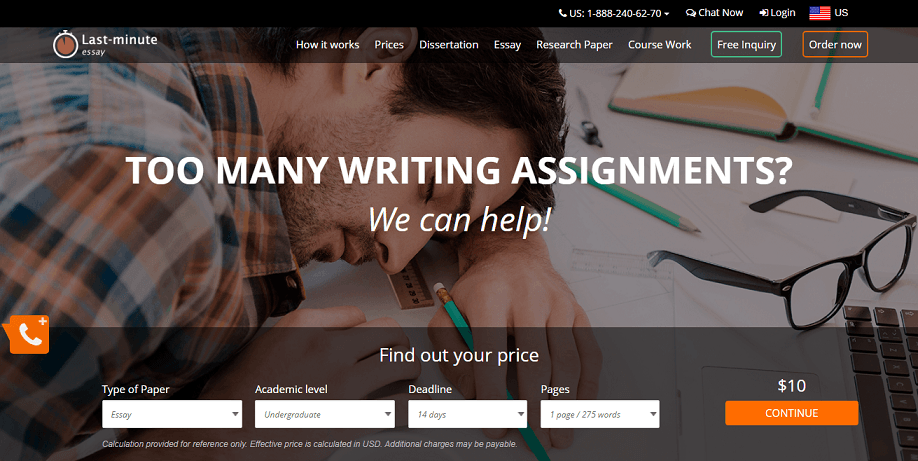 Pricing – 5/10
It's unfortunate to see that there's no pricing page on the website so you can refer to how much your assignment is going to cost. However, you can work it out based on the order form information from the homepage.
However, these services seem rather higher than the average service cost, with one page of a Bachelor's essay with a 3-day deadline costing a huge £18.17. This isn't suitable for students on a budget.
Content Quality – 5/10
For the price Last-Minute-Essay.com is charging, you would expect the quality to be absolutely spot on with no flaws whatsoever. However, this doesn't seem to be the case. Unfortunately, the content is hard to judge since there are no samples of the content on the website, nor are there any comprehensive reviews of testimonials.
Nevertheless, searching online I discovered a range of mixed reviews, some claiming the service was 'OK,' whereas others described a lack of sentence structure, poorly researched content and a distinct lack of proper English grammar.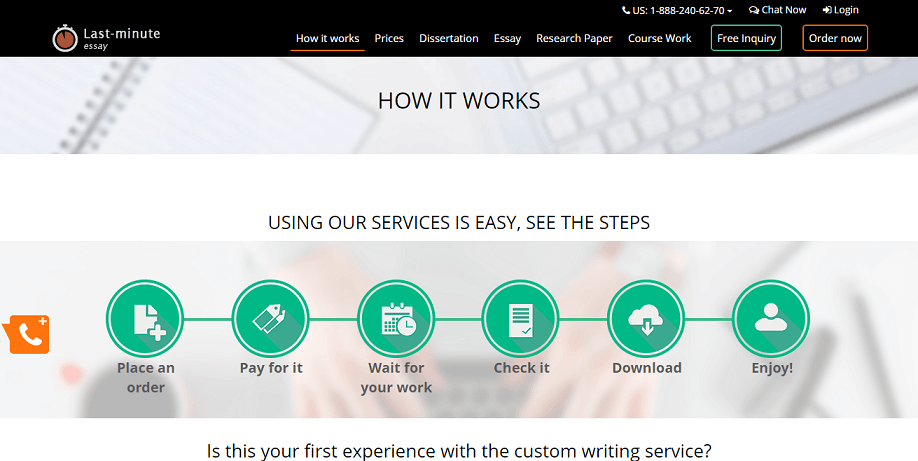 Customer Service – 4/10
As with any custom writing service, you're going to need to get in touch with Last-Minute-Essay if you have a question, a request, a refund problem, or you just want to make an edit to your order. However, there are only a few ways to go about this.
The available methods include a US, UK, and Canadian phone number, with a notable lack of support for any students outside these areas. There's also a live chat service available, although this only operates during set hours of the day, and then that's it.
There are no social media links, no international support, few email addresses, no dedicated content page, no Skype content and more. This makes getting in touch and getting a quick response to your query quite difficult and may leave you with more problems than you started with.

Mary Walton's conclusion on Last-Minute-Essay.com
All in all, while Last Minute Essay isn't the worst website in the world, there's plenty of room for improvement which many students will be looking for. Unless you're desperate for content, we highly recommend reconsidering the custom essay service you choose.
Rated: 2.5