Writing a Ph.D., or any other kind of academic writing assignment, is hard work. When you add in everything else you need to do in your life, including other assignments, the stress can become overwhelming, and you end up looking for someone who can help.
PhDWorks.org is one of those helplines. PhD Works is a custom essay writing service that claims to be able to help with any of your academic writing needs. Today, we're going to find out whether this is a safe and legit service, or whether it's an illegal scam.


Top Rated Dissertation Writing Services
Table of contents
Services – 4/10
Taking a look to see whether the services you can order from PhDWorks fulfill your assignment needs, you'll see a list of eight services featured on the left-hand side. These range from thesis writing to standard essay writing, but this is a rather limited selection, to say the least.
When you compare the fact that the leading custom essay writing services offer more than 50+ unique and customizable services, you're not guaranteed to find what you're looking for here.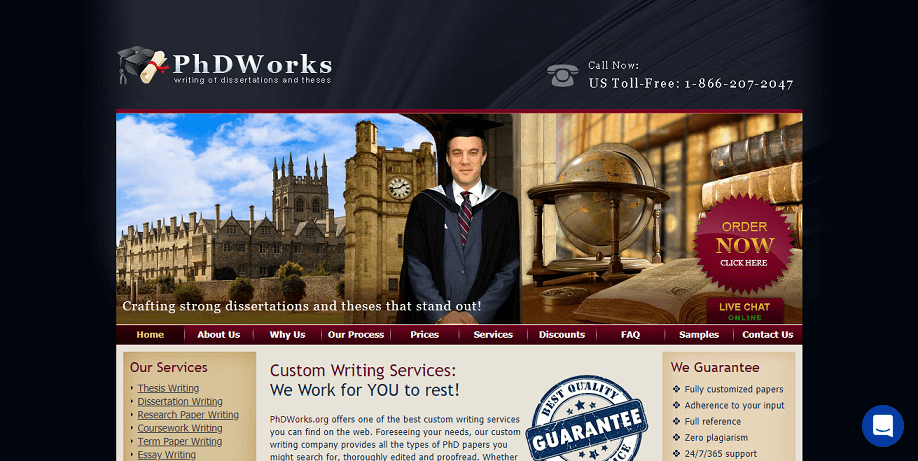 Pricing – 5/10
Heading over to the Prices page on the PhDWorks.org site, you'll find a nicely laid out table where you can work out the price per page of the service you want. It would be preferable to have a price calculator that works it out for you, but it does get the job done.
To give you a rough idea on what an essay from here will cost, an essay written to a College academic level with a three-day deadline will cost you around $27. This is well above the average, and it's worth noting there are many affordable sites available.
Content Quality – 5/10
There aren't really any testimonials to be found on the website stating how good the quality of the service is. There are a few in the sidebar, but these don't come with a rating system or a date, meaning they could be years old and no longer represent the service that's offered.
There is, however, a samples page where you can judge the quality of the content yourself. Taking a look through a few of these, the content is basic, to say the least. The content itself can be easily found with a quick Google search on the subject, and the language used is plain and simple. There are also several grammatical mistakes which are common among non-English speaking writers.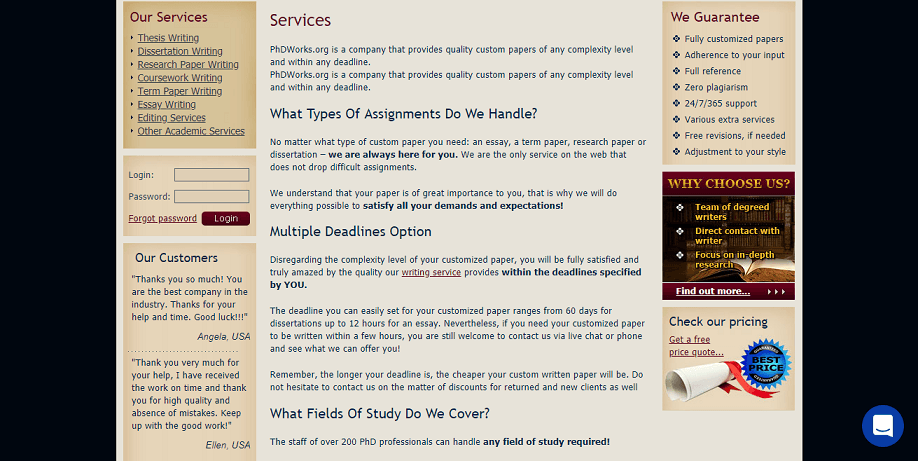 Customer Service – 4/10
It's important to see what customer service options are on offer. This is so you can ask any pre or post-sales questions relating to your order, or if you want to request a refund, or simply want to make an edit to your order.
Unfortunately, the options are limited. The few options here, such as a phone number and address are US and Cyprus-based, and there's only a single email address. There's also no indication of how long you might be waiting for a reply, which is not great if you require urgent assistance.

Mary Walton's conclusion on PhDWorks.org
With a dated looking website, a poor selection of expensive services and restrictive customer support options, there's a lot of room for improvement when it comes to PhDWorks. Why the service could be okay for non-urgent tasks, I personally wouldn't rely on it for anything important.
Rated: 2.5