Claiming to be able to provide high-quality academic papers as well as any other content, you'd automatically expect that Stud Area is a feature and service-rich custom essay writing service that gets results.
The website is nicely laid out, has a clean and fresh style and is easy to navigate. However, this isn't what makes a good custom writing service so let's dig deeper to find out whether this is the service for you.


Top Rated Essay Writing Services
Table of contents
Services – 3/10
Using the services menu found on the left-hand side of the page, I was disappointed to discover the website only offers eight services in total. Although this covers the most basic of essay types, such as case studies, term papers and dissertations, many students will be left hunting for their required services and will already be forced to take their business elsewhere.
Content Quality – 4/10
I was really disappointed to see that there are no testimonials or review pages to be found anywhere on the website, just a simple slider on the homepage. However, these reviews are extremely basic and have no dates which lets me to believe they are fake.
Looking for answers, I took to the internet. Here, I found a collection of mixed reviews, most of them fairly dated, some reporting the content was okay but had to be tweaked whereas others said their content was terrible, was full of errors, spelling mistakes and typos and won't be a service they will be using again.
There are also a lot of reports claiming the website uses resales.
Pricing – 4/10
Unfortunately, StudArea uses one of my least favourite forms of pricing. This is where you place your order, and it will be put in front of a load of writers who work on a freelance basis and choose their own prices.
This means all the prices are kept relatively high, and the website has no credibility for the quality of the writers. Although there's a basic rating system, you can never be sure that your writer is qualified and therefore if something goes wrong, there's no reason the company should help you.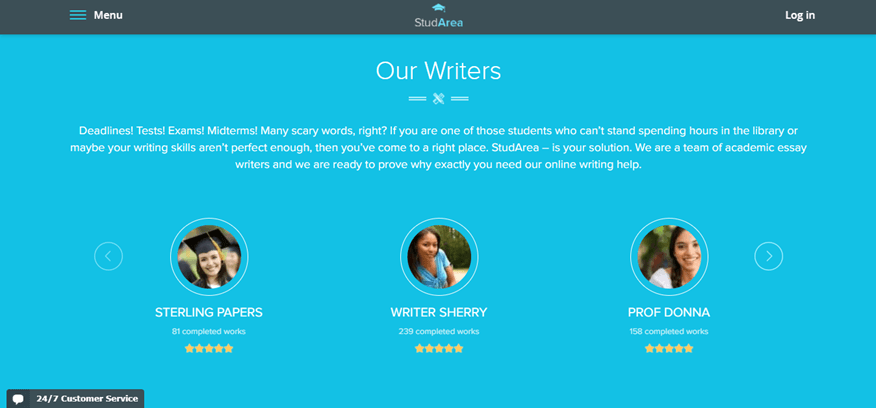 Customer Support – 3/10
Heading over to the support page, you'll find a basic email form to fill out with both your pre and post sales queries, and that's it. There's no contact page, no phone numbers, no Skype contact, no dedicated support email addresses, no social media links or even a live chat service.
This is extremely poor, and there's no way of knowing when the company will get back to you if you have a problem, pretty much leaving you in the dark.

Mary Walton's conclusion on StudArea.com
As you can see, StudArea.com has a long way to go before it can be renowned as a professional custom essay writing service. Despite the executive website, the service simply isn't up to scratch and therefore it's advised to take a look at some other writing services.
Rated: 2.2