Writing an essay is one of the most monotonous tasks students today undertake. Sifting through endless class notes, staring at a blank piece of paper or screens trying to decide where to begin.
CheapEssayWritings24.com unfortunately does not provide an even ample service to cover this increasingly in-demand issue. Featuring a poor interface, sky high costs and quite frankly, unacceptable review system, there are much more convenient and more affordable solutions on the market.


Top Rated Essay Writing Services
Table of contents
Services – 4/10
At first glance, when on the homepage, the website doesn't initially seem too bad. There's a list of services where the user can choose what academic level they would like the paper or essay written to, as well as a choice of papers including;
Essays (inc. admission essays)
Dissertations
Course Work
Articles
Term papers
Presentations & a few others
In total, there are 38 services and this may seem like a lot, but on closer inspection, you'll see that many of these services seem like 'filler'. This includes 'Movie Review' and 'Book Review'. Many other companies offer these services and many more.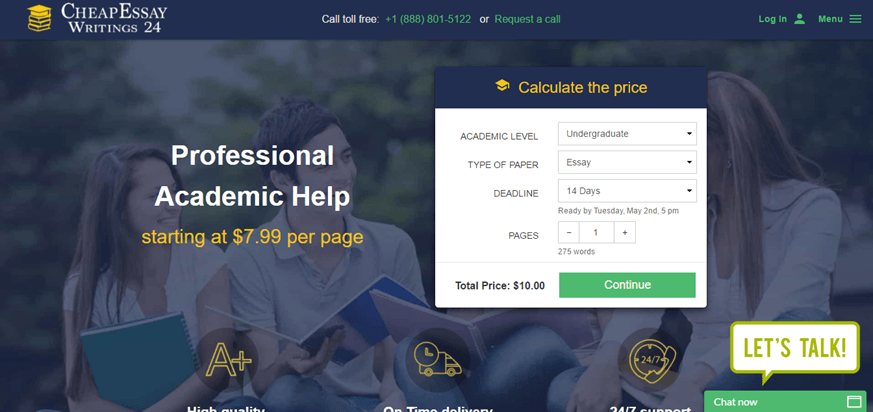 Moving down the page, there is an acceptable range of deadlines to choose from and the user can also choose how many pages the essay needs to be (6 pages = 1650 words).
For our example, I chose to purchase a Master Level term paper that's 10 pages long and I need it delivered in five days. The total came to a breathtaking $220. This is frankly too much for the average student and there are much more affordable solutions out there. The price again increases when you click continue and add the subject, topic and choose how many sources should be used and what format the paper should be.
Website & Navigation – 5/10
Being able to find all the information you need easily and quickly is so important when using a website such as Cheap Essay Writings 24. There is a handy side menu which pops out for easy navigation and is easily the best feature on the website. The website loads all pages reasonably quickly and all pages are clearly labelled.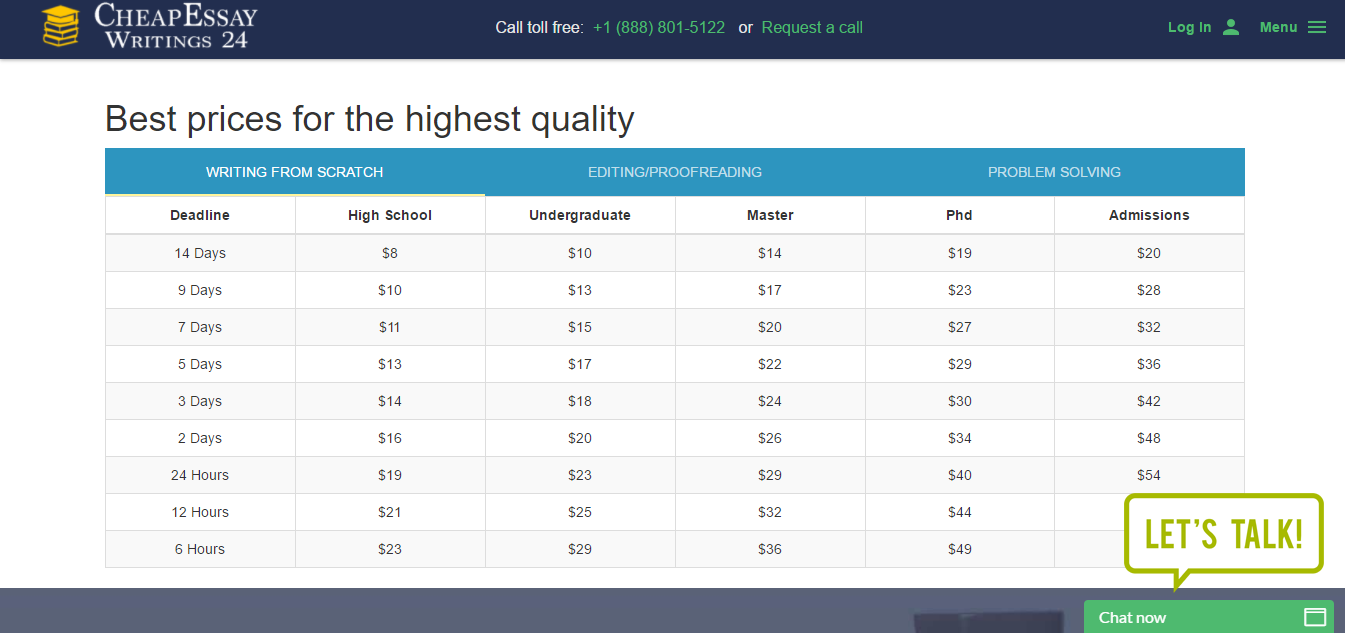 Customer Service & Feedback – 4/10
The only other feature this site does well is offering decent customer service. There are a number of clearly labelled contact options including email, phone and even a live chat feature (despite it taking several minutes for each reply). There is also a semi decent FAQ page.
Unfortunately, there is absolutely no testimonials or review pages. This means that you cannot see anybody who has previously used the site and hear what they had to say. This either translates to poor service and the company has no good reviews or the company lacks credibility and is not a legitimate site. There is no mention that the site uses a secure payment system.
As it turns out from our example, the writers on Cheap Essay Writings24 are not native English speakers. The text itself was also riddled with mistakes.

Mary Walton's conclusion on CheapEssayWritings24.com
Although CheapEssayWritings24 is a fully functional website with some potentially great features, it leaves a lot to be desired. With some minor tweaks and investment, this could be a great writing solution but as it is currently, there are much better alternatives that are more affordable and give a much better service.
Rated: 2.1